A Space To Create
| Amy Hutto
Whether you are a painter, an illustrator, or any other form of artist or craftsman, you need a space to create… a place that you carve out of your existing surroundings and call your own.
A place you don't have to worry about picking up and putting everything away just when you've got that collage layout exactly how you want it, or that strand of beads not quite ready to finish off but you have to quit and go to bed before you fall face first in your bead box.
Whether you are able to have an actual studio or a corner of your kitchen doesn't really matter. What does matter is that space is your creative place. Why is it so important? Because it says that you take your need to create seriously. If you don't take yourself seriously, who will?
Acknowledging your desire to tap into your inner creative is a critical step in also saying to yourself and others that this is something you value and it, and you, should be respected. When that happens, the next natural step is finding a place to make it a reality.
Of course if you have a room in your home that can be repurposed, that may be the perfect solution. In my last house, there was an office off the den area that my husband and I agreed would function as my studio. I loved it because I felt like I was still part of our life together, even when I was in there and he was in the kitchen or den. If the doorbell rang, I could either leave it open so guests could wander in and see what I was working on, or shut the door if it was apparent that I was in the throes of brilliant creation, i.e. it was a total mess. I was lucky to have that space, I know, and I realize those extra rooms are not always available. I spent many years working on the floor in our den and shooing the kids, dog and cat around what I was working on, although not always successfully.
If you don't have that spare room laying around, work with what you've got. Start small. I know in some kitchens there is a built in computer station, maybe start there. If there are cabinets above, empty them and lay in your supplies. A funny sign with a couple of oven mitts saying "mitts off" or something to that effect will let everyone know you want things left the way you leave them, but whenever possible invite them into your creative world and share what you're working on. The more you include others in what you're doing, the more they will understand what you need and why you need it and support for those needs will grow…especially if they've gotten to get their own hands dirty and create also. Maybe even have a "Date Create Night"…open the wine, put out some nibbles and both you and your significant other can have fun using all those "forbidden" art supplies.
If you're really tight on space, maybe your studio needs to be art "a la cart". There are some pretty awesome storage carts with rolling wheels that could serve as a mobile studio. My point is, get creative; that's what you do, and who you are, after all.
Many communities host artist studio tour weekends. A studio tour is an event typically promoted by a local arts organization, the city and a number of sponsors. Any artist may join the tour by filling out an application and paying a fee that helps to cover advertising costs, maps and guides to all the studios, a group exhibit to kick off the event and perhaps even some awards to the participating artists. The entry fee is nominal for the rewards to the artist and community itself. The City of Fort Collins, Colorado puts on a wonderful studio tour each year. While normally held in the spring, this year's tour will be held September 28-30. This tour is not one to be missed. There are over 40 participating artists opening their studios over the course of a three day weekend. A preview show and reception featuring a piece from each artist has been held in the past at The Fort Collins Lincoln Center Galleries, with hors d'oeuvres and drinks and an awards presentation by a respected juror. Maps and guides are passed out to attendees, and a sense of excitement and anticipation really fills the air. The whole evening is fun and a great opportunity to meet the artists and other art lovers. This year the preview show will be held at the Carnegie Creative Center, a beautiful venue located in downtown Fort Collins, at 200 Mathews Street. Visit www.fcgov.com/creativecenter/studiotour for more information on this amazing center that hosts a variety of shows and events, and for more information on the City of Fort Collins artist studio tour visit www.lctix.com/studiotour. If you're not in Northern Colorado, check out your local arts organizations for studio tours and information.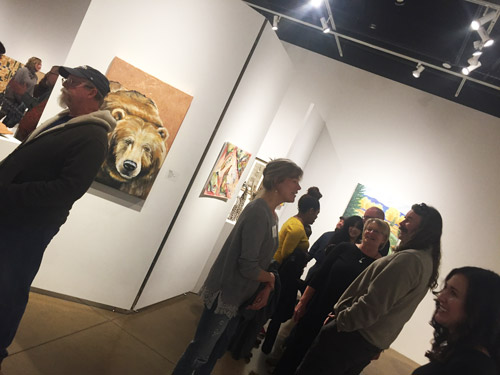 I know a lot of people think that a studio on the tour will be a traditional set up, but not all are. I've seen some that are a corner space in a room, and have heard of one in a closet. It's fun and inspiring to see what other artists are not only working on, but how they store paint or organize tools. Going on the tour is also a great way to make connections with other artists. Take some business cards along and swap info with the ones whom you'd like to connect with again.
Everyone needs their space, and an artist is no different. Just as a plant needs room to grow or it withers, an artist needs room to create or it becomes easy to just not. So; big or small, a designated room, a cart or a corner, give yourself a space to create. Until next time-
Here is my favorite studio storage tip for paints…I like to have them where I can see them all at once, so I put up these removable hooks. For the tubes that didn't already have a hole, I clipped cheap badge holders that I cut apart, to the ends of the tubes so they could slip onto the hooks. I started with just two rows, adding on as needed and the hooks remove cleanly.
Latest Blog Posts
Article Categories