Pick Me, Pick Me!
| Amy Hutto
When I began my second life as a full-time artist, I knew at some point I wanted to sell my work in art galleries. I had always created art on the side, while teaching, and even sold a few over the years.
So, once I left the full-time world of teaching art, and after a couple of years of what I felt like was serious effort spent developing my own art, I made contact with someone through a friend that was connected with a local artist co-op gallery. I was hoping she would see my work, and say I should be a part of the co-op. Although I was nervous to meet this person as she was well known in the artist community and the community at large, I had my friend and the artist who was "living the dream" over for lunch and set up my best pieces for her review. After a pleasant meal and some light conversation, we went into my studio and she was positive about my work, but somewhat blunt about it as well. In a nutshell, I had no style. At least no consistent style that would lead someone to recognize my work because of my use of color, or media, not even subject matter…she said it looked like they were all created by different people. I was all over the place artistically but didn't recognize that on my own. When our meeting was over, I will admit the wind went out of my sails.
She had given me really solid advice; narrow my focus, keep on painting, paint a lot, develop a cohesive style, paint some more and when I had several (like 30-40 pieces) that conveyed that style, then start approaching galleries. I sat on my stool looking at all of my work and knew she was right, but it didn't make me feel any better. When you start the day hopeful you're going to be going to the next stage in your art career, and end it back at the drawing board, as I said, sails deflated. This was in the spring of 2014. I took a little time to mull over what she'd said and started taking a hard look at my art. I had been working in mixed media, collage, and acrylic painting. I needed to decide which media I was enjoying the most and stick with that as my main mode of creation. I chose painting with acrylics. What was it I really liked about all of my pieces? Color and texture; that's what I decided to focus my energy on developing, as well as narrowing down my subject matter. Instead of leaping from thing to thing, I began to concentrate on animals, trees, landscapes and the occasional abstract. Then, it became mostly animals and trees, all the while being sure that my work featured lots of bold color and plenty of texture. It was as if a lightning bolt had struck me and I was on fire artistically.
With my growing "style" my confidence grew as well, and by the summer of 2015 I was sending out email queries to galleries. In my email, I included a small amount of information about me and a few images. I got nowhere. Some gallery directors never responded, and the ones who did usually "weren't taking any new artists" or had "just taken on someone" and were full. Sigh. I didn't give up, and kept painting and looking for ways to get my work out there; and learned a lot along the way.
There are a number of ways to accomplish this but the first thing I would suggest you do after you've developed your style and body of work, is learn to accept rejection. I have been rejected far more times than I've been accepted. It's just a fact of being a professional artist. There are LOTS of us vying for representation, or acceptance into art shows. You have to not only be good at your craft but really good at marketing yourself and your art. Doing so is an ongoing skill that has to morph and change with current trends in the art world… which brings me to a recent workshop I attended held by The Arts Council of the Finger Lakes. This workshop, entitled Galleries at a Glance as part of The Business of Art Series, was led by a panel of gallery owners and directors. In it, they discussed what an artist needs to do and how to approach galleries for the purpose of gaining representation. One of the things they all said was that as an artist you need to be out there engaged with the art community, attending openings, galleries, shows, etc...and like I said, be up on current trends in the art world. If you are not doing so, you're probably being left behind. Get out there and see what's new! Subscribe to an artist magazine, sign up for email alerts at your favorite galleries, and scour the internet for what's happening.
Join a professional organization. One only needs to Google "professional artist associations" to see there are hundreds to choose from, whether you are an en plein air painter, watercolorist, ceramicist, or sculptor, there's something for you. There are national and local associations. I am a member of both types. I feel like it gives me a broad picture of what's going on and I like the connections and opportunities both types offer. Also, being a member of an association usually has some perks, such as member art shows, public display venues, and some have brick and mortar gallery space which hang member's work. There are typically association dues, so be sure and factor that in when you make your decision. Some are pretty pricey and others quite reasonable.
Enter shows. Entering and being accepted into local and national art shows gets your work into places for viewing/purchase that otherwise you might not ever have the opportunity to do otherwise. Many offer cash prizes for top winners, but just being accepted is an honor, and looks good on your artist resume. There are a number of sites with listings of current shows/contests/jobs, etc… One of my favorites is artdeadline.com. To gain access to the full listings offered, there is a small annual fee, but for me, it's been more than worth the cost and it may be tax deductible. Another great site is CaFE, which is free. These are my two favorites, but there are plenty of others.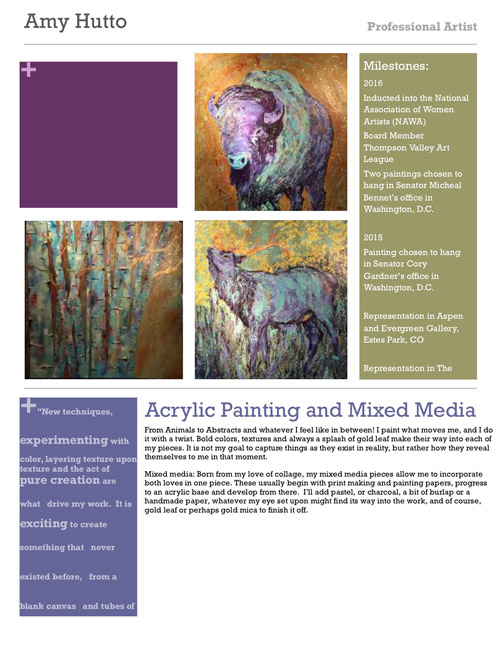 Speaking of a resume, now it's more common for an artist to use a CV, or curriculum vitae. It is similar to a resume but contains things that are only relevant to your artistic practice and achievements. If you do contact gallery directors/owners through an email query, you'll need to have a CV to include along with a brief artist bio. Do some research on how to craft an effective artist CV and bio; you'll be glad you did, and be sure your email is impactful and attention-grabbing without being pushy or overly boastful of your work, accomplishments or what you believe you can bring to their gallery. In other words, peak their interest and let them know what makes you different, but don't be overly zealous. On the email query…during the panel discussion I attended that I mentioned earlier, the panelists were asked how they feel about unsolicited email submissions. They had mixed feelings. They all stated that they receive multiple upon multiple emails a day, and it is often difficult to reply to everyone in addition to all of the other responsibilities they have as owners/directors. They suggested going online to the website of the gallery you wish to contact and look for their guidelines for submission. Each gallery has their own requirements, and while some accept submissions ongoing, others only want them when they are searching for new artists. When asked about a physical submission, such as a portfolio, none of them would accept anything that the artist wanted returned. In other words, you need to either submit it on a flash drive, cd, or in the case of printed materials something you don't mind ending up in their recycling bin.
Be proactive and engaged on social media. All directors and owners mentioned they want to be able to see your work on your artist website and know that you are promoting yourself through sites such as Instagram, Facebook or Twitter. They want to see that you are active and engaged in your practice and producing new pieces. They want to know that you view yourself as a professional and take your craft seriously.
Do your homework on the gallery/galleries you are interested in. Visit the actual gallery if possible and if not then thoroughly explore their website. Research who the owner/director is and be sure you have the appropriate person as the recipient in your email. If you can't find it on the website, call the gallery and ask for the information. It doesn't hurt to ask what their submission guidelines are either, especially if you can't find it online. Before you submit your work for review, make sure it fits with what the gallery currently carries. If the gallery primarily features plein air artists, then they most likely won't want pottery. If virtually everything is abstract, they probably don't want representational work.
It isn't impossible to gain representation for your art. It does take hard work, persistence and a willingness to shake off rejection. Currently, I am represented by three wonderful galleries. Am I sitting back and coasting? Absolutely not. Once you're in, you've got to stay in. But that's another article…Until next time . . .
For more information on The Leigh Gallery please go to their website
More articles on gallery representation for artists:
When Is It Time to Sell Your Work?
Communicating With Your Galleries
Me and Jean Leigh, owner of The Leigh Gallery in Chicago…meeting for the first time when she decided to represent me in her gallery
Latest Blog Posts
Article Categories