Document Your Process - You'll Be Glad You Did
| Amy Hutto
Have you ever made something for dinner that was a total concoction and it was the best thing you ever ate, then had no idea how you did it? Or, you pulled off a really cool effect in your latest work of art then when you tried to do it again you couldn't begin to achieve the same look?
Creativity totally happens in the moment, but very often those bursts of creative genius get lost in the ongoing process and you'll never taste that mouth-watering pasta sauce again, or won't be able to replicate the effect that you love so much you want to make it your defining style marker in your work!
Documenting your work process is helpful on multiple levels; of course, it will help you remember what you did to achieve a certain look you would like to repeat again, but often your collectors would like to see how you did something and it's nice to be able to show them through a short video or some pictures. Taking photos and videos is also something your followers on social media like to see. I've been documenting what I do for a really long time and I've learned (the hard way) when I forget to pause and jot some notes or take some pics/videos I really regret it later.

One of the easiest ways is to simply take photos as you complete each step and take more than you think you might need…you can always delete later if you decide you don't need them all. This is really helpful to me because I layer so many colors as I work. If you're someone who layers quite a bit it's nice to be able to see how the end result was achieved. Of course, it never turns out exactly the same which is the beauty of creating original art, but the effect will be essentially the same. I've then done a couple of different things with the images once I'm finished with the work. I have created an album on my phone or tablet and moved all of the images related to that piece to the album and then titled it with the general subject, then it's super quick to open it and scroll through the work's developmental stages as I need. Along with pictures of steps, I also take pics of the tubes of paint or any other media I may have used.
Another thing I've done with these images since I'm also a little old school is to download them to my computer; open a word document or slideshow then insert the important images into the doc and either type a brief statement under each image or just print and hand write notes. (Side-note: you can also then download these pages to a disc or flash drive to save on printing.) I keep my printouts in a folder and can pull them out, hold them and reread my notes. I've actually found this method to be the most helpful to me because I talk about the name of the exact colors I used and proportions, thoughts for what to do next time, what worked, why it might not have worked…plus, I am someone who remembers things better if I physically write it down. Sometimes I don't even need to reread it as the act of writing helps cement it in my memory.
Be sure and take a final well-lit photo of your finished work, either yourself or have a professional photographer shoot it. I've done both. Although my phone camera does a really good job, and it has built-in editing features, I usually download them to my desktop and do a more thorough editing with Photoshop. If you don't have Photoshop, there are many free photo editing sites online. See my article, "An Artist Goes on Vacation- Part 1" for some recommendations. Professional services can be very reasonable and when you connect with the right person who understands how to set up and light your work properly, the results are amazing. You'll be racing to share those pics on your social media accounts.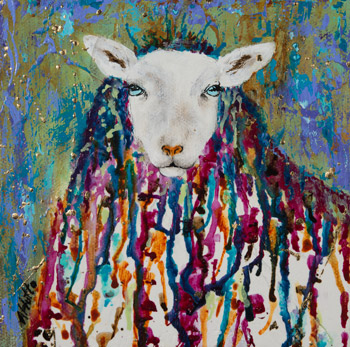 Finally, make videos of cool techniques or things you want to be sure and have on file. When shooting videos it's helpful to have a tripod that will hold your phone, that way you're not jostling the camera around and inadvertently blocking important views with your head. If it sounds like I may have experience with this, then you're absolutely correct. I can't tell you how many times I've been trying to video a technique to share on my Facebook or YouTube and my head completely blocked the whole thing. Using a tripod also frees up your whole self so you can just focus on the work and not on trying to make sure you're holding the camera at the right height or that you haven't drifted with your hand and are now filming the ceiling. As I mentioned in my article "To Tweet or Not to Tweet" building your brand and being present on social media is critical in today's marketing world. Collectors want to see you in action, they want to see your work in progress and other artists want to connect with you and learn from you; and to make this happen you need to be posting pics and videos on Facebook, Instagram, Twitter, and YouTube. The added bonus to all your hard work, marketing, and self–promotion is an archive of your process you'll be glad you have. Until next time-
Follow this link to a YouTube video I found on recommended tripods: Best Phone Tripod Mount Reviews
The solution? Document your process!
Latest Blog Posts
Article Categories