Man Of Steel
Many artists tap into an inner energy to create their works of art. For Peter Wood, that energy is not only necessary, it's an apparent approach to each of the pieces born from his Rusty Metal Studio near Paw Paw, West Virginia. You see, Wood works in steel. As cold and hard as his medium may be, Peter Wood uses his energy to bring warmth and meaning to it.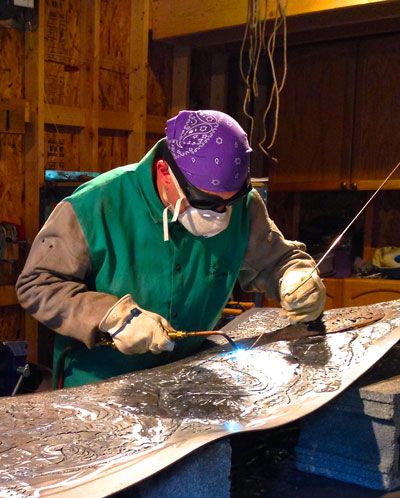 Wood says of his creative process, "I start with a cold gray piece of steel, twisting and turning the metal until it develops a personality of its own. I enjoy the heat and power of using an oxygen/acetylene torch to create these sculptures and taking the industrial feel of steel and creating the image of flowing and carefree movement." His process and completed work seem almost a contradiction of each other and yet there in lies the uniqueness of his art. Where most artists turn to materials which would seem to better suit the flowing character they wish to achieve, Wood chooses to infuse his energy upon a non flowing material to bring out its inner character. There's little question his inner character surfaces in the process!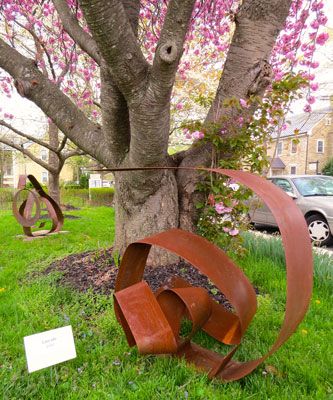 The second part of his process is understanding his medium's character traits. New metal looks way more cold and hard than that with age. Steel is a common term for iron oxide and we know unprotected steel becomes rusty. Rust, or more accurately - corrosion, happens as an electrochemical process and when water - an electrolyte, touches it, the process of rusting begins. There's a science lesson going on here and Peter Wood uses it to his artwork's advantage. What begins looking cold and hard, becomes warm and flowing and a collector of his work can watch much of this surface patina take place over time as their artwork adorns their garden. The garden by the way being just one of Wood's inspirations and a place where many collectors choose to display his artwork.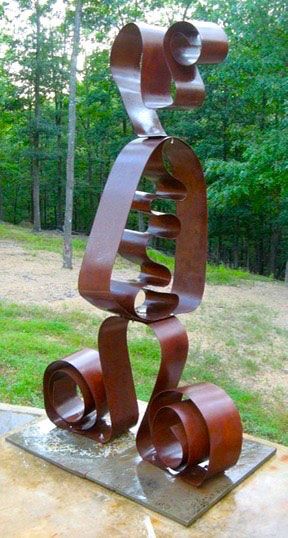 The final piece of Wood and his creative process, involves the use of old farm implements. Incorporating these pieces into much of his art is an emotional tie to his childhood and life on his family's farm in Maryland. It's not only the recycling of a used object, it's the recycling of his youth and a renewal to both through his creative and artful life.
That artful life doesn't end with steel creations, it seems to just begin there. You see Peter Wood is somewhat of a creative activist. Today, living in the small town of Middleburg,Virginia, with his husband and partner of years, Tom Dionne, Wood and Dionne set out over two years ago with the goal of having the town become more of an art destination. An hour west of Washington, D.C., the town itself has a storybook Main Street feel about it, and has been long known as the living breathing heart of Virginia's horse country, rich in history and characterized by its equine lifestyle which includes fox hunting and steeplechase racing. Therefore, the town has also been known for sporting art and as a matter of fact, is home to the Sporting Library and Museum. Traditions are not easily evolved, but Wood has an interest in expanding the town's exposure to all forms of art.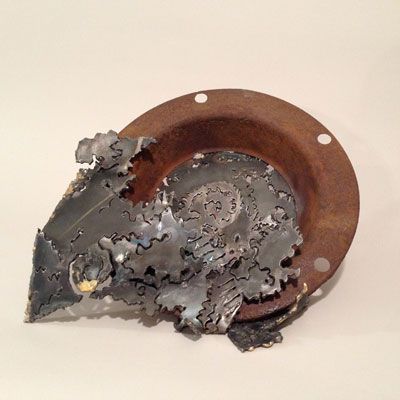 Their idea was to create the Middleburg Arts Project, a non-profit aimed at their mission. The two soon found out that they would also need to organize an artist base and found themselves then additionally forming Artists in Middleburg. Described as an informal collection of talented artists interested in promoting, exhibiting and sharing the arts in Middleburg, the group was open to pretty much anyone who cared about the arts of any genre. A small core of enthusiasts from its now full list of 170 artists, almost never miss the monthly pot luck meetings. Still within its informal-ness, Peter Wood has remained organized and has created several opportunities for the group in the way of shows within the town, while continually promoting AiM through the webpage he developed, Facebook page and such. This all playing back into the original mission of Middleburg Arts Project and now moving forward, MAP is headed much more in the direction of his compass.
While Wood might say he would like their goal to be further along, both he and Tom have accomplished a lot. They have gotten the town's attention and one can only feel that the they have raised everyone's awareness in a mostly positive fashion. In the process, Peter Wood also helped revived the town's dormant Arts Council and was made Chair of the group, which has held several new arts related events. In doing so, the county named him 2014 Outstanding Volunteer of the Year and has now also appointed him to the county's board of tourism - Visit Loudoun.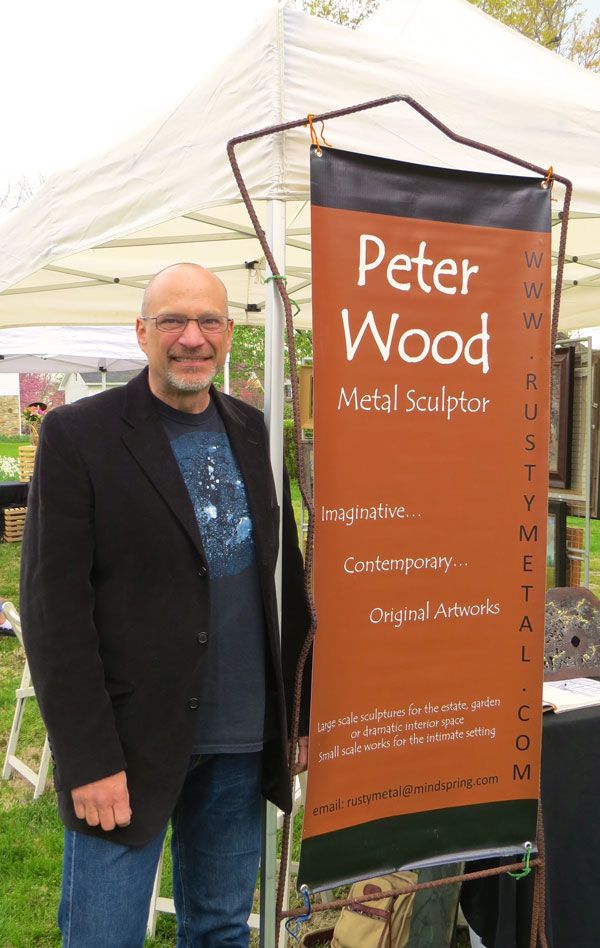 None of these things were in Wood's site when he aimed at simply wanting to raise awareness of the arts in the town he and Tom resided in, but it proves what it truly means to live an artful life!
Moving forward, the challenge the Peter Woods of the world face, is finding time to be creative. Wood is a full time employee of the USDA and he enjoys what he does. Between commuting in a dense Washington, D.C. rush hour and being that volunteer of the year; his studio, yet another hour away in West Virginia, might become more and more distant. But for now it seems there will be time made for Wood, the man of steel.