LASLEY CENTRE for the PERFORMING ARTS - Fostering Excellence
They say timing is everything and no sooner than I enter the Lasley Centre for the Performing Arts, the school's Executive Director and owner, Kalie Lasley, is sharing great news with Ballet Master, Mark Rubin. Three of their students have been accepted to the summer intensive with the American Ballet Theater (ABT), who by the way, is celebrating their 75th anniversary. I can tell this is not only a pinch-me moment for Kalie and Mark but an amazing accomplishment for a relatively new school.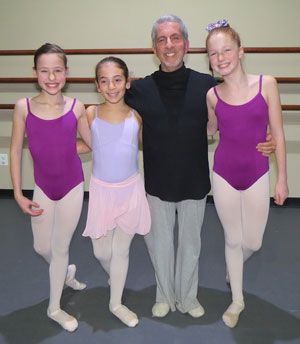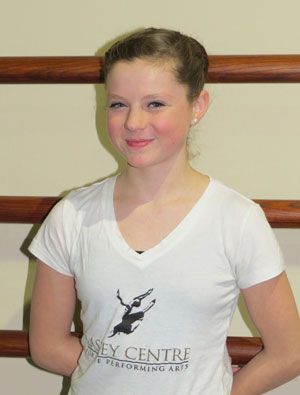 Students going to ABT from left to right: Molly Rose, Abby Kane-Haspel, coach Mark Rubin, and Teresa Carlson. Also going in right photo is Julia Carlson
The Lasley School itself may be new, but this certainly doesn't mean their wealth of dance experience is. In fact, anything but. After all, the 9,000 square foot facility located in the Vint Hill complex of Warrenton, Virginia, just an hour west of our nation's capital, has not even celebrated its second birthday. Yet Lasley herself, a past ballet dancer and performer, knew for her school to provide excellence, excellent instruction was a must. Not just teachers, but those with performance-based experience. Not just those teaching while learning to dance themselves, but instructors who have themselves performed at a professional level, know solid technique and as importantly, know how to teach what they know.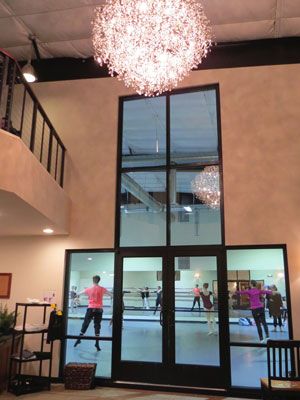 Lasley Centre's 9000 square foot facility features
3 dance studios and lobby with chandelier
Take the school's Ballet Master, Mark Rubin. His professional dance credits alone include Ailey II, the Joffrey Ballet, the Bertram Dance Company, and the Batsheva Dance company. Add to this over 30 years of instruction in Ballet, Jazz, Modern, and Floor-Barre©, and though soft-spoken and small in stature, Rubin is a powerhouse of dance experience. He's one of passion towards his craft and those who chose to dedicate themselves to dance and you feel his artistry.
In one word Kalie Lasley would be described as poised. She is not just confident, Kalie moves deliberately, with a perfect sense of her own rhythm. Things do not move around Kalie, she moves perfectly through them. She began dance at age five, lived it and breathed it, became a successful professional ballet dancer in her home state of California and then the unthinkable, an injury that brought her professional dance career to an end. Today's sports medicine would have likely given her a different outcome, but that was not to be. It seems though, you can take the dancer off of the stage, but you cannot take the dancer out of the dancer and you see the dancer in each step she takes. This alone seems a valid reason to have a child learn dance, especially ballet.
As I sit down with Mark and Kalie, her phone vibrates indicating a text. She looks down, and says, "This is ABT", gives a beaming smile and says, "Molly_New York City, now makes 4" It's now four of the six students who have now been accepted to the ABT program. I have determined that just one student being accepted would have been cause for great joy, but four brings elation and an overwhelming proudness. Kalie reflects, "We talk about our program and whether we are doing the right things for our kids and we're always trying to obey a new program and tweak it, and [now] to have such affirmation so early on, I just ... [she loses words to completely express the happiness she feels].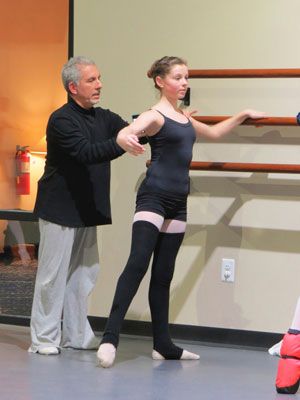 Mark Rubin with student
So I begin by asking the duo what I feel is the root or foundation of dance. What does the word movement [pertaining to dance] mean to them? Kalie begins, "For those who are passionate about dance, movement is not just a function of the body, but of the soul, of the spirit, of the heart, it incorporates every possible emotion. It's an expression thereof, it's [even] therapy. Mark offers an even deeper grasp, "It is the universal inclination of the body to imitate the natural movement of the universe." He then expands his thought by explaining, "So everything in the universe goes through movement, everything moves. They even say that the universe is created from sound moving through space. So movement to me is the natural inclination of the body, which of course [with dance] we connect to music_which is sound. So it's almost like movement is imitating creation."
This wonderful foundation means that even though you are learning technique and/or the steps of dance, the drive and desire to do so must be more deeply rooted. To achieve the highest level, one can not just move in a 1 and 2 and 3 and 4 beat like fashion. You must feel a connection to yourself, the music, and in the case of ballet, Mark told his pupils during class, "Ballet this is a performance art.", so you must even feel a connection to the audience.
Kalie Lasley with student
As dance is a form of creative expression, we have choices and it seems for Mark the choice was in his DNA. His mother was a professional dancer and his father an acrobat and gymnast who became a ballroom dancer and teacher for forty years. For Kalie, at five years old, when she walked she threw one foot improperly and her mother took her to an orthopedic doctor who said it was a muscle control thing and recommended dance lessons. Kalie, "I fell in love with it. I fell in love with the costuming, the dance, the music, work ethic, the rising to the challenge and mastering it, and I loved it."
Creative expression is a wonderful thing and finding not only your creative voice, but a creative language is imperative when your goal is mastering a high level of artistry. You see, there's not only the choices of to dance [or to paint, sculpt or sing], but within dance, there is ballet, ballroom, contemporary and much more, each with its own artistic expression. Ballet possibly requires a higher level of technical ability, skill, discipline, even strength, but as with all dance though, true musicality is a must. Kalie brings this to point with a good example, "You have one student who is a beautiful ballerina and the other one is a very excellent dancer. You can teach someone to be an excellent dancer with some basic rudimentary talent. You cannot teach them to be an artist or a ballerina. That is something that comes from your soul, it's a part of your being and that cannot be taught."
Mark further expresses, "I will say though, there are certain situations where you have someone who is very expressive and you can bring them to the point where they can build enough skill to facilitate the expression that's already there, rather than just being musical. Sometimes you have to open up the expression. But they can't really do it until they fundamentally build the skill underneath them. Once they've got that foundation, then they feel more comfortable in the expression. That can happen. Everybody has feeling and expression, you just have to be able to facilitate it." I mention it helps to be a bit of a ham too and he says, "You have to like the lights, let's put it that way!"
Above all else, Lasley Centre for the Performing Arts is a school and teaching is at the core of what they do, but they do so while striving for excellence. With children, within their parents' expectations, there is the balancing of what is fun and work. With a little humor, Kalie says, "The fun part and the work part can be a blurry and jagged line.", but adds, "Parents come with a whole plethora of reasons. They want their child to have exercise, they want their child to be coordinated and poised. Some want their child to be ballerinas, some want them to learn attention span. We take whatever motivation that parent comes with. The important thing is that they are here and we can work with them and we are going to teach them excellent technique."
Kali Lasley conversing with young students
Parents must balance expectations though and keep in mind why they chose a school for their child. This is not all about dance. There's a core value thing going on here that is truly valuable to the nurturing and fostering of children. Kalie is proud in saying, "I think we've created a happy environment for a lot of families and children. Our Artistic Director, Belén Rodas has begun an adaptive dance club and some of those kids were in our Nutcracker performance, and those families are extraordinary. Mom's will come to you in tears and tell you how long they've looked for a place for their children and they've finally found a place where they're accepted and loved. All the other kids just love on these students and accept them and embrace them and they're part of our little family here."
Mark tells me, while he has been a part of other schools he has decided to put his energy into Lasley Centre, "We want to create something different here, we really want to create a place where someone who comes into the door will feel embraced by kindness and love and care, as well as the skill, the hard work, determination, and perseverance. It's really challenging, ballet, it's very pure, it's very mathematical, scientific and it's artistic. So it's really challenging, but you can also make it fun, especially at the lower levels." This of course while young students are not only learning dance but a work ethic and commitment as well.
There's little question of Lasley's affection for her students and parents. During my visit, serendipitously Kalie celebrated her birthday and proof of the magic was very apparent. It turns out she was not the only birthday girl in the room, as in her style she swooped a child up from the group and they blew birthday candles out together. The crowd of students and parents cheered.
The Lasley Centre starts children as young as 3 years old in a pre-ballet class taught by her daughter Lauren. Kalie, "They learn musicality, they develop their attention span and they really do come out with some basic technique." It is at this age where improper instruction can set habits which can be difficult to break. To this point, they address bad habits with new students right away, on a case by case basis, to not only instill excellent technique but to prevent long-term injury.
For those parents concerned about injury, dance, like other athletic activities, has its share and there are no guarantees of avoiding it. That said, Mark shared this with me, "Whenever we teach, because we are skilled at what we are doing, we will always teach in a way as to prevent injury. There are safe ways of working and there are unsafe ways of working." Mark, having worked with some of the top professionals in the world, admits that he himself has never had an injury or even a pulled muscle and he instills proper warm up and technique in his students to avoid injury. Ballet itself, as explained by Mark, is unnatural in this sense, that the feet turn out and done incorrectly, even more importantly_taught incorrectly, injuries go up. Sometimes it seems the effects of doing something wrong can take years to do damage. I hate to use smoking as a good example, but I guess I just have.

"Mr. Bones" is an instructor too! One who is used for explaining kinesiology [the science of human movement] and the skeletal aspects of dance, all in the avoidance of injury.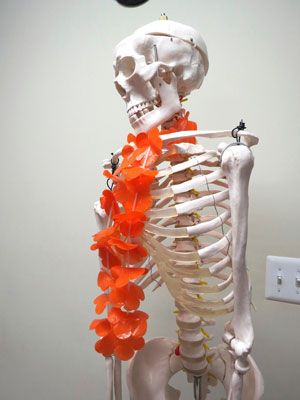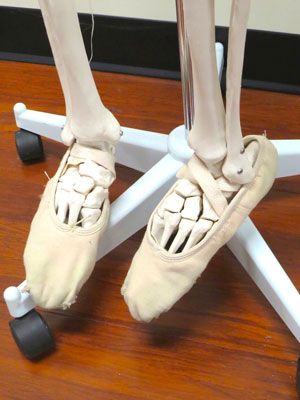 The Lasley Centre has not been a competition school, but this will soon change, as they will start doing the Youth America Grand Prix, an international ballet competition which is not trophy driven, but rather the student's success is attached to scholarships and contracts at major schools like the American Ballet Theater, Royal Ballet and the San Francisco Ballet.
Advancing in dance, especially ballet, requires strength. Mark compares it to training for the Olympics. It takes years rising through beginner, intermediate and advanced levels, but the Lasley Centre's philosophy is not to advance based on age, rather solely on ability. Students advance when it is time and as soon as it's time, never holding them back. This even goes as far as examples such as Lasley adding a third lesson a week at a higher level for a student that needed advancing, but not charging the parent who may not have budgeted for more than two classes per week. Mark tells me, "I don't know of another school that does that, it's unique." It also shows the school's effectiveness is the whole being greater than the sum of its parts and likely why four out of six students were accepted by ABT.
The financial side of things for parents is real, and as Laslie Centre, as a school grows and their students excel, Kalie's goal is to find ways to make sure students who have worked so hard and are accepted by ABT, can actually afford to go. For this, they have the future goal of creating a non-profit arm of Lasley Centre to assist in this area.
When choosing instructors, Kalie has a three-step process. This begins with the qualifications of her instructors having to include the real experience of working as a dancer with a major dance company. Next is their personality, as she avoids those with a drill sergeant approach. "All of our teachers are stellar individuals, they're very kind, they're very warm, they have a very altruistic approach to what they are doing.", says Kalie. I mention that they all feel part of a team and am corrected by Kalie and Mark, "They feel like part of a family." You can tell hostility is not accepted at Laslie Centre, period. Thirdly, they need to know how to teach what they know. Lasley's instructors all have different method experience, Cecchetti, Royal Ballet, Vaganova, but they all have the same technical standard. This instruction standard is very obviously a big part of the Lasley Centre's success and not just with ballet, with all of the styles of dance they teach.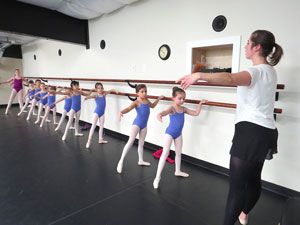 Belēn Rodas instructing young students
Artistic Director and instructor Belén Rodas joins us. Rodas' deep dance experience in Modern Dance and Ballet, as well as her multiple degrees in psychology and master's in both Social Work and in Public Policy, bring the Lasley Centre an even greater separation from the schools one could choose. Rodas, while creating the school's adaptive dance program, will soon be offering this as adaptive therapy through the school, which is covered by insurance.
On the performance side of things, there is always an audience to consider. The school does perform The Nutcracker and Mark says, "First of all it's a massive project, I mean massive. It takes months of preparation. Second, it's the culmination of everything that came before it, maybe even months or years of training up to that point. Because you know, as an artist there is never an endpoint. There's always a reaching for higher, better, broader, wider, more beautiful ... that's the beauty of an artistic life, that's why we trade it for no other life. So, performance is a stepping stone." Belén makes the point though, "At the end of the day, we are still a dance_school, and so the performances for me are in the service of training our dancers. Performing is its own skill and you only learn it by doing it and rehearsing, and perfecting it is its own skill, which only happens by having to do it. So you can be in class all day, every day, but if you don't have that performance side of it, you are missing a whole critical piece of the training. Casting, rehearsing, performing, all of that is looking at our students and seeing what is going to help them get to where they want to go and where we want to get them."
Dancers: Kelly Rush, Allan Rush, Harmony Patton. Photo by Henry Oviedo
As an artist myself, my time with everyone at the Lasley Centre of Performing Arts is comfortable and stimulating at the same time. There's a good feeling being surround by artistic and caring people, enthusiasm for the arts being an important part of their community. It's great to see young people dedicated to something so positive as dance and with their parents there in their support. The grand chandelier which hangs in the two-story foyer of the Laslie Centre is like a beacon of hope for a grander stage, but one which for now gives students that feeling that they have already found their stage.
For more information about the Lasley Centre for the Performing Arts, please visit their website