Done The Old Fashion Way
The doorway into the studio of artisan Lesley Marsh is somewhat of a time portal, transporting you back to an era when skilled hands connected to artistic minds, were essential to everything made.
Marsh is a maker of things, handmade artistic things, special, yet functional. But Lesley Marsh is so, so much more. She is a collector of those by gone days, an exquisite professional photographer and what I would call a fearless creative type. One who sees ideas as pathways or avenues to explore without pause. Talented? Very.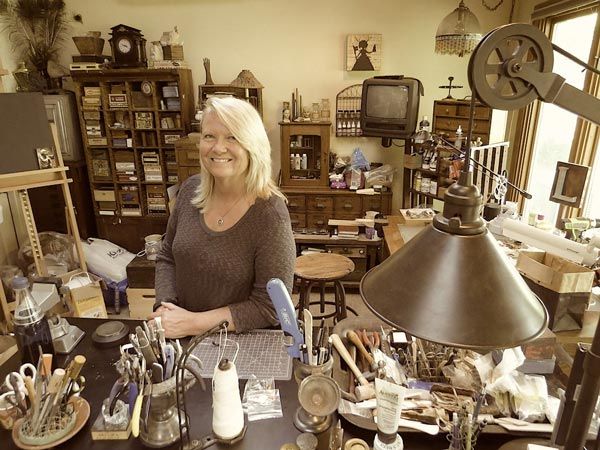 When Lesley invites me and my wife Linda, into her studio, you can tell her mind is inspired, energized and always thinking. She is more than comfortable in the space she has given herself to grow, which is loaded with character. Her studio feels much like that of a 1900's inventor, as if even Johnny Depp might poke his head in the door, outfitted in his Tim Burton inspired Willy Wonka costume.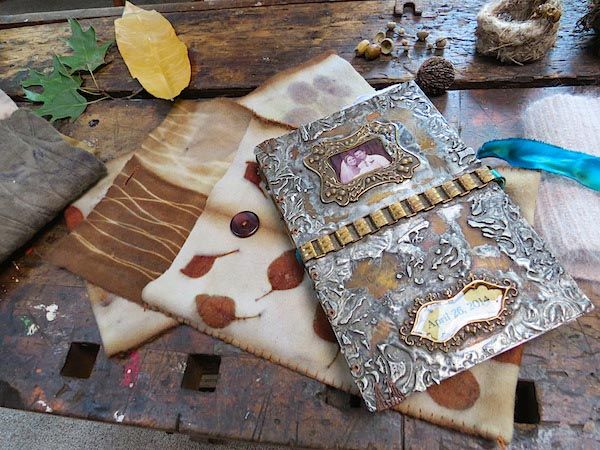 She smiles as she enthusiastically introduces us to her world. An unobservant eye might see a room of antique odds and ends, but the artistic eye only sees vintage inspiration. One form of Leslie's creations are magical, medieval styled books, [and necklaces] made using a technique of flooded soldered brass. I must refer you to the photographs, because after all, they are worth a thousand words.
To hold one of these gems, to feel its weight and surface, is special. The cover, often embellished with vintage settings, opens a world to handmade leaf-dyed pages and if you never did anything else but admire the workmanship, you would be fine without function. But placing your own thoughts or photos inside certainly increases the value of them in that keepsake sort of way.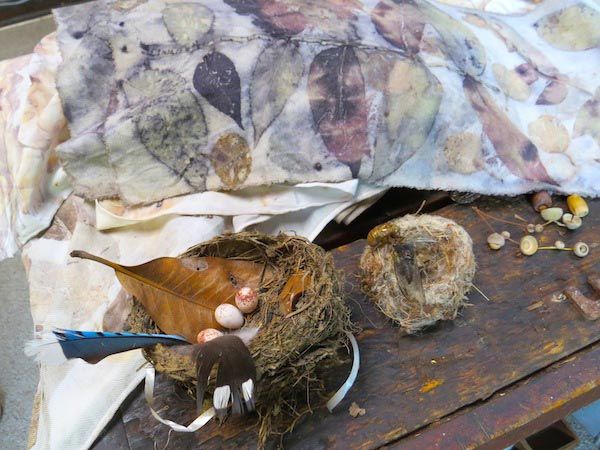 When I ask Leslie what drew her towards making these books, she shares, "I always liked books, I like to read books and I have a collection of old books too." But it seems at least in part, the metal books came after she read a book called Semiprecious Salvage by Stephanie Lee, "...and I fell in love with the whole idea of it." Further inspiration comes from medieval and Byzantine books, which is evident.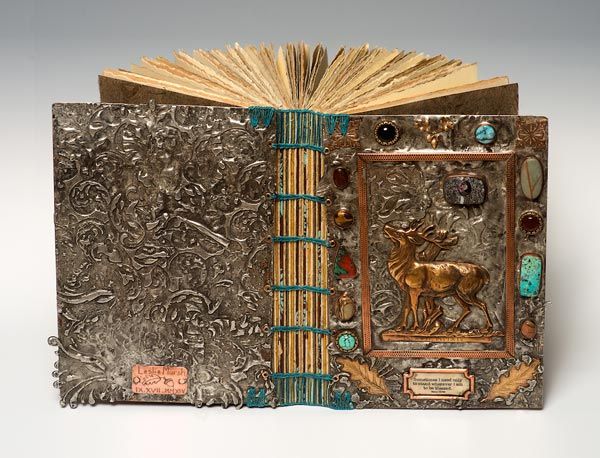 Both with her art and her photography, what started as a hobby, has become a business and she points out her passion for it by saying, "I have a friend who asked me if I had envision where I wanted my business to go, by manifesting the whole thing and envisioning what was going to happen?" Leslie told her, "No, I'm just doing what I love to do."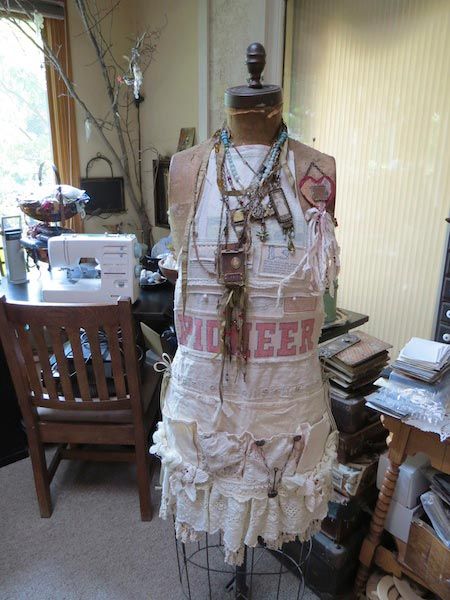 As we look around Leslie's studio, there is a lot of evidence of little found antiquities which will likely one day find their way to a book or necklace. I ask, "So is part of this process an Easter egg hunt?" She enthusiastically answers, OH YES!", and it becomes apparent the search is a very fun part of what she does. These found pieces are obviously a form of collecting, but they, along with antique photographs and post cards, become the storyline by which a book becomes a reality. In many cases, just holding one of Marsh's books makes you feel as though you've found a diary and undoing the clasp will divulge a secret life. Yet the blank pages inside truly await your story.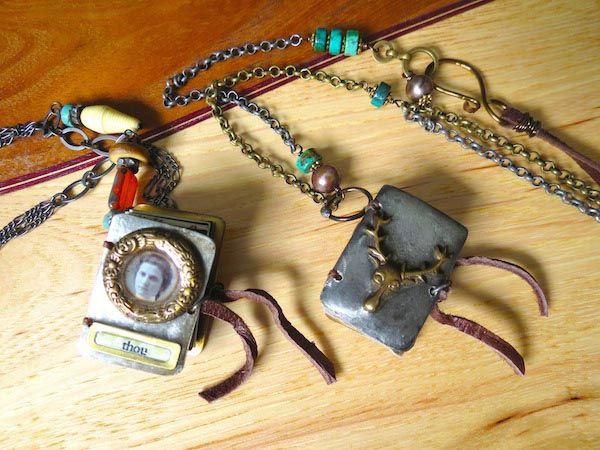 The leaf design pages are eco-dyed [which extracts color from plants] watercolor paper, boiled in big turkey fryers. Quite a process and last year she started wood smoking the books to age them. Leslie says, "It makes me think of an old post card." Laughing, she says, "I even have a canoe hanging on the wall in the garage, it's like life imitated art."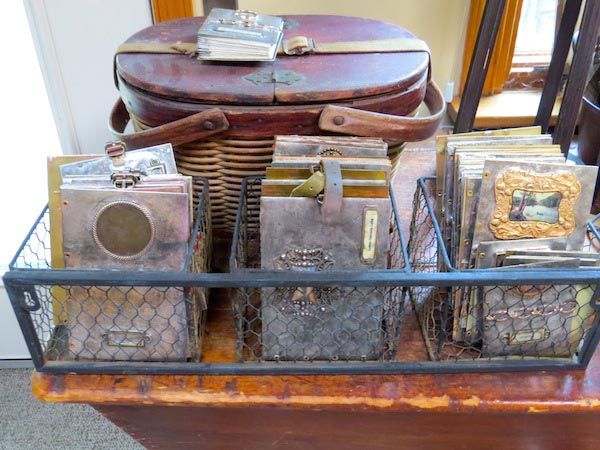 Leslie's eco-dying hasn't stopped with book pages, she's been working with wool and silk making book covers and scarves as well. The pattern of roses, eucalyptus and other leaves such as black walnut, so perfectly enhance the wool's texture. The process gives her pieces an earthy, natural feel. Again, artistic and beautifully functional. In some cases I could certainly even see using one of her scarves as simply being a very nice resting place for your book. The two compliment each other perfectly.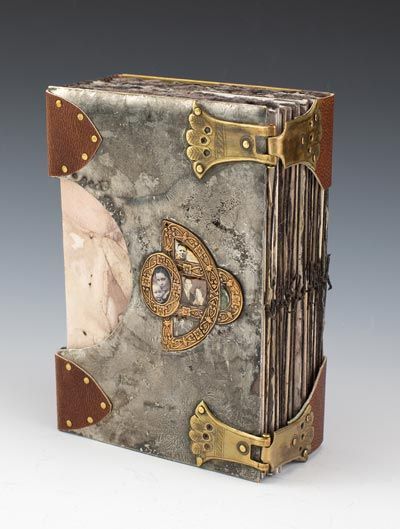 If her many artistic paths are not enough, Leslie Marsh is also top notch portrait photographer who is also becoming more and more in demand for corporate work and now even industrial photography. It's all a creative balancing act, but Leslie Marsh fearlessly flows so fluidly between each of her forms of artistic expression!