Kathleen Kendall, The Magic Touch
As if in a fairy tale, I make my way to the charming little cottage home and studio of Kathleen Kendall. I knock, the door opens, she greets me and invites me in.
Kendall is soft spoken, pretty, petite, an art school teacher and of course an artist, which is the reason for my visit. Looking at her and her art, one might think her life was one of complete harmony. Instead, it seems to have been a journey of reasonable adversity and challenge. I only share this because it makes the things that she creates that much more magical and personal.
Born and raised outside of Boston and on Cape Cod, Kathleen explains of her roots, "I come from a family of artists." One aunt was a well known sculptor Joyce Johnson, founder of Truro Center for the Arts [Castle Hill] on Cape Cod and her other aunt a painter. Her grandparents on her mother's side were makers of beautiful lacquered, stenciled trays and decorative pieces, and her mother was a watercolorist. Indeed her brother and cousins are artistic as well. "So I just grew up around art."
Kathleen share's that she always loved painting and that clay was really interesting to her too. Today working with both equally she says, "I really have a hard time deciding what to do .. so I take turns" [between the two]. This seems to be a common thread I find in multi-media artists. That feeling somewhat torn between two mediums or forms of creative expression, as if one medium will internally be jealous of the other. Though Kathleen claims her "hard time", I see the two as fluid and flowing equally to the point of it being very natural for a collector to have both her paintings and her sculpture.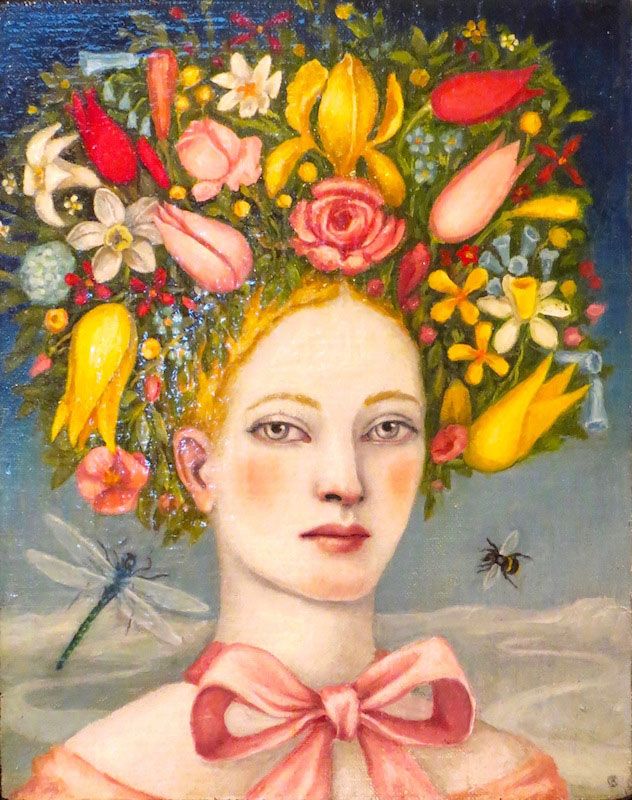 Kathleen married a Vietnam vet when she was young. They were married 15 years and one day her husband on his birthday walked out the door and she never saw him again. She explains they were close, so she was hysterical for weeks and while there's more to this story, talk about set backs. The only work she had done during her marriage was some graphic design work and one can see those skills still remain honed. But alone, she had to do something and shares, "I didn't decide to go to college until I was 40". She earned an MIS degree from VCU, a BFA from the University of West Florida and teacher certification from UT in Austin and after this, she eventually moved to Virginia. That was 12 years ago.
Today along with her art, she is an art teacher at Irving Middle School in Fairfax, VA. which she says really makes her happy and is rewarding, sighting this age group, "You can talk to the kids like they're adults, ... You can teach them something and you see that light go on." Along with giving the gift of creativity to her students she says, "I like to be around it [art] all the time, every spare moment I can reflect on my own stuff while I am there because you are surrounded by it."
Kathleen motions me to look around the room while showing me examples of her loving so many different forms of art. She enjoys still life, she loves working in pastels, tempera painting, abstract, mosaic, mix media, different things, but much of her gallery paintings are influenced by the Pre-Raphaelites which came from a trip to visit an aunt many years ago that lived in England. During that trip she went to see the museum at the Royal Academy and was taken by the Pre-Raphaelites paintings she saw, bringing home books you could only find there. It was obviously life changing and the start of a new life as an artist.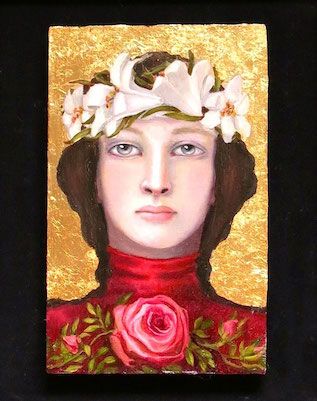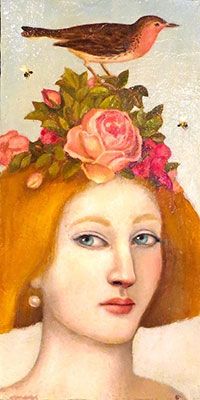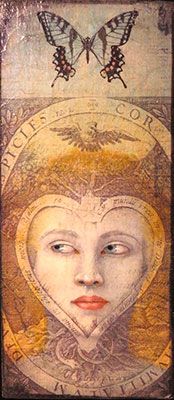 Kendall's artistic voice speaks with a rich timelessness layered in thought, humor, playfulness, antiquity and story. Her art is mindful and it seems to be the one thing in her life that has been completely truthful to her. It's as if art seems dedicated to her happiness and therefore, I would say it's as important as her own heartbeat. She says of her work, "It's blissful, I feel good all the time when I'm painting. I can sit for 10 hours straight and paint. I forget I'm hungry, I love to paint."
Kathleen also loves mechanical things and mechanical people, those who love mechanical things. A true classic motorcyclist years ago, she tells me of riding Indian and Triumph motorcycles. This was something about her I didn't see coming, but that bit of fearlessness shows in her creative process. It's refreshing and the mechanical side of her shows up especially in her clay pieces, many of which have small working or hand fabricated parts.
For her paintings, there are interesting aspects which bring them to life. While the painting part is done in oil, Kathleen creates designs through photoshop using layered effects to be printed onto a tissue type paper. This process allows her to positioning and scale them to support her desired narrative. She then places them over her oil painting and through a varnishing step, the tissue paper becomes saturated and visually disappears into the varnish leaving the designs and her oil painting seen as one.
Kathleen admits she likes some of her pieces "to feel a little odd" but not dark in nature, and those who enjoy her work are quickly drawn to it. This includes her little sculptures. "I started making clay things and I'm illustrative with my clay. I'm kind of sentimental and my brain is probably more like in Alice in Wonderland." , she explains, "My grandmother was British and so I grew up in that story land of mythology ... and those things just tend to seep into my work." Kathleen loves magical things.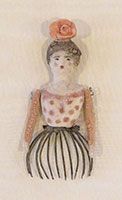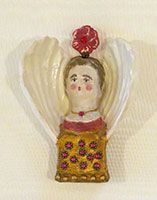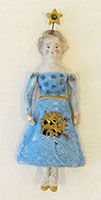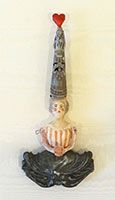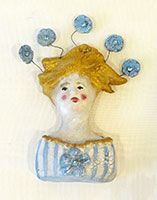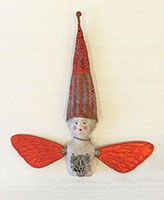 Like her paintings, Kathleen's sculptures all have stories and often come with working parts that help the whimsical aspect of her story telling. Kathleen describes then as archaic and funny. She also textures them to look as she describes them, "That they've been at the bottom of the sea." They have a unique antique toy quality about them making them fun to collect.