Spelled Out - 11 Steps to Inspiration
| Linda Hendrickson
I-NDIGO is a color loved by all. The sky, the sea, the stuff of poetry,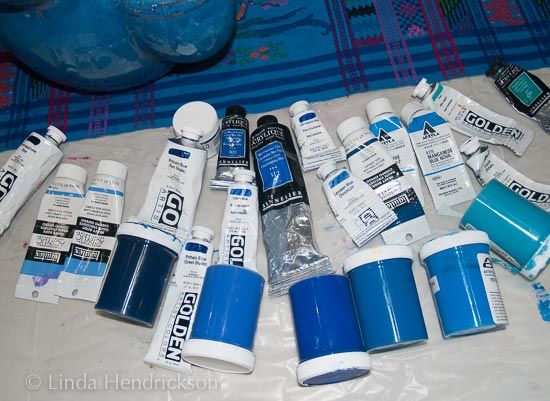 paintings and stories galore from the palest hue to the bluebird soaring high,blue excites, calms and finds its way into our very fiber.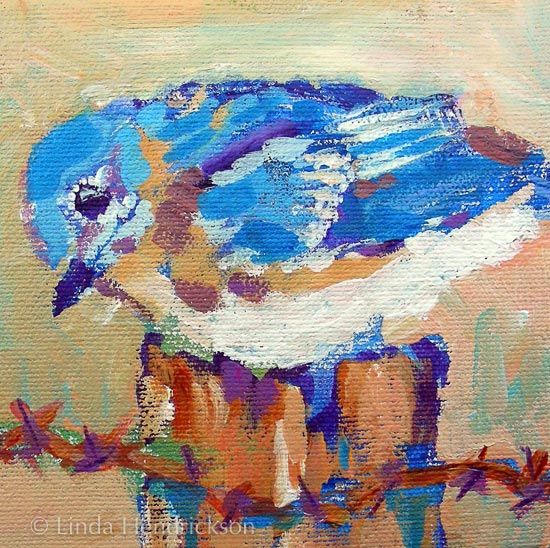 N-EW tools, canvas, supplies, paints, seasons, a baby animal each signal a start which create endorphins all their own.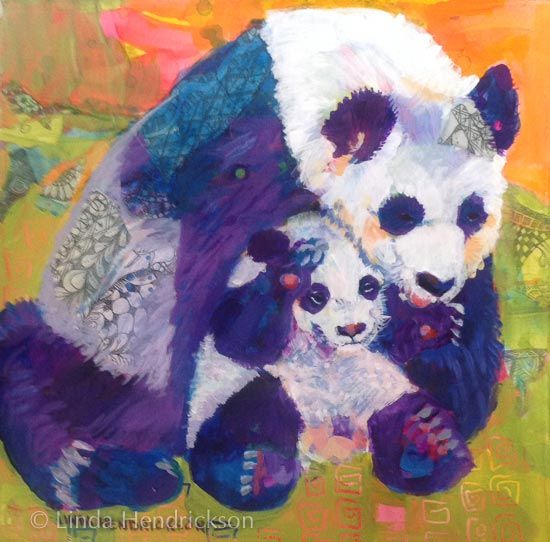 "Pandas" by Linda Hendrickson, mixed media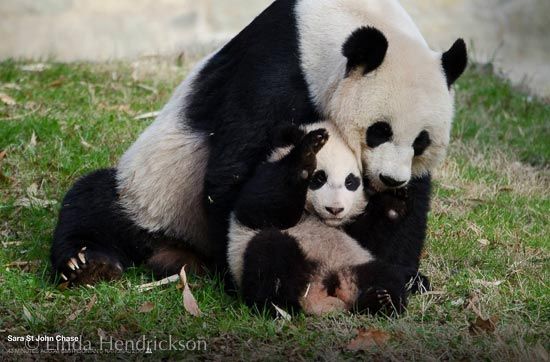 Thank you Sara for such an amazing photo reference!
S-UPPORTIVE friends and peers, Julia Cameron calls these individuals "believing mirrors". This is the individual to whom I can say "I'm having trouble seeing where that tail is coming from". And rather than a criticism, it is an aha, "so that's what's bothering me!" Sometimes we are too close to our work to see what is niggling us. Uplifting friends hold a special place in our lives! These individuals encourage, keep us on track and inspire!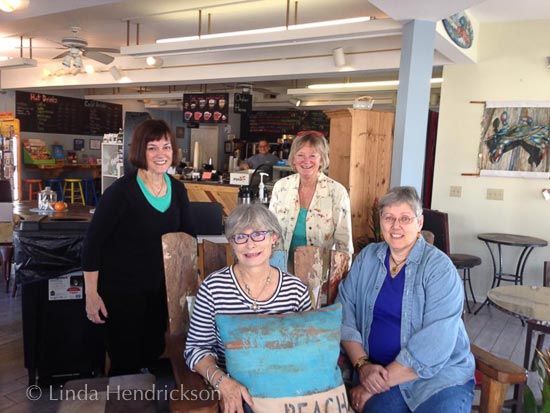 Linda Murphy Marshall, Linda Hendrickson, Tara Funk Grim, Morgan Golladay at Bethany Beach, DE
P-LACE, the beach , the mountains, for each of us there is a happy place where PLAY becomes easy and free. Where is yours? Is it in the woods naming the trillium, the dogwood and snowdrops or is it by the lake listening to the loon and watching, waiting for a fish to jump? Maybe your spot is at the ocean letting the waves roll in and lull you to sleep. Is this spot as close as your back porch with the fan running and the birds at the feeder? The rhythm of life seems slow enough to free a wealth of inspiration in your happy place.
Where is yours, This email address is being protected from spambots. You need JavaScript enabled to view it., why is this your happy place?

Linda Hendrickson painting at Lake McDonald, Glacier National Park, MT
I-DEA Popcorn ideas bouncing and exploding off each other, a brainstorm of possibilities each with their own tangent to explore and an entire series that could be born out of every one.
R-EST, if tired it is hard to get excited, to act on possibilities. There is a great deal of research to suggest a nap is in order!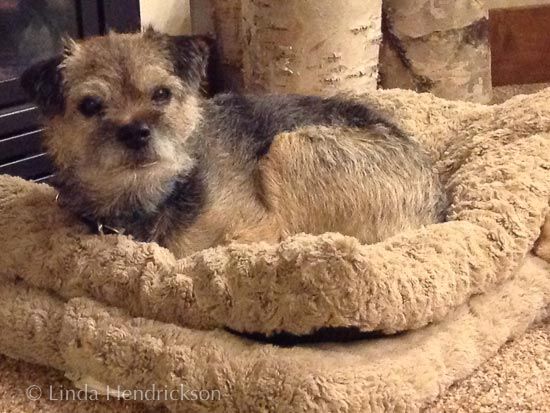 Molly, the Queen of Resting! Looking good at 14.5 years!
A-PPRECIATION, thankfulness, gratitude, looking on the bright side is the way to clear life of the detritus building up to block our paths to creativity. "Gratitude unlocks the fullness of life. It turns what we have into enough and more. It turns denial into acceptance, chaos to order, confusion to clarity. It can turn a meal into a feast, a house into a home, a stranger into a friend. Gratitude makes sense of our past, brings peace for today, and creates a vision for tomorrow." -- Melody Beattie
Haystack Falls, Glacier National Park
T-RAVEL to a new place, start a new sketch book and ask yourself what makes this so _______ (French, or Greek, or wherever you are)? Collect the sights, sounds, smells and flavors. Make a list of the foods you like unique to the region.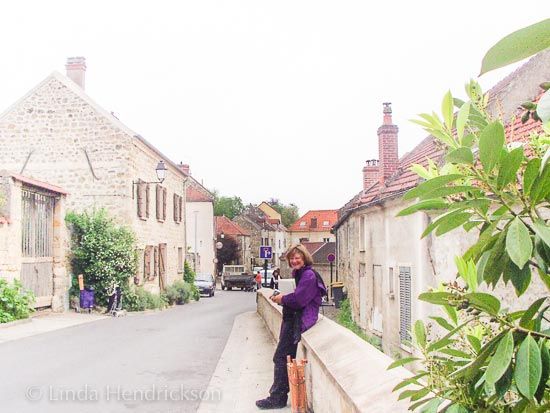 Tara Funk Grim in Over Sur Oise, France
I-MPULSES to explore an idea in this very moment, follow your dream, play in the rain, let the mud squish through you toes.
O-PULENT, abundant, extravagant, exuberant, lavish, plentiful, prolific, rich, sumptuous are all the descriptors which come to mind when you show up to begin a project. Like gratitude, focus on the full life you have and ideas will flow for the project at hand.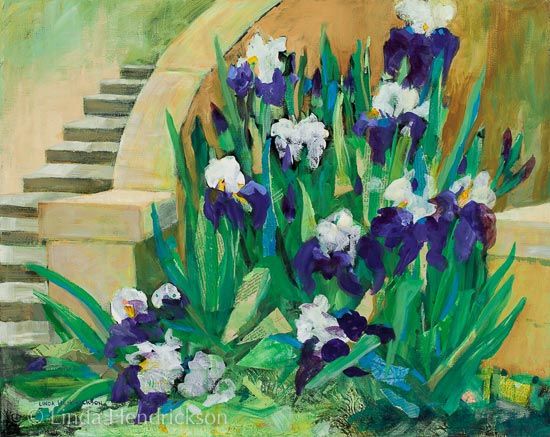 "Van Gogh's Irises" by Linda Hendrickson, mixed media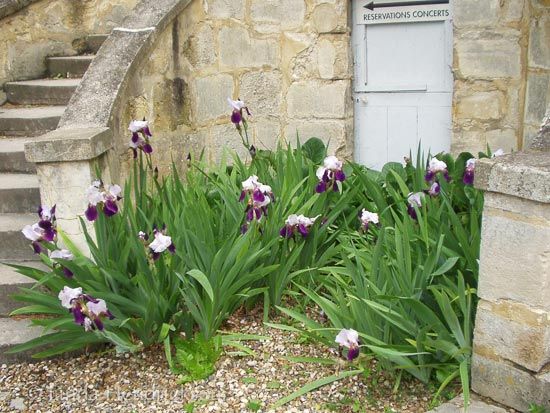 Iris outside the Van Gogh Museum in Over Sur Oise, France, inspiration and reference for painting above
N-OW, spontaneous acting on a desire to create, make it happen. Urgently seize the moment, act NOW before something else vies for your attention!