Artful Baking
| Linda Neel
What is artful baking? With the plethora of cooking shows, magazines, cookbooks, and websites out there, there's no shortage of dazzling desserts: adorable cupcakes with unexpected ingredients, whimsical cakes that all but sing and dance, elegant pastries almost too lovely to eat. So, what does it take for somebody to produce a confectionary work of art?
One way to think about it is that an artful baker has three characteristics: a creative urge, an inspired imagination, and a practiced, skillful technique. And baker Deany Jones has plenty of all three.
For example, take a look at the gorgeous cake you see pictured here. Deany was asked to create a new springtime dessert for Crest Hill Antiques & Tea Room in The Plains, Virginia. She mulled on it for a while, thought about spring showers, and came up with an idea for a colorful rainbow inside a large, fluffy white cloud. Then she deftly adapted a King Arthur Flour recipe for a striped, chocolate and vanilla "zebra cake" -- the result was this vertically striped cake in pastel hues, enrobed in a frothy lime-buttercream frosting, dusted with coconut. Brilliant inspiration, creative adaptation, and tremendous technique (more on that below).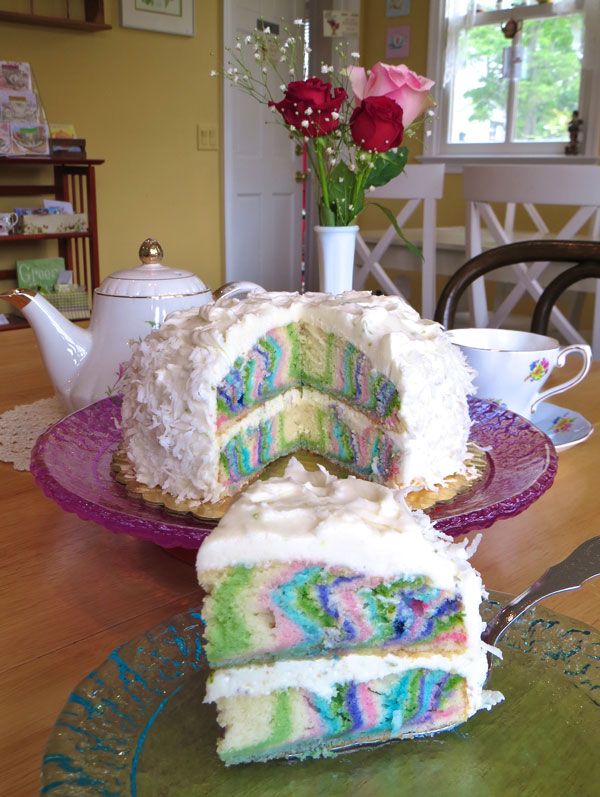 And then there's the flavor. If technology had already evolved beyond scratch-n-sniff computer screens to virtual tasting, you could experience right here how sublimely delicious this cake is. A light, moist, airy cake, not overly sweet, in a mild, buttery frosting with faint citrus flavor and coconut for texture – absolutely heavenly. If a margarita could be a cake, it would want to be this one. A truly artistic cake can't just look great; the proof is in the eating, and it must be even more delectable than it looks. Everyone has seen the novelty cakes made famous on TV by celebrity pastry chefs: gravity-defying structures shaped like galloping horses, famous buildings, cartoon characters, or electric guitars, often fortified by wooden dowels, PVC pipes or styrofoam discs, wrapped in layers of molded fondant. Seriously, would you really want to eat that? Have you ever tasted fondant? In a word, ick.
An important part of the creative process for Deany is the element of surprise, both in flavor and in visual presentation. For example, from the outside and before being cut, the cake pictured here looks like a traditional coconut cake; you'd expect the usual layers of yellow cake on the inside and the typical cream-cheese or vanilla frosting under the flurry of coconut. One surprise is the flavor of the frosting – while many bakers use lemon or vanilla to flavor buttercream, Deany chose lime, perhaps because it pairs so well with coconut or perhaps because, to use her words, "it's good to shock the palette."
The other surprise of course is the stunning visual effect. Cutting into the cake and removing the first slice reveals the unexpected rainbow of colors which, it turns out, never come out quite the same way twice – sometimes dark and thick like panels of stained glass, sometimes thin and wispy like colorful ribbons floating up on a breeze. The mildest reaction this cake has ever gotten has been a quiet "oooh!" but responses usually tend toward highly appreciative exclamations and, once, a genuine awe-struck gasp. The striped effect is achieved by dropping a dollop of one color of cake batter into the middle of another color and waiting for it to spread to the edges of the pan, then adding another colored dollop and waiting for it to spread, and then another, and so on. It's a time-consuming, painstaking process, and almost an act of faith, because Deany herself never knows exactly what it will look like until it's done and sliced – so, with this cake, the surprise is there for the baker as well.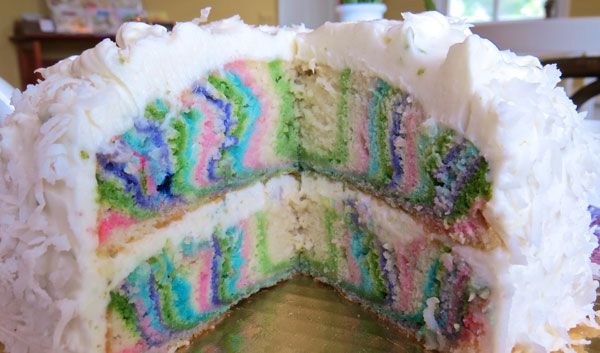 Deany's artful baking is not limited to cakes, and she also applies the element of surprise to her other creations. The scones she bakes for the same tea room are wildly popular, with more than one patron pronouncing them "the best." It turns out they have some secret ingredients: the slightest pinches of coriander or cardamom, which you don't taste at all but which enhance all the other ingredients, making the cranberry scones cranberry-ier, the lemon scones more lemony, and the apricot cream-cheese scones more ... well, you get the idea. And then there are her cookies.
Deany says that she likes "turning cookie dough into something people love," and her special holiday cookies -- whimsically decorated teacups for Mother's Day or flowered bonnets for Easter -- are a great example of that. And she never knows when inspiration will strike; once, while making heart-shaped shortbread cookies for Valentine's Day, she saw a puppy-cookie waiting to be born. She took one small heart and cut it in half down the middle, turned a larger heart upside-down with the point on top, placed the small heart halves on either side of the point, and put it in the oven to bake. Out came a long-eared puppy face, which she brought to life with the help of candy eyes, a cinnamon heart nose, and chocolate dots for the muzzle. It may have been hard to bite into that adorable face, but the crunchy, nutty, buttery flavor more than compensated for the guilt.
Like many artists, Deany is self-taught -- she was not professionally trained as a pastry chef; in fact, she is a registered nurse. She started baking for family and friends as a teenager and later for other nurses and hospital staff; bringing sweets into the emergency room office or critical care unit was her gift to her colleagues. Baking is her creative outlet, something else besides nursing that she could do very well and that other people enjoyed ... a lot! She has a passion for baking, a creative urge that fuels her imagination, challenges her to use and enhance her skills, and gives her immense satisfaction. In a way, she has to bake or else she gets cranky, and nobody wants a cranky person administering medications or drawing blood.
Over the years, Deany has baked dozens of cakes, hundreds of scones, and thousands of cookies, and it's probably true that a few early experiments were epic failures. But the creative urge kept her at it, using her imagination and refining her technique. When someone is extremely good at something, it's not completely accurate to say "she has a gift for it"-- the truth is, the gift has her. And when the gift is artful baking, the results are truly wonderful.
For a delightful afternoon and delicious baked goods, visit Crest Hill Antiques and Tea Room, The Plains, VA.