Nine Ideas for Storing & Displaying Your Art
| Linda Hendrickson
Is your art collection larger than your wall space?
Mine certainly is! In fact, my art collection is growing! Artist friends keep producing irresistible treasures, and I can't put my brushes down. What's a collector to do? Let me share some of the ways I store and display my art.
First: Change out the art in your home by seasons. Getting something out after three-quarters of a year makes you appreciate it anew.
Second: Hang the overflow in a hall gallery. What about track lighting system to help elevate this eclectic grouping to "gallery" status. I have a hallway leading to my laundry room loaded with art from knee, (correction--- ankle) to the ceiling.
Third: Decorate your stairwell, even if it is the one on the way to the basement. In my case this the way to my studio and happens to be a beautiful full stairwell. Safety first, visitors are required to keep their hand on the rail and go down or up empty handed to view this collection.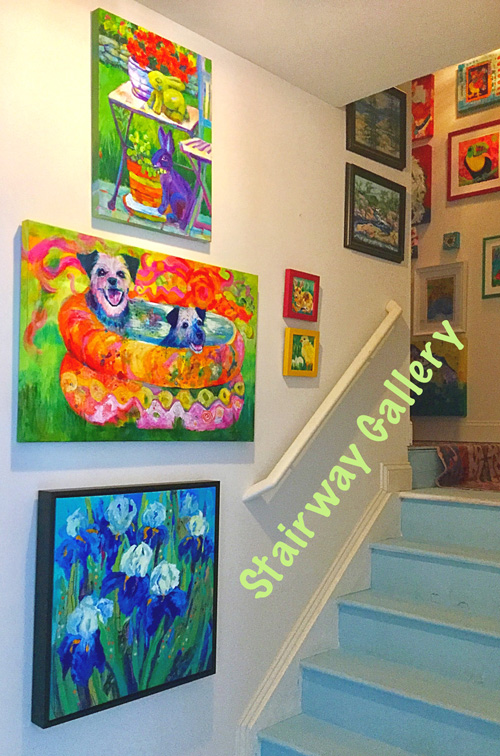 Fourth: The main goal for me as an artist is to find forever homes for my art. In the meantime, vet offices, Bobby's Bark and Breakfast, and friends provide temporary homes for my work. Keeping track of pieces and their locations is facilitated by Artsala.com. I have the professional version of the art inventory system, but if you have a small collection this is a great way to start keeping track of your art.
Fifth: Come up with a storage system. There are hanging, sliding walls, but a shelf or closet works just as well. Use a carpet scrap to pad the shelf and cardboard or foam core to separate the pieces of art. I always put pieces face to face and back to back so the hangers don't damage anything.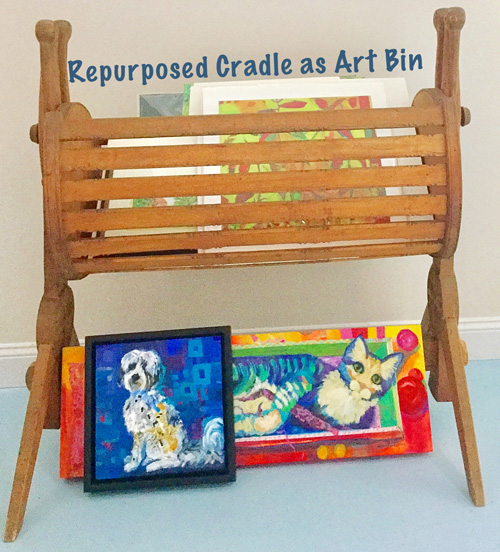 Sixth: How about a few Ikea shopping bags filled with labeled boxes of paintings? Load them side by side neatly under the shop table.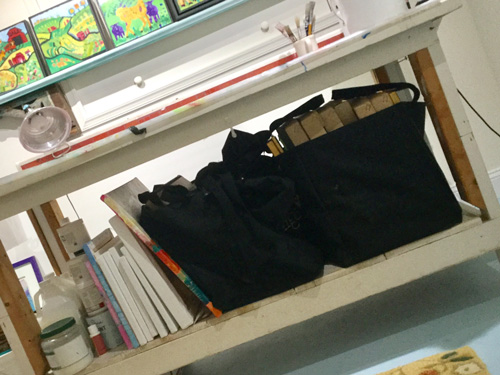 Seventh: Have you ever lived with doing something a certain way because you always have? This summer I experienced several such reminders to "mix" things up or "fix" the miss conception. For example on my trip in Glacier National Park, after a bear sighting, I told Sara she couldn't get out of the car. She said, "we'll just open the sun roof then!" I told her I didn't think it opened, just tilted. She got that HUGE manual out, and discovered: it opens wide. I have driven that car for three years without knowing how to poke the button correctly for WIDE open. Duh!! So it is with decorating with art. "Mix it Fix it" by hanging it just the way you please. Who says you can't enjoy a painting hung at baseboard level, especially if it lines up with the view from your favorite chair. (Like "Twinkle Toes", below. What self respecting armadillo would be running at other than ground level anyway?)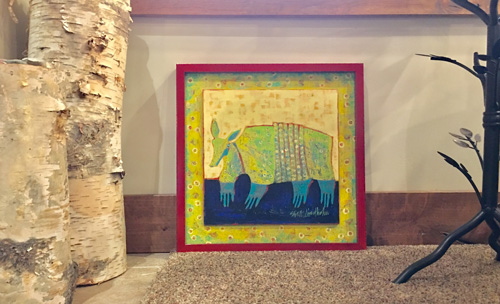 Or how about a portrait of your dog near the feeding station (unless your dog is a messy eater, like Ozkar the Great Dane, my brother's dog, who spreads gubers from one end of the mud room to the other). Perhaps you'd like to hang a painting above the door to the pantry.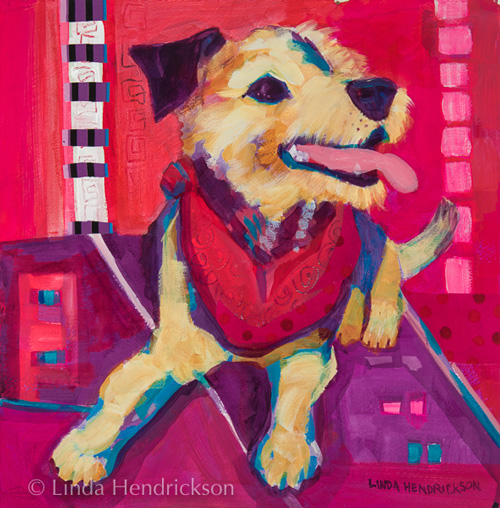 Eighth: Is there a subject of the painting that lends itself to being hung in a unique spot. With all the outside living spaces, Florida rooms, and porches there is a whole new realm of possibilities as long as the piece is protected from sunlight and weather or created with that in mind.
This is "Galloping Gator" by my artist friend Shelle Lindholm. Find this piece and others for outdoor spaces at her Etsy shop Shelle Lindholm Art.
Ninth: I love repurposing old stuff like corbels off the eves of old homes. In the case of my studio and my office, I have created shelves from pairs of corbels that can support a line up of ever changing art.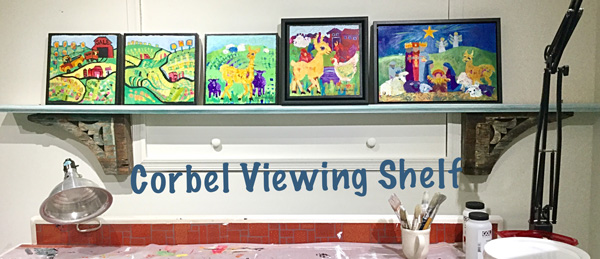 To view artwork by Linda Hendrickson please go to her website - click here.