Building Bridges With Art and Language
| Elaine Weiner-Reed
Art bridges the language barrier. Whatever the medium, whether painting or sculpture or music or dance. Art speaks to many people, regardless of age, race, social circles, or other demographics. I see Art as a universal language: It speaks for itself.
I grew up drawing on paper and the Etch-a-Sketch. In high school, I discovered the French language and since then, Art and French have been my constant companions and passions in life. Studying French opened doors and new worlds to me. French led me to what I call my first real adventure or leap of faith, which was in my junior year in college, when I stepped on a plane for the first time to study French in Montpellier, in the South of France. While at first terrifying, the year gradually turned magical. A few years later, the French language led me to my first real job after college. Over a 37-year career, it would lead me to several other such leaps and into other French-speaking countries, for which I am grateful. Looking back, I am quite certain that my parents had feared for my ultimate well-being – given my two less-than-practical (in their minds) career choices.
Art led me to what I call my first major art-related leap of faith in 2014. Hand-picked by a NY curator, I was one of five American artists invited to participate in the 17th Annual MWA, a Poland and European sponsored International Artists Residency in Myslenice, Poland. Almost without thinking, I jumped at this once-in-a-lifetime opportunity. I booked my flight, then panic set in and took root. I do not speak Polish. I have never been to Poland and had no idea what to expect. The currency is different and I had no idea where we would be lodged. I had a million questions, doubts and fears, and very little in the way of concrete information. Poland had not been featured on my bucket list!
I don't know about you, but I am a planner. Before traveling, I love researching a new city or state, picturing where I will be staying, and knowing what I might be doing some of the time. Truthfully, I do not need the safety net of a totally pre-planned itinerary, but I confess to liking to have a framework of plans for any adventure. My travel plans always include free time that I know will be enriched by spontaneous activities and discoveries during the trip. Such as a prolonged stop in a colorful café where a pop-up music session occurred, a side-trip suggested by a fellow traveler, or a deep conversation about art with a shop owner who perhaps becomes a friend.
MWA 2014 Residency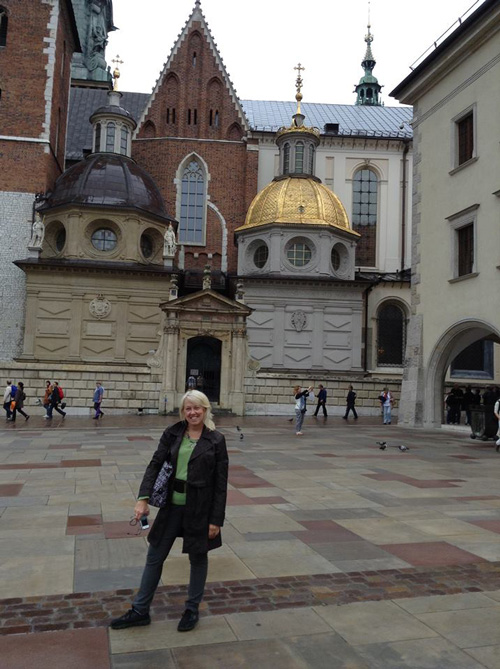 Enter Poland, July 2014: There I was, passport in hand, traveling to Poland – a land where I had no connections and did not how to make change, order a coffee, or ask for the restroom, and I was uncertain of the reliability of the phone connections. I had done some research of course, but still had very little solid information. Fortunately, the curator who selected me and the other American artists, was Polish-American, and she could serve as our intermediary with Residency planners. That was definitely a relief. As a prelude to the Residency, she ultimately convinced me to travel to Poland a few days before the Residency started, so that she could introduce me to her country and we could visit the city of Krakow. Convinced and hopeful, I rescheduled my departure date to allow for the Krakow visit. It was a good decision. To my utter delight, the city of Krakow was filled with music and great food. My feelings of relief and joy in discovering such history and beauty overrode my anxiety for several days. It was a respite wherein I caught my breath and tried to build some resiliency for what was to follow.
Four days into the two plus week trip and that moment arrived, the curator and I caught a cab and headed for the Myslenice airport to meet two of the other American artists. Exit comfort zone, enter panic mode. We had to wait several hours at the airport, but finally our driver arrived and we piled into a beat up van driven by a tall, dark, Slovakian man, whom I would later learn was a returning artist and educator. The ride took us about an hour. As we pulled up to what I now refer to as the art family compound (a riverside Bed and Breakfast), the van doors opened. I landed in a cacophonous reality, where an unknown number of foreign languages were being spoken by at least 40 strangers from many nations. Already beginning to fabricate my exit strategy, I put one foot tentatively out of the van and onto the driveway, only to be swept into a huge hug by another American artist whom it turned out, I had met during a group art exhibition in Chelsea.
Hearts joined in mutual relief and immediate friendship, and boundless laughter filled our days from then on. Besides English, my friend spoke Hebrew and Polish, so she became my translator for those languages. In turn, I became her French-English translator with the contingent of French Artists I was thrilled to welcome a few days later. From that moment, I decided to make the most of it and live in the moment, and my attitude shifted onto the right plane. I had two weeks to paint and I meant to be a creator extraordinaire. Now that I was on-the-ground, I was actually starting to get excited… What an opportunity I had been offered!
Some weeks before our arrival I had provided the directors and sponsors with a list of my desired art materials. I had requested some 20 jars or tubes of paints, several stretched canvases in my favorite sizes, plus a roll of canvas. Trying to keep to one suitcase for the entire two weeks, all I had brought with me were a few brushes and a favorite glaze. Once I arrived in Myslenice, I readjusted my expectations, realizing I should not expect to receive all of the paint colors or brands I had specified on my dream sheet because of the fact that all room, board, and materials expenses were entirely funded by Sponsor and town donations. In addition to the 40-some artists in residence, there were probably another 30 or so drop-in participants. After learning this, I readjusted my expectations yet again! Now I would just be grateful for whatever I was given thanks to the generosity of sponsors, and should the need arise, I would search out any necessities in town at my own expense!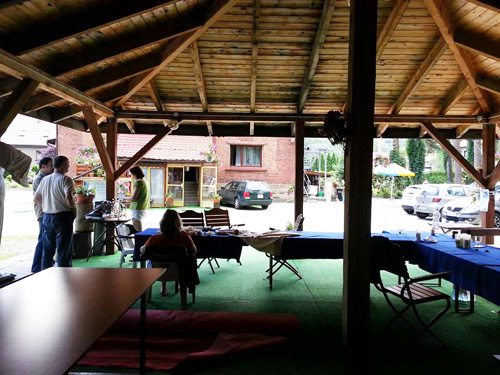 As I waited for my turn to receive materials, I scoped out a spot in the corner of the covered pavilion, where many of us would work together daily - en plein air. I tried to be patient – even as I was chomping at the bit to start painting. I wanted to do enough painting so that I could leave several good ones at the end of the Residency as a thank you and repayment to our many benefactors and sponsors.
When it was my time in the materials receiving line, I received a brown paper bag, stapled shut with my name on it. It was about the size of a lunch bag. What was in my goodie bag, you ask? There were the following five tubes of paint: white, black, yellow, red, and blue. It was back to basics! My painting roots, when I had learned to mix my own oil colors in the early 1980's. Next, in addition to receiving a few stretched canvases and several wallboard-type boards, I was shown to a roll of canvas, where I was told that I could cut my portions. It was a roll of fabric like nothing I had ever seen. It was sheer… But I went ahead and cut off some large pieces with a thank you, in poorly pronounced Polish, and set about making it all work. In time, with the help of my new friends, we located a stapler and figured out how to attach the fabric to the heavy wallboard. After the initial shock over my new brand of canvas wore off, I smiled to myself: "Move over, MacGyver!" I knew I could paint with, and on anything, and I was determined to give it my all.
When the Residency director handed me that mystery bag of paints, he had done so with a wonderful twinkling-eye smile, rambling on in Polish. In response, all I could do was smile, mutter "thank you" in English, and look to my friend for a translation at some break in their conversation. I assumed I was being welcomed. Don't you love translations? People converse animatedly for about 5 minutes and the translation you eventually receive equates to an overview sentence or two. Oh, how I longed to be able to communicate, to know what they were laughing about or worrying over. Later in the week I learned that Director Jan, a master sculptor renowned in Poland, could speak some French. So we found that second pathway to communication, along with the act of creating itself. Where there's a will, there's a way.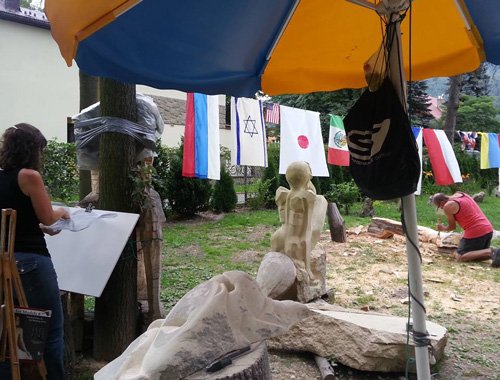 By day, we communicated primarily through our Art. As we created and circulated the grounds and makeshift studios, or went to and from the Bed and Breakfast's communal dining room, we got to know each other through our art and by watching each other at work. Our art spoke volumes, and over time served as a visual autobiography of the artist. Not only did the content of our artwork reveal much of our thinking or feelings and perspectives, but it revealed much about our mindset, culture, lifestyle, philosophies, background, faith, and our life. A gifted sculptor from Wales, who spoke English as well as his native tongue, and some Polish and French, handed me a mallet one day during the first week, and within minutes, I found myself beside him with my chosen stone and borrowed tools. I was in heaven. Even minoring in sculpture in college, I had never sculpted in stone… I discovered that I loved it! My days morphed into a medley of painting and sculpting, starting each day at about 8:00 a.m. and ending at sunset or when we were called in to dinner.
Our Residency coincided with Myslenice's annual week-long Town Festival with our plein-air pavilion backing to the river and town park, open to the public. Small and large groups of families, schools, and artists were continually circulating amongst us, watching and engaging with the artists at work. We smiled, demonstrated our approach, interacted with them as much as possible, posed for photos, and kept working.
By night, we communicated through song, dance, cultural exchanges, food, and drink. Myslenice's Mayor and the Mayor of Myslenice's sister city in France, along with other dignitaries, came to our opening and closing receptions, exhibitions, and evening events.
Most nights after dinner, around 9pm, there was a cultural exchange event at our pavilion. Each country's group of artists was expected to share their nation's history, culture, food, and traditions in a presentation of their choosing.
While the other artist groups already knew the drill, we in the American contingent were more than a little anxious at first. I think it was our second night in Myslenice that we learned about that tradition and the fact that we were expected to do an "America Night" activity for the group. I admit that my mind went totally blank in panic as I thought: "But … America is a melting pot! All countries make up our country and its traditions... We don't have our own traditions!" We do, of course, but panic will do that to you. That, and the fear of getting up in front of a crowd! As the first American Artist contingent at the 17-year old Residency, I saw myself and all of us Americans as ad-hoc diplomats. Representatives of our country to those who had never before spoken to or been with a real American. For many, they saw all Americans as archetypes of Hollywood stars. Isn't that how many of us form opinions about other peoples and cultures? From the famous few athletes or stars of the country in question?
I breathed a sigh of relief as the five of us immediately united, huddled, and brainstormed, reviewing ideas and our nation's stereotypes. We decided on the menu (American whiskeys and snack foods such as Oreo cookies) and we looked to our Slovakian friends for help finding some music. Fortunately, most of the younger artists loved American music. To our delight, our Slovakian and French friends created a slide show for us of music and images of iconic or scenic America, which they projected on the facade of the Bed and Breakfast. What a show! Everyone loved our presentation in Polish by our curator and devoured the American treats, singing along with some of the songs. To applause, Frank Sinatra's "New York, New York" was our big finale. The support given to us "new kids" brought me to tears and forged friendships I know will last a lifetime. Art unites!
During those wonderful two weeks, in rain, shine, and leftover pierogis, we all communicated beautifully – regardless of our native tongues. Friendships were forged in art, nature, faith, weather, paint, stone, wood, music, food, dance, dreams, song, drink, and laughter. Three and four language conversations and translations were happening everywhere, all around us, and I was involved in many of them. In our mind and hearts, we stumbled on words, laughed at each faux pas, and bonded. We shared snippets of our life, cultures, and traditions. We hugged, gestured, created, helped each other solve challenges, and cried and laughed together. We delighted and surprised each other and surpassed our own expectations. We found we had more in common than we expected and we learned to respect and cherish our differences. I was especially moved by the fact that what drove most of us was the desire to try new things, open our minds, and make art for pure art's sake, while letting it speak for us in our own voice within that welcoming, inclusive environment. I was blessed to have this experience, where doors opened, giving me a window into other worlds and letting me get to meet real people in other countries that I long to visit or return to: Slovakia, Ukraine, Wales, Armenia, Romania, France, and Poland.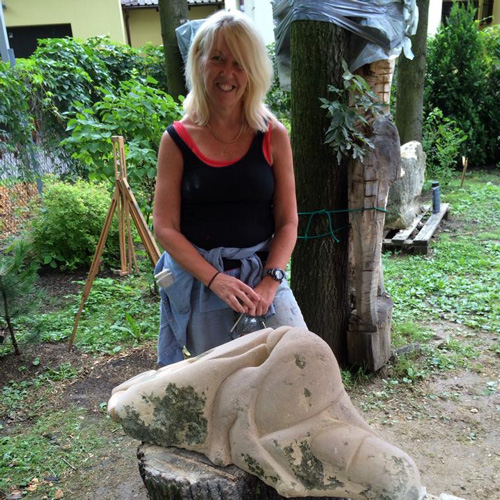 In the end, I did not want to leave. Tears filled my eyes when my sponsors told me I was welcome every year. As you can imagine, our good-byes were cathartic hugging sessions of smiles, tears, and promises to stay in touch. Many of us had already connected on Facebook or exchanged email addresses. My friend, a talented mesh sculpture artist, surprised me by creating a video of me in action during those two weeks. What a lovely gift!
Before my taxi had even reached the Myslenice airport, I vowed to return as soon as possible. My first Art "leap of faith" led me to a life-changing, creative experience where Art was my first language, followed by English and French. Art is its own language and it unites across borders.
Note: Four of Elaine's paintings and one sculpture remain in private and public collections in Poland or the EU.
To view Elaine's artwork please go to her website https://www.elaineweinerreed.com
Elaine Weiner-Reed at MWA Residency
Latest Blog Posts
Article Categories