The Quest to Save Alaskan Artist Vic Sparks' Legacy
| Diane Helentjaris
Sheila Ralph's quest began in a setting rivaling Lord of the Rings. Misty, sharp-edged mountains soared five thousand feet above the icy fjord. At their base, on a narrow strip of flatland rimmed by water, perched the tiny hamlet of Skagway, Alaska.
Rather than an ethereal fairy, the beckoning to adventure came, 'way back in 1987, from Vivian Borkgren, widow of the town banker. Vivian was adamant: the legacy of Vic Sparks had to be saved and, as his grandchild, only Sheila could do it.
Serendipity brought Alaskan artist Vic Sparks (1884-1962) north to Skagway as a teenager when the family reunited there with Vic's father. Over 100,000 optimists – Vic's father Winfield among them - had flooded into the nearby Canadian wilds after the 1896 discovery of gold. Like most prospectors, Winfield Sparks' gold fever had found faint relief. Skagway, the "Gateway to the Yukon," had been ideally located for Gold Rushers stocking up before their arduous trek over the Coastal Mountains into the Canadian gold fields. The outpost temporarily burgeoned into the largest town in Alaska - and a lawless one, at that. Winfield's atypical decision to settle in Skagway was emulated by his son. Vic Sparks would spend, except for two brief interludes, the rest of his life in Skagway.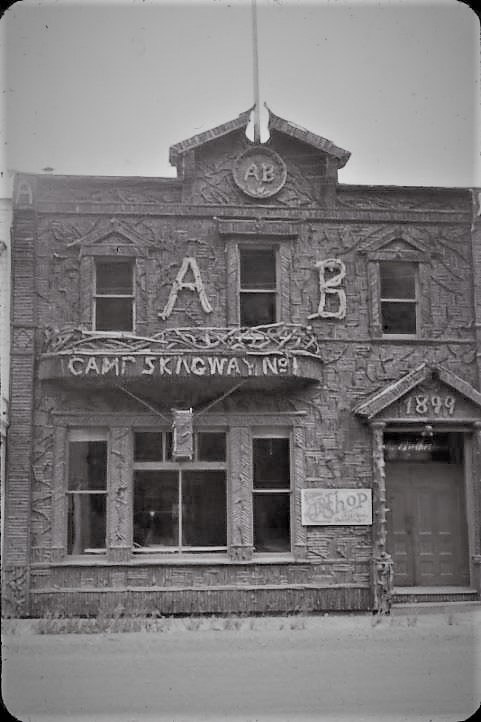 A born artist through-and-through, constantly drawing, doodling and painting, Vic first left Skagway to study art in San Francisco. After surviving the horrific 1906 earthquake which destroyed eighty percent of the city and killed over three thousand people, Vic experienced years of nightmares fueled by the trembler's devastation. By 1908, Vic was back in Skagway drawing Rube Goldberg-like political cartoons for the newspaper. After marrying a local woman in 1918, he left Skagway for the second time, living on Bainbridge Island, Washington. Life there proved hard: his first child was born in a tent pitched in his in-laws' backyard. His second child came into the world in a lean-to, also in the in-laws' yard. The young Sparks family soon fled back to Skagway.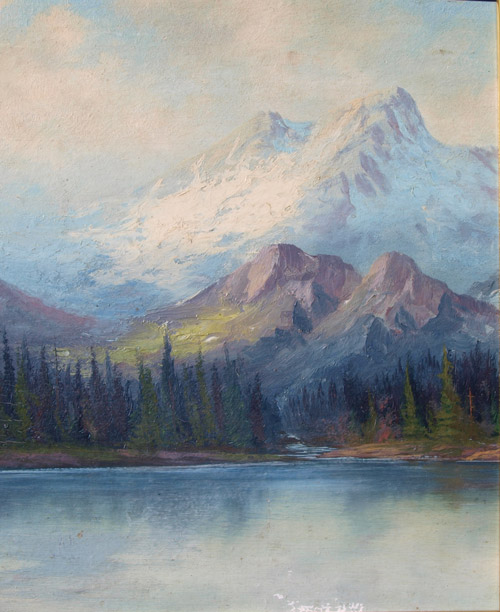 The life of an artist is rarely affluent, yet Vic Sparks managed to eke out a livelihood in a town of less than one thousand souls. He did this by using his artistic talent, when possible, and whatever other opportunities came his way. He taught the village children art, cartooned, sold paintings to tourists, painted signage, built folk sculptures, and created commissioned art. But he also worked for the White Pass and Yukon Railway, was a fireman, served as a Customs official and built coffins for fellow townspeople. In 1930, deputized by the Sheriff, he helped capture the Kangaroo Kid, an escaped convict. Given the choice between continued life on the lam in Alaska or time in jail, the half-starved, half-frozen Kangaroo Kid flopped gratefully into Vic's boat.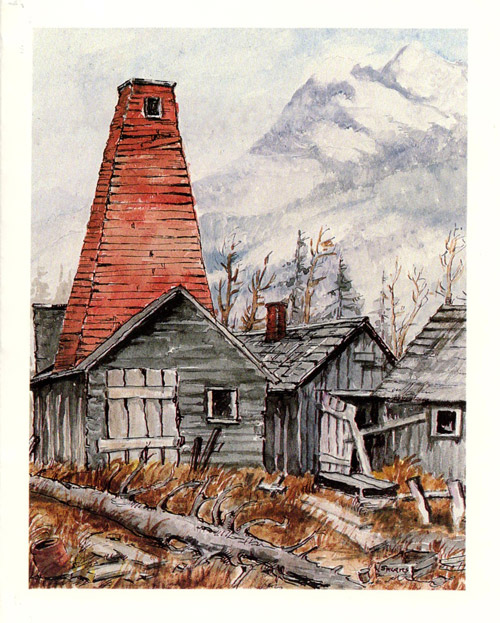 Vivian Borkgren took Sheila Ralph aside in 1987, filling her with stories of her grandfather's colorful life. Vivian showed her a dozen watercolors she and her husband had commissioned. "They were some of the finest paintings he ever did," recalls Sheila. Dramatic scenery was coupled with cabins, ghost towns and Native Alaskan villages - most since reclaimed by wilderness. Growing up in the "lower forty-eight," Sheila had not spent much time with her grandfather. With a child's eyes, she remembered him as "such a jokester." Now, she became entranced with the notion of preserving his artistic legacy. She realized his work uniquely captured long-gone scenes of southeastern Alaska from the historic era between the Gold Rush and statehood. Although she lived over 3500 miles away in Virginia and worked full-time teaching clinical nursing, Sheila accepted Vivian's call to action.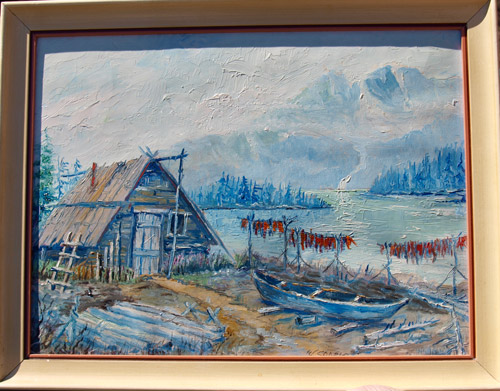 Vivian proved to be a worthy compatriot in the early years of this quest. She introduced Sheila to other Alaskan owners of Sparks paintings and people who remembered him. And so, Sheila began the finicky task of identifying and tracking Vic's artwork.
In 1923 the travel industry had saved Skagway from oblivion by bringing cruise ships up the Inside Passage of Alaska's southeastern coastline. Tourism remains the town's bread and butter with hundreds of cruise ships now bringing thousands to Skagway each summer. Vic enthusiastically embraced tourism. A photogenic man, he posed as a grizzled prospector for promotional ads as well as for National Geographic magazine. He sold his art to sightseers. He joined other townies in entertaining the visitors with their vaudevillian Klondike musical "Days of 98." This tie to tourism both tantalizes and frustrates Sheila: with a ready market Vic sold many paintings, but their location is untraceable.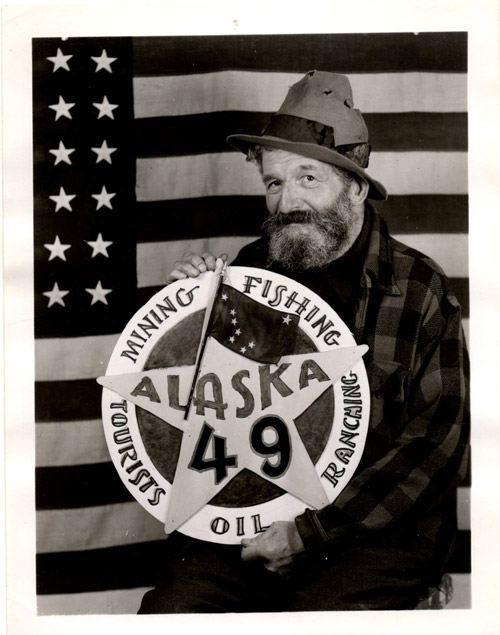 Vivian helped Sheila share her grandfather's story. She authorized the Borkgren watercolors to be reproduced as note cards which were then sold at the local museum. Sheila and her father Peter, in his seventies at the time, formed "Sparks Specialties" for this project.
Sheila next parlayed her experience as an author (her first work was the popular nursing reference book Sparks & Taylor's Nursing Diagnosis Reference Manual) to coauthor the 1998 booklet Vic Sparks, Skagway's Sourdough Artist. Coupling Vic's biographical information with images of his paintings, the little book also is sold at the town museum.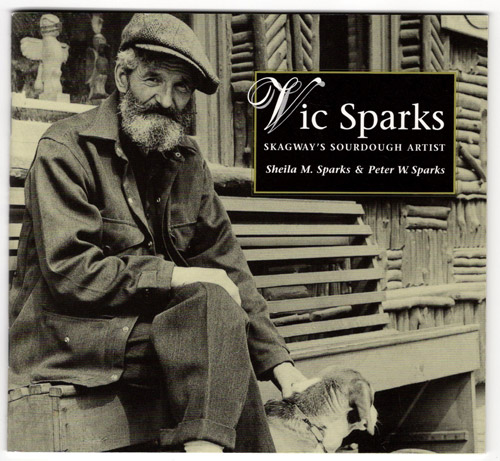 There are inherent barriers to preserving any artist's legacy: lack of funding, trouble getting accurate information, and communication. Alaska's geographic isolation from the other states makes travel expensive, results in relatively low familiarity with Alaskan history, and, in the days before "free" long distance telephone calls, hampered communication. Sheila faced all these as well as the demands placed on her by her late husband's health struggles in his final years. In 2015, Sheila decided to use the internet to get around many of these impediments. She created her blog dedicated to sharing information about Vic Sparks. The blog showcases selected drawings and paintings, asks for reader input and publishes snippets of Vic's life story written by Sheila.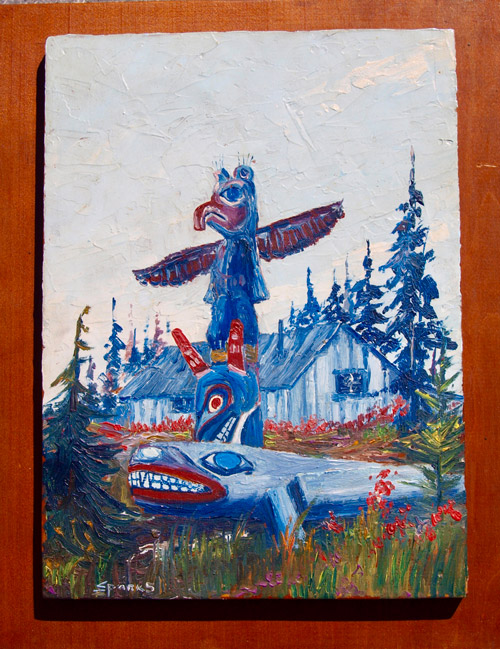 Sheila Ralph's quest continues. As a woman with her own doctoral degree, she understands the value of a meaty yet fresh doctoral subject. She believes Vic Sparks fits the bill and would like to connect with an interested student. Now retired from nursing, she is also exploring options for sharing the information in all the newspaper clippings, photographs, letters, interview notes, paintings and images of paintings that fill her home. Sheila accepts the likelihood that many Vic Sparks paintings were scattered to the four winds, taken home by sightseers who also had the privilege of being greeted by the artist, costumed as a prospector, as they stepped off their cruise ship. Those paintings may be on walls, in closets and in estate sales, waiting to be discovered. If you have information to share about Vic Sparks or his artwork, Sheila Ralph can be contacted through her blog at www.sourdoughartist.com
More articles about creative people:
Weaving Her Way Through Charlottesville
Karen Rexrode Life of The Assemblage Art Gardener
Kathleen Kendall The Magic Touch
Sheila Ralph hold one of her grandfather's paintings
Latest Blog Posts
Article Categories