How a Trip to East Jesus Rocked This Artist's Creative Journey
| Elaine Weiner-Reed
How often does a visit to museum or art show inspire us to greater heights of creativity? It sometimes happens as we wander among the works of great artists, some pieces making us stop…in awe.
During a road trip in Southern California, I was very fortunate to stumble on such an environment – one filled with mind-blowing art unlike anything I had ever seen. This place was overflowing in outdoor art installations, sculptures, and mixed media assemblages by countless anonymous artists. It blew me away... More importantly, it has inspired me to raise my own bar and unleash the depths of my own creativity in coming years.
The sky's the limit!
Off The Beaten Path in Southern California…
When the road trip began, I had no idea that the day would end in a euphoric cloud of creative energy.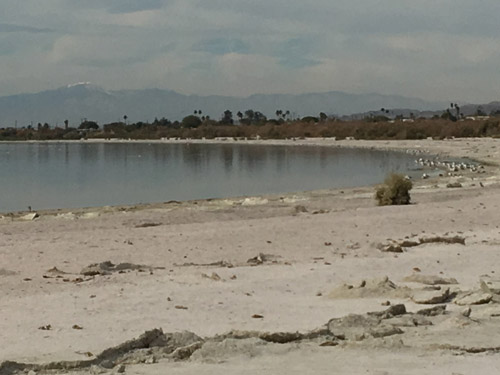 The Salton Sea, photo by Elaine Weiner-Reed
My Sister and I left Cathedral City, taking the 111 East and South. Destination: The Salton Sea, an inland saline lake in the Sonoran Desert of extreme southeastern California. The Salton Sea occupies the Salton Basin, a remnant of prehistoric Lake Cahuilla. The Sea's salinity measures slightly higher than that of the Pacific Ocean.
We enjoyed the almost-deserted beach, wandering along the salty shore, bird-watching and admiring the vistas. I had never seen an inland sea – not in a Desert! I later learned that we were fortunate in the timing of our visit, because the pervasive scent of decaying fish baking in the salty water, sun, and sand is often a strong deterrent to potential guests. As we were leaving the grounds, we stopped at the gate, asking the National Park Service Ranger what other sights we should not miss while we were in the area. (I do this whenever I travel.) We were already planning to go see a place called Salvation Mountain, we told her. Emphatically nodding her approval, she advised: "In that case, while you are out that way, you don't want to miss visiting Slab City and East Jesus."
Really?! "That's an actual place!?" I asked her with a skeptical smile, inclining my head as I said "Jesus." (Old habits die hard when you have been raised Catholic and attended nine years of Catholic schools…taught by nuns, I might add.) Smiling, she confirmed "Yes. It's a real place."
On the Road Again…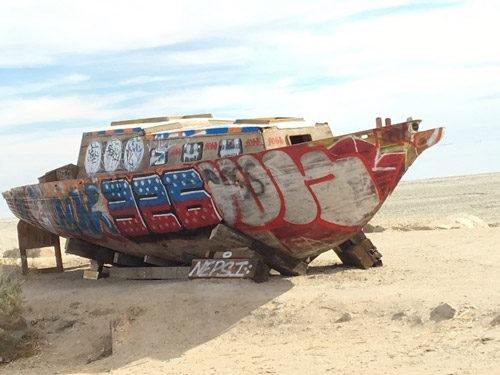 Bombay Beach, photo by Elaine Weiner-Reed
I admit, we were rather intrigued as we drove out onto the road. Only a few miles down the road, we made a quick detour to view the ruins of a 1950's California resort town, Bombay Beach, which has an interesting history. Remnants of the old now mingle with new homesteads– contrasts in eccentricities, up-cycling, and resourcefulness.
California is extremely pro freedom-of-speech and pro freedom-of-expression. That means pro-ART! For California residents, I discovered there is a plethora of public art grants and many laws supporting Art and artists. (To research this, you can start here.)
After about an hour or more drive, as directed, we turned left "at Main," and drove along the 2-lane road to our next two destinations: Salvation Mountain first, and then, East Jesus.
The Sisters' Road Trip Continues…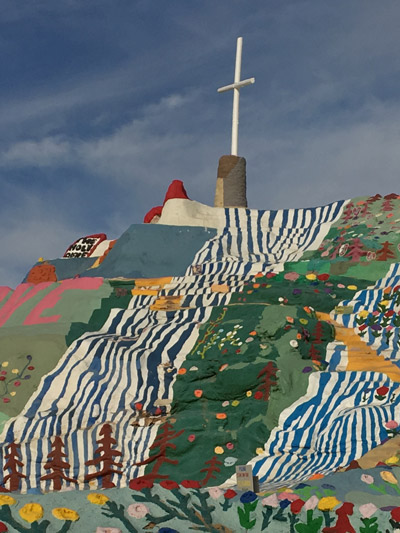 Salvation Mountain, photo by Elaine Weiner-Reed
Salvation Mountain is a quite unique place, the dream child of one man named Leonard Knight, whose life-long ambition became spreading the Word of God. That Word led him to Niland, California, in the mid-1980's, where determination and faith led him to construct the first one, and then a second mountain, now known as Salvation Mountain. Made over the course of more than 20 years from thousands of bales of straw, adobe, old tires, sticks, flowers, and thousands of gallons of paint, Salvation Mountain received Congressional recognition in 2002 from Senator Barbara Boxer, who called it "a unique and visionary sculpture...a national treasure...profoundly strange and beautifully accessible, and worthy of the international acclaim it receives." I find it extremely inspiring to see what one person can create – with an idea, a dream, and dogged determination. A YouTube video of Leonard Knight's Salvation Mountain and his philosophy can be found here.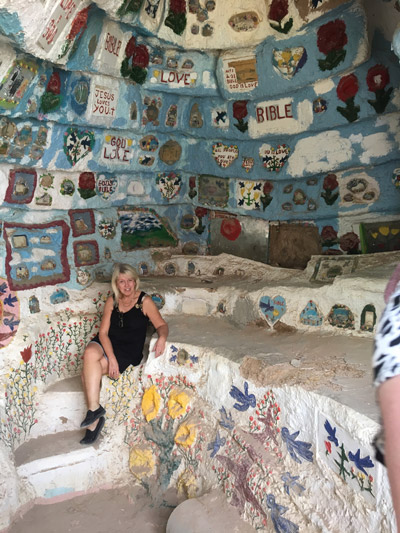 Elaine in Salvation Mt Grotto
We spent at least two hours at Salvation Mountain, exploring its many paintings and formations, and marveling at its grotto-like alcoves. I felt as if I had traveled back in time to a tolerant, loving, mellow, and welcoming time and place where we spoke in hushed awe. Having been born a few years too late, I bypassed the Hippie era, so this was a new experience for me…and a pleasant one at that!
One of the docents or caretakers of Salvation Mountain was pleased to educate me upon hearing that I lived in Maryland. He informed me that I could see additional work by and learn more about Leonard Knight at the American Visionary Museum (AVAM) in Baltimore. I had no idea, even though I have visited the museum. Clearly, this calls for a return visit to AVAM in the near future. Thank you, my anonymous Educator!
East Jesus, Here We Come!
My sister and I climbed back into the car, wanting to leave enough time in our day to give the intriguing East Jesus its due. We drove slowly through Slab City, but did not stop as we continued on. As we got closer to the destination, mileage-wise, there were not what you would call actual road signs, but rather hand-made plaques - when they were present at all. Unsure at one point on whether to go right or left, we spotted a sign that read: "Left, Satan."
Needless to say, we chuckled but turned right, and around the next bend found ourselves in East Jesus. Parking in the small lot, our jaws dropped as we opened our car doors, spotting a million things to see from the windows.
As an aside, I know many people think of New York City as the American Art Mecca or "Arts Capital," but from what I have seen and experienced, I believe that some of California's cities top the list for Art, creativity, and especially in their support of the arts and artists. Los Angeles and San Francisco continue to rock the world in terms of creativity in the arts and film industries, to be sure. That said, I personally witnessed the works of California Artists who are truly rocking their Creative Sides in ways I have never imagined or seen before.

Welcome to East Jesus - a very small town that you might never have heard of until now... While I had not heard of it until a few weeks ago, many California residents with whom I have spoken never heard of it, either!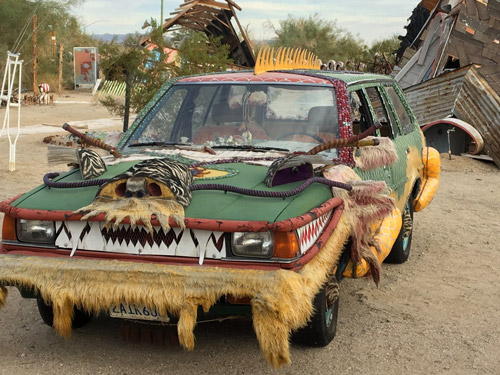 Monster Car in East Jesus
Before we knew it, more than three hours evaporated as my sister and I separately meandered through and circled in and around artwork, stopping and looking, snapping pictures, reading signs, running into each other occasionally for shared laughter at an artists' sense of humor, marveling all the while at the artists' limitless imagination. One work after another captivated us, replacing the one before as our new favorite. Enthralled, we became intoxicated by some of the most remarkable, mind-blowing installations, assemblages, and sculptures either of us had ever seen. Our heads were spinning, our senses in overload, as we tried to absorb some measure of its wealth and gather as many memories as we could. I smiled and marveled to myself, thinking: "This off-the-beaten-path place in a California desert is totally off the Creativity Charts! Talk about inspiring – wow… Just WOW! Move over, brick and mortar Art Museums… And keep on bringing it, East Jesus Artists!"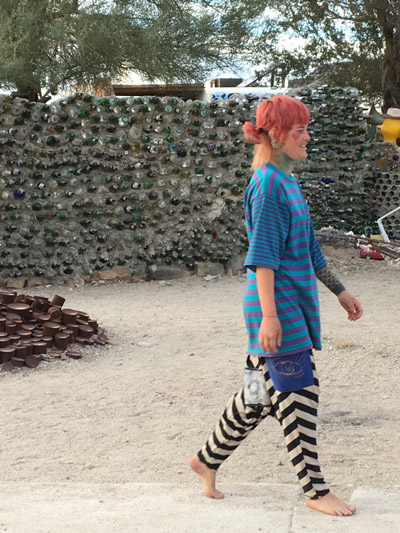 East Jesus resident
I invite you to watch the tribute video I created, "Creativity Meets East Jesus" to experience a 6-minute visit to East Jesus that could alter your own creative journey. I hope you enjoy your initial visual tour through the enclave's many marvelous creations… I know I will return to East Jesus, my new Art Mecca, but in the interim, I have over a hundred photos to help keep me on my artistic toes!
After East Jesus, I reset and raised my own Creativity Bar much, much higher.
In retrospect, I realized that I have not yet really begun to scratch below the surface of my own creativity - not while I was at University (sculpting ribbon shapes using polyester resin and fiberglass or welding scrap metal found in junkyards) and not during the intervening four decades, where I primarily have focused on painting. I left East Jesus energized, motivated, and grateful, imagining where I will take my art over the next 20-plus years!
My painting "Dialogue with A Muse III" (below) was created during the weeks following that special road trip.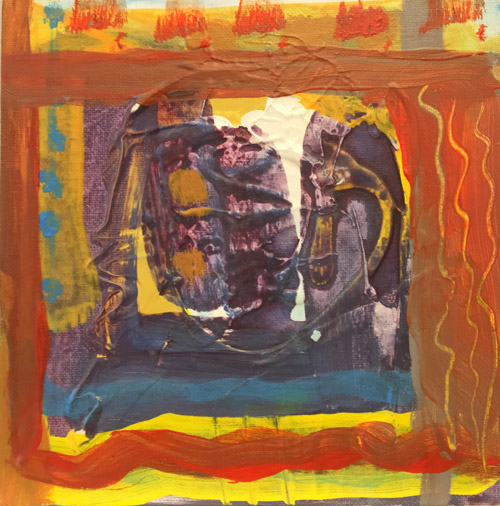 Dialogue with A Muse III (8" x 8"; © 2018 Elaine Weiner-Reed)

Is it just me, or has the magic of East Jesus already begun to nourish and influence my own Muse…?
As always with my articles and art videos, please feel free to share them with others who will appreciate their content and ideas. I hope you find my article and
video
to be educational and inspiring. I would love to hear from you as we keep the creativity wave moving. Please let me know if and how it inspired you in your own creative path. Stay in touch and be sure to email me your favorite works of art if you visit East Jesus.
Until next time: Keep Creating!