Escape From Ohio
| Diane Helentjaris
"As the crow flies" in Clark County, Ohio is a hot humid ride over miles of cornfields, interspersed with soybeans and a few little towns. Not much goes on here.
Folks celebrate the ripening of sweet corn in August and strawberries in the spring. Hunting for morel mushrooms in woodlots is a competitive sport. Women entertain their toddling granddaughters by sending them out in the yard with a shaker of Morton salt to catch birds. ("Just sprinkle it on her tail, honey, and you've got her!") Brutally boring with equally brutal weather, western Ohio spawns a certain wisecracking humor. Phyllis Diller, Erma Bombeck, Martin Sheen, Allison Janney - all grew up in western Ohio. Dave Chappelle still lives there. The Clark County seat, Springfield, birthed - in addition to 4-H Clubs, comic Jonathan Winters and singer John Legend - my snarky friend and celebrated ceramist Mark Burns.

With population spread thin, grades six through twelve in our part of Clark County were "consolidated," huddled together in a clutch of schoolhouses backed by potato fields on Route 40. There, Mark and I sat through Latin I, gazing out the large windows at the very road that earlier had carried pioneers west. Thanks to puberty's cruel humor, I reached my full adult height of five foot nine in sixth grade. My earliest memory of Mark is of a grinning spectacled little boy, jumping up and down like a grasshopper beside me as we strode the halls, trying to get on my level, while he chirped out funny quips. He dubbed me "Shorty."
Mark starred in the junior play "Heaven Can Wait" as Eric, who came from "a waiting place." By that time, Mark and I, along with our small group of friends, were definitely tired of waiting. As Mark says "I knew there was a wider world. I wanted to go away at an early age." A number of our classmates had already dropped out of school. Even with the Viet Nam War in full throttle, only one in five of Tecumseh High graduates would go on to trade school or college. My group was in that minority.
Nearby Yellow Springs – home of the ever-iconoclastic Antioch College – became our respite. We roamed the village, then at the peak of its success as a hotbed for peace-loving radicals. We filtered through the bookshop, the café and even the Quaker meeting house. Patchouli filled the air. My father tut-tutted that the Antioch students didn't launder their clothes enough. Later, when we were eighteen, we drank 3.2 percent alcohol beer at the log-walled Old Trail Inn.
One night, picking up Mark at his New Carlisle home for a trip to the Springs, we had a peek into part of his secret life. The group politely trailed Mark through his mother's tidy Colonial American living room, only to squeal and giggle when he opened the door to his bedroom. Certainly, we had seen the plastic bric-a-brac and monsters from the 1950's before, but never in such a gathering, all of it pulled together with garish movie posters from horror films. That night Mark excitedly chattered about the poison flower, wolfbane. He also complained about the inquisitive neighbor children who repeatedly window peeped on his little shop of horrors. Who could blame them?
What we didn't know then was Mark had been teaching himself art and design. Although participating in many school activities, he eschewed its Art Club and art classes. Mark "used what I saw every day" to learn about colors, shapes and images. And since we lived in a time and place where the only food garniture was black pepper on mashed potatoes and not one of us had yet to ride in a taxi, Mark incorporated a blue-collar Americana view. Using what was on hand, he learned about the human figure from his plastic toy monsters – such as Frankenstein - rather than from the elegant jointed wooden models of formal art classes. Seven years old when Sputnik blasted off, his ceramic art became and remains instantly identifiable with its upcycling of Atomic Age kitsch to express thorny cultural quandaries.
"I hightailed it out of there…I had to get a way out of the corn," is how Mark describes his escape from Clark County. Like others, he knew there was a wider world. Over the years I'd bump into fellow escapees, all never able to totally break free of their Ohio upbringing. I met one fellow Tecumseh grad walking down the street in Montreal. She was then singing in a hotel lounge act which I went to hear. Afterward, she showed me her latest copy of the New Carlisle Sun, the local paper, which she had mailed to her weekly as she took her act on the road. For years, page two of the New York Times featured another Tecumseh alumnus handsomely advertising men's suits. The former Eileen Ford model came back to become mayor of New Carlisle. Although Mark did not return, his life still reflects his midwestern origins as he continues to "work out of the atmosphere in which I grew up."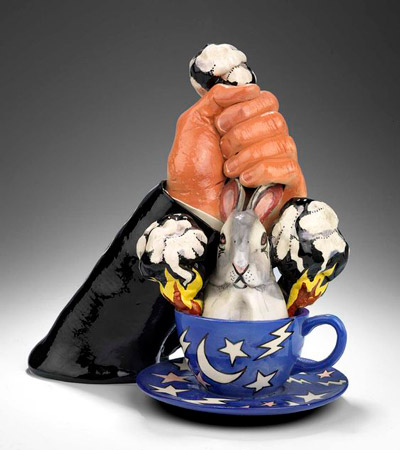 Doggedly true to his own personal artistic vision, Mark's art career has flourished. His ceramic pieces incorporate precision, patience and technical skill with the use of every-day decorative art from past eras to tell his story. As the American Craft Council (which elected him a Fellow in 2018) puts it, "Simultaneously enticing and unsettling, Burns' body of work embraces bad taste, strangeness, sex, and politics." The Boston Globe has described him as "the John Waters of ceramics."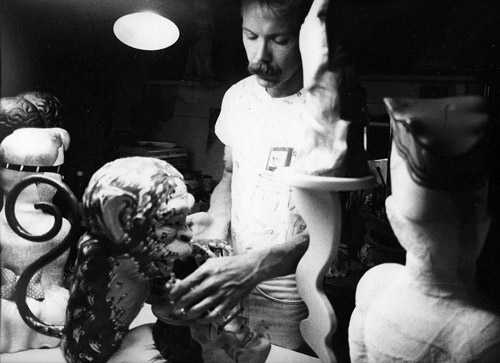 Early on, confirming no prophet is acceptable in his own country, Americans dismissed Mark as a "weird crack pot…who heard some drum no one else knew." But Mark Burns' career quickly gained traction once his quintessentially American art was honored by the Japanese and Korean art scenes. The tall blonde man from Ohio was formally introduced to the Crown Prince and Princess of Japan. By 1978 he was the youngest living artist of the 148, including Louis Comfort Tiffany, showcased in the Smithsonian's "A Century of Ceramics in the United States 1878-1978." With that recognition, came enjoyment of a White House dinner hosted by President Jimmy Carter. In 1988, he co-wrote a book, "Fifties Homestyle." Starring the colossal collection of 1950's goodies making Mark's Philadelphia townhouse a home, the book presaged our fascination with midcentury style. Zorro lunchboxes, technicolor "Mr. Peanuts" figurines, burgundy swan plaques joined with a DeKalb corn sign to fill the pages.
With the industry attributed to cornfed Midwesterners, Mark has maintained his robust studio creativity with an academic career. After stints at the Chicago Art Institute and the Rhode Island School of Design, he settled in – where else - Las Vegas. For twenty-five years, he taught ceramics at the University of Nevada and rose to chair the department. In 2013, Mark was awarded the "Excellence in Teaching" award by the National Council on Education for the Ceramic Arts.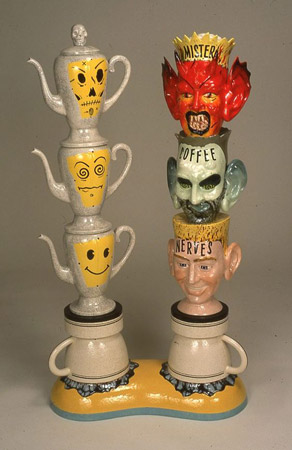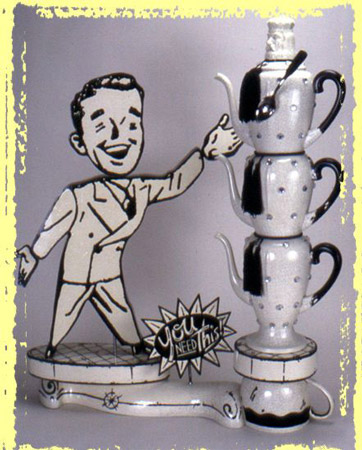 A few years ago, at what some might have considered the height of his career as an artist and academic, Mark Burns walked away. As quickly and thoroughly as he had fled his childhood home in the soybean fields of Ohio, he abandoned his kitsch-filled house in Las Vegas. His collection of now-stylish midcentury lamps and movie posters snapped up by eager hipsters, Mark's possessions are these days whittled down to a truck and a suitcase. "I don't have anything left to prove," says Mark Burns. "I've lived long enough to be homework…I just want to have fun."
Mark's first stop on his new path was Harvard. There, as a 2016-2018 Artist in Residence for the Harvard Ceramics Program, he put together his show "From the Cerebral Dimestore." His next position in this evolving new life will be at the University of Hartford in Connecticut filling an endowed chair. He will continue to add to the network of ceramicists who are former students, the "nieces" and "nephews" who have lovingly nicknamed him "Uncle Mark."
Without a doubt, the ceramics artist Mark Burns is the real deal, a true artist living an authentic life.
More articles about creative people:
The Quest to Save Alaskan Artist Vic Sparks
Mark Burns with his artwork
Latest Blog Posts
Article Categories