They Picked Me, They Picked Me!
| Amy Hutto
After fine-tuning your work, marketing yourself fantastically, crafting the perfect artist CV and making the right connections, you're excited to find out you will be represented in a great art gallery. Congratulations! You can sit back, bask in the glory and relax awhile. WRONG!
Now the real work begins. Typically representation comes with a trial period for both the gallery and artist. It's a time for both parties to decide if the fit is right. Hopefully, your work will sell, and the trial phase will become more permanent, although I use the word permanent loosely.
A gallery owner/director is excited to bring in new artists. It keeps their gallery fresh and hopefully brings new customers in and collectors back; however, owners and directors also need to see sales. They are investing in you and need to see a return on that investment in the form of sales revenue and customers. Look at it this way; there is a huge expense to own and operate a gallery, including rent, utilities, employees, insurance, maintenance expenses, etc.… not to mention the time and money they spend to market you and your work. Posting information about you and your art on their website; social media sites, advertising in local papers, printed marketing materials, and hosting openings and other events in the hopes of introducing you to the public costs money; as well as the investment of their time and energy. You need to be proactive in making sure it is worth it to them and to you.
One way to do this is to be sure you are continuing to provide the gallery with fresh new art that reflects care in the finishing details, such as framing or fully finished edges and appropriate hangers. Sloppy finishing is a kiss of death. As I complete pieces, I send a quick email including some good quality images along with information on the sizes of the work. Galleries are busy places even when they're not full of customers, and bringing in unseen/unsolicited work may be hectic for the director. Imagine if a few artists all showed up at the same time hauling in even a few pieces each for review and discussion, it could be chaotic and at the very least inconsiderate of the owner/director's time; best to send a preliminary email first.
Communication with the gallery (from here on "gallery" will refer to both the place and person) is essential, but don't overdo it. It's a good idea to have a conversation about what he/she would like to see going forward. Do they want you just to create what you feel, or do they want that along with something consistent? For example, if they bring you in because of floral paintings, is that the only subject they are going to want or are they open to other things? In most of my galleries, I am primarily an animal artist, although in one I also create tree paintings, and in another, I've had a chance to show not only animals, but trees, and abstracts. If the gallery only wants one subject from you, then consider other avenues for your other themes; seek an additional gallery or enter your other works in shows or sell through your online website. You don't want to get pigeon-holed into only one thing unless you only want to do that one thing anyway.
If it's your first time to gain representation, then focus your energies on that gallery for a while. Be sure you are able to handle their needs as well as your own personal needs; you don't want to spread yourself too thin. For every gallery you add, you'll need to be able to maintain new work for them as well. Better to start slowly, then add and see how two galleries go before adding more.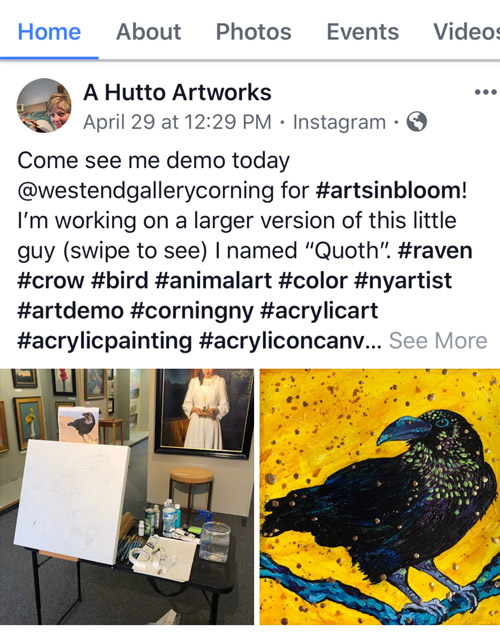 If the gallery is local, then be an active part of its happenings and events. Promote your gallery and its events on your Facebook, Twitter and Instagram pages; cross-promotion helps everyone. Attend openings of other artists, if there is a night where galleries stay open late and have artists attend and meet customers then go to those, volunteer to come in and do a demo one afternoon, etc. It benefits both you and the gallery. You'll meet other artists, meet customers who want to know about the new artist in the gallery and ask questions about your work, and the gallery will know you are committed to making the relationship a successful one for you both; after all, it is a relationship and relationships take time and commitment to last.
If the gallery is not local, then being active and participating is a bit more challenging. I try to travel to my two long distance galleries once a year, if possible, which it isn't always, but I try. Stay in communication and provide the gallery with up to date website information, short videos or photos of you working that they may want to post on their own website, and a good BIO they can post near your work. You'll need to discuss the shipment of new work to them, and probably be willing to pay for shipment to the gallery yourself. If you set up accounts with FedEx and UPS, you'll get a discount over not having an account.
You should continue to grow as an artist and try new things; just be sure you ask for feedback before you completely switch styles on the gallery. They brought you in because they like what you showed them, so you don't want them to feel like it was a bait and switch. That being said, your new work may appeal to them even more, so don't hide it either. If they want to try the new work, that's fantastic, if not and you want to continue it; then shop it around to others.
Galleries will charge a commission for selling your work; typically 40-50%. Be sure and keep your prices consistent with the gallery prices. Don't be tempted to sell for less on your own website; that undercuts the gallery and isn't fair or good business. This doesn't mean you can't offer friends and family a discount if you want, or that you can't run the occasional sale or clearance event, but regular sales should be the same or very close to the same as the gallery. If you're only working with one gallery, then price it the same; if you are working with multiple galleries and they are charging slightly different prices because of varying markets then perhaps average the prices of all the galleries to come up with your website price; somewhere in between the highest and lowest. Some people will try to go around the gallery and buy through you because they think they can get a lower price. If the gallery finds out you're doing this, it could sever your representation. Also, consider paying a commission back to the gallery if you know a customer learns about you through them. Some galleries require it, others request it; if they don't and you send them money, believe me, you will be greatly appreciated. The way I see it, perhaps I wouldn't have made a sale at all if they hadn't seen my work or learned about me through the gallery and their marketing. A commission isn't necessary on all online sales; just on those that you know are to customers of your gallery…it is good business and just the right thing to do.
Galleries are continually re-evaluating their needs based on sales and trends they are seeing in the art world. They may love your work, but if sales are sluggish or just not happening, they won't be able to justify continuing to carry your work. Don't get discouraged in this event; just keep moving forward, and you'll find that sweet spot where your work flourishes and sales follow. Even though it's hard work, don't forget to stop and remember you were chosen when others weren't; appreciate that, earn it and enjoy it! Until next time . . .
Read Part 1 on gallery representation by Amy Hutto:
"Demo Day" on the back porch of one of my galleries
Latest Blog Posts
Article Categories