Spring Is For Change
| Linda Hendrickson
Mr. and Mrs. Chickadee are upset at my chosen spot to chat with you. While we were away, they started their nest behind the wreath on the front door.
Scold as they may, they just can't seem to dissuade us from our front entrance. I've seen Mr. and Mrs. Cardinal at work in the backyard, but haven't found their secret hideaway. Don't you wish the seasons of your life went along by instinct like these feathered friends?
Recently I was skiing, and now I'm working in short sleeves while sitting on my front porch. The maple tree is pushing out bright burgundy buds all over the tree. A hawk is riding the currents high above the landscape. The daffodils are all the way out in sunny gardens. All this change feels like life is on fast forward again. Let's slow down and savor Spring. Make these beautiful days and moments last.
S = SAVOR We don't need to rush, cram things in, invent more to do. Instead, enjoy each moment and soak it all in. Take Mr. Chickadee, for example, he sits and watches me tilting his head this way and that. We both have all this day to soak in this sunshine and enjoy the new buds. No amount of sweating or list checking will give either of us a moment extra.
P = PRESENT Are you thankful for where you live? The time in which you live? Are you grateful for the opportunities you have seized, and the pitfalls you have avoided? I move between two studios that couldn't be more different. One is tiny 8' X 8' with too little or too much west light, easily gets cluttered and makes it tough to step back and look at the painting I'm creating. The other studio is large (finished lower level), well lit and able to hold six long tables, several easels, but can be chilly and is down a flight of stairs. Both places pull me in but have their challenges. "What you are is where you were when," says Morris Massey. How right that rings, because the two studios and time living in various places, my subject matter, color palette and size I work are all affected.
R = REVIEW, REEXAMINE, REVISE, REARRANGE furniture, ideas, time usage and more to better fit the new season, the new workspace, the progress on your goals for the year. How about a new Word to define life in this season? What would happen if I rearrange the studio space searching for a more ergonomic solution for the various tasks I do? Is it possible to batch actions involved in getting canvases ready for multiple stages? What about ordering supplies when they are on sale in large enough quantities to get me through the year? What do I need to keep track of so I don't forget to order what I might need?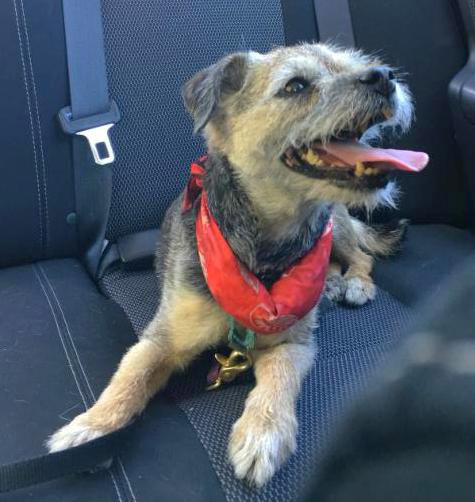 Let's think on "I" in the context of S-p-r-i-n-g and change. For me this past week has been a trial of saying goodbye to my studio pup, my sidekick for nearly 16 years and let's face it, the definition of unconditional LOVE. Molly was the critter who got me moving even when the pollen turned everything yellow. She helped me slow down and listen to the wren song or even spot a Wilson's Warbler at the Cliff Dwellings near Sedona AZ during her last days. I wouldn't have been still enough to catch the motion and the song of that little beauty. And there you have it, the "I" in Spring is for INSPIRATION!
I = INSPIRATION The little Wilson's Warbler will be on my easel next! As hard as change can be, lean in for the inspiration it can give you! My muse of many years is still leading the way!
N = NEOTERIC, NOVEL, NEW all represent spring! Everything is bursting forth and so can we! Try something new, push the envelope, explore "what if"! How about spending some time perusing old sketchbooks in search of new ideas or subjects to revisit or that might cause a paradigm shift. Explore a new road, paint with a different palate, use your non-dominant hand.
G = GROW like the hostas in the backyard. They were none existent one day and two inches tall the next! Our art could grow similarly in leaps and bounds by showing up at a new time of day, with an experiment or novel approach to an idea. The next day the bunny showed up to munch on the fresh hosta leaves, oh well, sometimes there are challenges to growth, it fits the scenario. Even rabbits can be fun to watch. One spring I witnessed a mama chasing one of her teenagers around the backyard and was inspired to do a couple of paintings of their antics. Their game was hide and seek, tag, and it was funny when the youngster was startled and jumped straight up in fright. I was able to quietly slide open a window and take some pictures without disturbing their antics.
Additional articles by artist Linda Hendrickson:
Nine Ideas for Storing and Displaying Your Art
Spelled Out - 11 Steps to Inspiration
Poppies are one of the most beautiful of spring flowers
Latest Blog Posts
Article Categories