An Artist Goes On Vacation - Part One
| Amy Hutto
Ah, vacation time; time to sleep in, be lazy, do nothing...What, you're not that kind of vacationer? Me neither. Don't get me wrong, I love a good sleep in - even on vacation and I can do nothing with the best of them; but I want to see new places, eat new food, take in new museums, and experience life differently than I do every day.
Some of my earliest vacation memories are of going to the beach with my family. My father was a teacher during the school year; and an artist by nights, weekends, and summer break. I vividly remember him packing up his painting gear and setting up on the balcony of the rental that was our home for the week. He painted the ocean; when it was calm, or stormy, accompanied by the sound of the crashing waves and the smell of the salt air. I love those memories.
OK, back to present day...The best vacations, in my opinion, are well planned out with some flexibility to be spontaneous and go off the map here and there. My husband is a master at vacation planning, even gaining a reputation for his "folders" containing itineraries, reservation info, possible extra things to see and do, and before Google maps- copies of map directions we might need. We used to tease him about his folders, but when our daughter traveled abroad she asked him to make her one.???? Exploring where you're going before you get there is a good idea but I also love stumbling upon something unexpected and unplanned. The one thing as an artist you do have to plan on is documenting your experiences. You never know when something will become fodder for a new painting or other creative pursuits.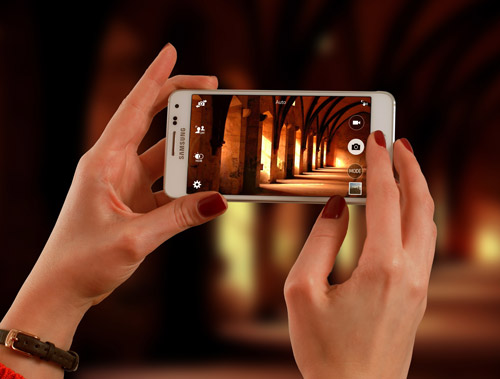 Any trip can get weighed down with too much stuff to lug around, but if you lay in a few basic supplies you will be set without breaking your back. Of course one of the best ways to document your trip is with a camera, but unless you're a professional photographer or a serious amateur hauling camera bags, extra lenses, a tripod, etc... can be daunting. However, most of us have smartphones these days (I'm not sure how we survived before them) and they are a lifesaver when it comes to having one less thing to carry. I've been amazed at some of the photos I've seen captured with a phone's camera, and have even managed to take some pretty cool shots myself. If you want to be sure and take quality photos, then be sure and spend some time really getting to know your camera features. We all whip our phones out and take quick pics, but sometimes wouldn't it be nice to capture the image more "professionally"? If you're more of the quick pic kind of photographer, you might consider checking out some of the tutorials available for free online. I found a great resource on photography basics using your smartphone and recommendations for editing apps and camera apps as well. Find it here: Smartphone Photography 101 There are also a ton of videos on YouTube.
Now that you're a fantastic phone photographer, put the phone away and pull our your travel sketch journal and draw what you see. Taking the time to pause and really take in your subject instead of snapping a pic and walking on, will really connect you in that place and moment. You'll see details you might have otherwise missed, and won't soon forget capturing that image. This is the flexibility I was talking about earlier. Unless you have reservations or tickets for a certain time; slow down, sit down, then observe and record what struck you visually in the first place. When we stop and allow ourselves to really absorb our surroundings, something wonderful happens; we hear sounds we didn't before, smells waft in our nostrils, our fingers touch on textured surfaces, and we become a part of that moment forever. I met a woman in California once while on vacation in the wine region. I noticed her drawing in a small journal and struck up a conversation with her. She told me she had been sketch journaling her trips for years and had volumes filled with drawings. She said she just loved sitting and watching the world and taking in her surroundings, and, she loved her journal memories too. Every time she looked through one, she was transported back to that moment in time and place.
Your sketch journal can be as big or small as you feel like carrying around. Do examine the paper inside and consider what you'll be sketching with, as well as the weight and portability of the journal. Don't use Sharpies! I love them for some things but they bleed and yellow over time. I recommend Pitt pens by Faber-Castell. They are filled with India Ink, come in a variety of tips from super fine to brush, are permanent and won't bleed or fade... plus they come in a variety of fabulous colors. Pick black, or pick them all! You can find them in stores such as Micheal's or Hobby Lobby, or online at Jerry's Artarama-Pitt Pens, Dick Blick-Pitt Pens and Amazon-Pitt Pens.
Prone to mistakes? A good ol' #2 pencil works just fine also and you can lay in pen over it later. You might want to keep a piece of extra paper slipped behind the page you're working on, or even a very thin piece of cardboard. Speaking of pencils...colored pencils in sepia tones look amazing or choose a palette of colors to work with for the day instead of bringing the whole pack. While I absolutely love Prismacolor brand colored pencils, they might not be the best for the rigors of travel. The color sticks inside the pencils are easily broken if dropped, so for travel, I recommend something a little more durable and frankly, less expensive. I like the flexibility of a watercolor pencil. You can sketch using the pencil dry, then later brush a bit of water to turn your drawing into a watercolor painting. Derwent Inktense are really nice, but there are many choices and price levels to choose from. Check them out while you're shopping for drawing pens at the same shops, or online here: Jerry's Artarama-watercolor pencils, Dick Blick-watercolor pencils, Amazon-watercolor pencils.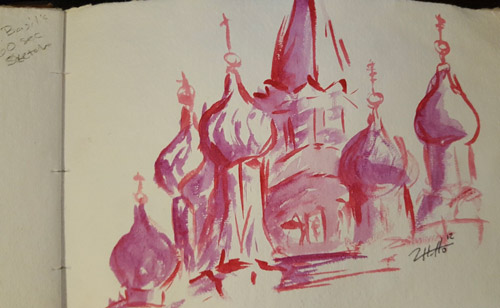 Finally, consider packing a mini watercolor paint kit. This is what my daughter, who traveled abroad, did. She would find her inspiration, a comfy spot to sit and do quick paintings of her subject. She chose to limit her color palette on most of her renderings, giving each spot a different feel. She came back talking not only about the enjoyment of the painting process itself, but that it never failed that someone would come to ask about what she was doing and strike up a conversation. It made the moment even more memorable. That journal is very special to her and it always has a prominent spot on her bookshelf. She enjoyed using a small set by Windsor Newton. If you decide to go this route, be sure your journal has paper that will accept water media; same for the watercolor pencils.
You don't need a lot of supplies to do a quick paint sketch. Empty the tiny water tray, close up the mini watercolor set, and pop it all in a backpack and you're good to move on. Try not to flood the color blocks so you don't make a mess when you close the kit. You can also keep a paper towel handy to lightly blot before closing.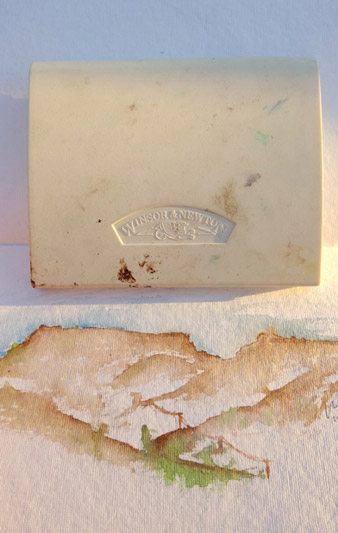 In the end, don't forget about all of those great camera skills you picked up. Take plenty of pictures and then really go through them back in your studio. If you have photo editing software then touch them up before saving in a trip file for reference in the future; if you don't, then hit the internet and explore the free photo editing sites recommended here: Best Free Online Photo Editors.
Most importantly, however you choose to record your experiences, take time to reflect on what you saw; felt, tasted, smelled, and touched. Use all of your senses to fully absorb those moments and then later when you're back in your studio on a cold dreary day, you can pull out a memory and let it wash over you and transport you back to that wonderful place. You'll be surprised at the sense of calm and warmth that will take over and even if, for a brief time, you're back on vacation all over again. Until next time . . .
Additional articles by Amy Hutto
An Artist Goes on Vacation Part Two
Want to learn more about Photography? Check out this great Guide For Beginners!
Set up for watercolor sketch painting at Niagra Falls
Latest Blog Posts
Article Categories