From Artist to Art to Art Shows - Part One
| Elaine Weiner-Reed
Timing It Right
Remember: It is all about the art.
In this first of three articles about entering art shows and having solo shows, Elaine Weiner-Reed provides information and personal experiences to help artists consider some new realities, and decide for themselves if and when they are ready to show their work in art shows and group exhibitions.
She wants artist's decisions to work in their best interests in support of a successful career. Along the way, she also hopes artists remain true to themselves and their unique artistic path and vision. Elaine is the first to admit that although she has learned a lot in her 30-plus years of participating in art shows, she probably still has much to learn. By providing artists with insights from her own experiences, she hopes that they will be in a good position to always consider what is best for them and keep sight of what they want to do or want NOT to do. To that end, Elaine provides some "reality check" questions and personal anecdotes she hopes will assist each artist with their own very personal decision-making process.
Setting the stage:
When I was in college, my favorite sculpture professor, Richard Blake, looked me in the eye and told me that someday I had to acknowledge to myself that I ALREADY WAS AN ARTIST. Up until that moment, I had been saying "I want to be an Artist." So . . . I began to ponder:
Is an Artist Born an Artist?
Is an Artist Formed from a Creative Work and Life?
Is an Artist Formed from a Combination of Both - Nature and Nurture?
Realization dawned, but it took time: It took me several years, in fact, to comprehend exactly what Rich was getting at, what he meant for me to grasp and to "own." I believe that he wanted me to acknowledge to myself that I was different: I was a creator, therefore 'different' already. I did not just sculpt or draw, I WAS an Artist – it was in my wiring; it was my identity. Somehow, when I was under 20, marvelous educator that he was, Rich recognized that in me before I did . . . and planted the seed. The seed took root and has flourished. I imagine he would be quite pleased that I have pursued my Art since that day…, and now, 40 years later, have returned in earnest to my Sculpture roots. Following a creative history of hundreds of paintings and thousands of drawings, everything has led me back to it. Full Circle.
In hindsight, I realize that my inability to proclaim or declare myself an "Artist" was partially due to our being repeatedly schooled in the value of humility at home and in Catholic school. Also - in the world in which I was raised, Art was "fluff" and not valued because it was not in the realm of my parents' focus on providing food, clothing, and shelter for their family. They did not view it as work. You can probably imagine how my passion for art (and later, French) was viewed on the homefront. One last thing: Until I went off to college, I had never met an Artist and had not set foot in an Art Museum. Any Artists I knew about were FAMOUS (and mostly dead) and their works were only known to me through library books. In the face of those Art-Gods like DaVinci, Matisse, Van Gogh, Picasso, and more, I believed the word Artist was a title that had to be earned and given to me by society, by history . . .
So - where did that leave me . . . a young woman from a small, working-class Philadelphia suburb? There was no denying that my creative passion was hard-wired into me, and I knew I was in Art for the long haul, but I believed I had to do a lot more creative work to earn the title of Artist. Maybe I did, or maybe I didn't . . , but the truth is, it worked for me. As several years passed and my love of and dedication to and for Art expanded and blossomed, I finally knew deep inside me that I was an Artist – inside and out. It is who I am. Interestingly enough, when I think back on it, I realize that the first dozen times I said out loud "I am an Artist," it came out as a whisper. In time, with more practice and experience, I owned it: An Artist is who I was and who I will always be. Even though I had been on that journey for many years already by that time, I began to think of things differently. How, no matter what job (i.e. day job, non-Art job) I was working, would I be able to keep faithfully making and practicing my art . . . ?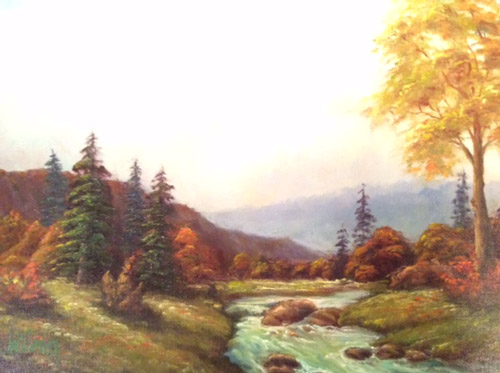 True confessions . . . At different periods in my life, I either had no money for materials or no time to devote to my Art. During those times, I vowed that I would pick my Art back up with even more fervor and time investment as soon as possible – which I did. About 3 years after moving to Maryland, I was promoted, so I signed up for my first painting lessons from a Master oil painter, Eugene Kamelak, and bought a tube of paint each payday. That was somewhere around 1984. Different life events, like having and raising children, sometimes take us on detours from art. It is all a part of the rich life we then bring to our artistic endeavors – our unique voice from our very personal vantage point in our culture. The important thing as an Artist is to always connect to and get back to making your art, even if all you can manage is a sketch a day. It reinforces who you are and keeps you connected to your passion, which in time, will find its way fully back into your life.
You decide you are an Artist...and you work at it. Then, what?
When is it time to jump from easel to exhibition?
When is it your right time?
By now, you have likely worked through multiple creative phases, chosen a path, taken classes and workshops, and determined that you are an Artist. Next, you pursued your Art on a more serious level, and have been working in your chosen medium for several or many years. One day, you look up and see people applying for, getting into, and planning for art shows. You find yourself wondering if that is something you could or should do… What would be the potential benefit – especially if there is a fee involved? Do you want to do it? (Yes or no…and why "yes" or why "no"? ) It is always best to personalize career decisions to determine if a given step or path is right for you. Are the timing and the show right for you at your current stage in life and at your current art skill level?
Answer: No – not always. Or more specifically: not necessarily right now. Just because colleagues or friends are entering art shows, does not mean it is currently your best or right time. Decide for yourself, for the right reasons. To help decide, arm yourself through self-awareness, reflection, and by doing research. One of many reliable and informative places to read more about it and see what artists are doing and saying is the Artists Network. Additionally, other great places to tap for information and counsel are your local art schools, community centers, libraries, and community and cultural arts centers in your hometown. It was through such organizations that I explored and eventually began to put my toes into the world of art shows.
Reality Check: Putting Your Art 'Out There' Becomes Very Personal
There are many things to consider as we explore and expand career growth options and possibilities. One thing to remember is to put our art and ourselves and our families first when making any decisions about shows and exhibitions. There will always be other shows, but time with loved one flies by quickly and moments missed . . . are missed moments, treasures. When my son was young, I made art after work and only when my son was sleeping or out with his dad or friends. No regrets for me on that score, so I hope you will have none, as well.
Next - consider this: How do you want to be seen and remembered? Do you want your best artwork or a lesser effort in the public eye? We are best served if we always try to do and to exhibit our very best work. We may dislike a given piece ten years from now, but at any point in our career, we should be 'all in' and give our best effort to every important endeavor. If we are judged, and we will definitely be judged once we enter the public arena, we want to be confident in the face of positive and negative feedback.
As I have gotten more experience exhibiting my work, rejection or criticism became easier to take. The funny thing is, EVERYONE has an opinion about Art. People do not need any art experience at all or a Fine Arts or Art History degree to tell you at length why they find your work not to be "their style" or to mock it or discard it. When I finally realized that I should not take a lot of that criticism seriously or personally, it became easier to show my work and be in the public eye. People always drift to their "comfort zone" when it comes to Art. My current body of work lies in the discomfort zone for some people – either because of my bold colors or abstract forms. When they understand the ideas behind my "Masks and Mirrors – Explorations of Identity" body of work, however, and grasp the fact that I am honoring an individual's ability to overcome challenges and difficulties, they open up their minds to it, and are more receptive to my underlying message of "hope." As I always tell my exhibition guests: "The price of admission does not include your having to LOVE my work. I just ask that you have an open mind and explore the work and my vision."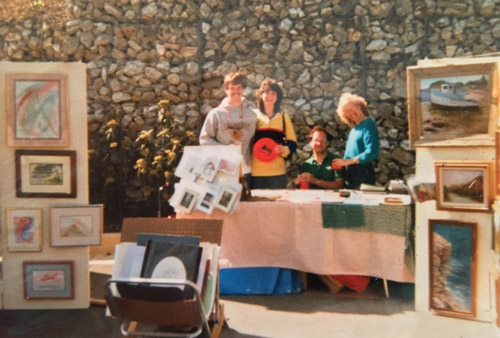 The most important thing for each artist to carefully consider is their own level and personal situation, and their tolerance for critique. For that reason, I would like to recommend that no one follow someone else's path – at least not blindly. Someone else's career and show path is not necessarily the only way. and often it is not YOUR best path to build a career. While we definitely can benefit from looking at someone's career path and curriculum vitae (CV), I believe that each artist's creative experiences and credentials are definitely not "one size fits all."
In Part Two, Elaine will discuss some pertinent questions on why artists choose to enter art shows and suggest ways to help them determine when the timing is right. She will delve into the different types of shows and suggest how they might fit into an artists personal career path.
Fron Artist to Art to Art Shows - Part Two
Artist at work (MWA Residency, Myslenice, Poland in July 2017)
Latest Blog Posts
Article Categories