An Artist Goes On Vacation - Part Two
| Amy Hutto
"Neither snow nor rain nor heat nor gloom of night…" eh, I'll leave that level of dedication and intrepidness to our postal carriers; I, on the other hand, will only sweat so much for my art.
Recently my husband and I traveled approximately 4,000 miles and camped in 6 different states, going and coming, and I hauled my art supplies every mile. I learned some things along the way, so here is my second installment of "An Artist Goes on Vacation". In the first installment, I have a number of recommendations for supplies that are handy and online tutorials for using your cell phone's camera to the best of its and your ability. If you haven't read it, check it out here: In this installment, I am going to be telling it like it was, pouring rain, sweltering heat, a dog, and all.
I am an acrylic painter and work in a range of sizes from small to very large, and therefore I came prepared for whatever creative mood should strike. We were towing a car (I should note that we were camping in an RV, lest you think I'm more of an outdoorsy type than I really am) and so I used it as my "studio storage". My outdoor working studio was meant to be the new Gazelle Screen Shelter I had recently purchased on Amazon, although I didn't pay anywhere near the price Amazon is showing in this link. I think I paid more like $170. Unfortunately, it is longer in its storage bag, than our tow car could handle without us having to unload it every time we wanted to drive the car so we ended up not taking it on this trip and I used a pop-up shade cover instead. I'm still really glad I got it, though, as I've used it since and it makes a great outdoor studio…unless you're trying to set up in the pouring rain. With screen side walls it doesn't do much to keep out the rain. I really got it for shade and bug protection, and for that it's ideal. All of the campsites we use have electricity so I always bring a fan along and my outdoor studio is just what I had hoped it would be.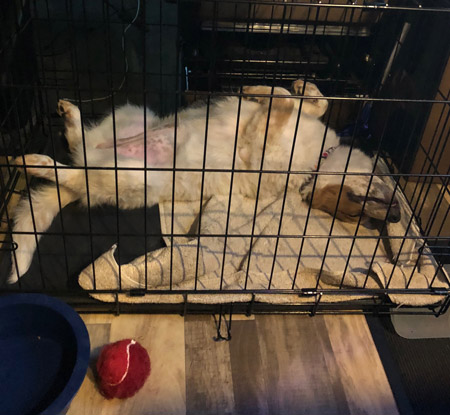 I have also set up a folding table inside and worked on small pieces in the camper, but I'm not going to lie…this lil'pup cramped my style when it came to painting inside the camper. Her crate took up my folding table space and she was too curious about what I was doing, so no indoor painting for me on this trip. That all aside, she's darn adorable even if I didn't get my small commission paintings completed like I thought I would.
We encountered rain from New York to the Texas coast, so I didn't even bother to try to work on the first part of our trip. So far, my supplies just went along for the ride. The rain finally subsided and we had beautiful weather while we were in Central Texas visiting family. I set up my pop up shade while we were camping at Cedar Breaks Park in Georgetown, Texas. We were lucky to have a wonderful view of the lake from our site and it was perfect to set up and paint. But, again, I'll be honest…it felt like it was 112 degrees even under my pop up shade. My acrylics were drying out practically before I could get the paint to the canvas. I persevered, though and my painting was only interrupted by the call of happy hour. To slow down the rapid drying of acrylic paint, I recommend this product: Liquitex Slow Dri Blending Fluid, unfortunately, I left mine at home. ☹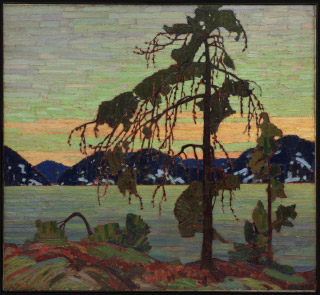 I was working quickly, feeling a bit like Van Gogh, but trying to channel my latest artist crush, Tom Thomson. He was a Canadian artist I learned about on a spring trip to Ottowa. I fell in love with his use of color and the way he stylistically showed his scenes and it was that style I was trying to emulate. I even bought a coffee mug with one of his paintings on it (it's my inspiration mug) at the National Gallery of Canada. You can find Thomson's work on their website by clicking on the link, but this is the specific painting of his I had in mind while I worked. I won't hide the fact that I was hot, annoyed and questioning my sanity at packing along all my supplies. It was in that frustrated moment, wiping sweat from my brow, that I decided to let go. I let go of thinking it was going to be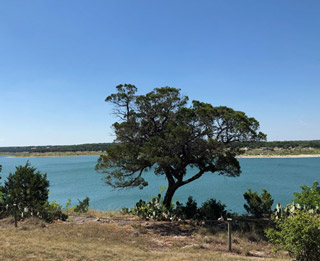 like my comfortable studio, let go of feeling like I had to try to create a completed work. I chose to just be; to work with my challenges instead of fighting them. My whole outlook shifted. Working on this painting became like yoga I was practicing with brush and palette. In the end, I decided to use my plein air painting as a base sketch to be finished back home in my studio.
I have continued to work on "The Cedar Tree" now that I'm back home and in my studio for a bit. It has a long way to go, but so far I'm still really happy with it and am taken back to Lake Georgetown and that gorgeous day every time I work on it. I'm not in a hurry to finish it. I'm enjoying working on it a little at a time, adding layer upon layer of paint and color.
The image on the right is how it looked when I finished on site, and the one on the left is what I've added so far. Once I let go of the frustration I was feeling over how quickly my paint was drying and chose to have it be an experience rather than a final outcome, I really enjoyed the process, and don't even regret the heat and sweat. I'm actually glad it went like it did because I've so loved continuing to work on it and the reflection it's brought. I will absolutely continue working on the road. I highly recommend it. The most important thing I took from this particular experience was to truly be in the moment; to focus, to observe, to feel, to remember, to just be. Until next time-
If you haven't read Part One please click here
Hard at work…if this is work, then I'll work 'til I'm 100!
Latest Blog Posts
Article Categories