Survival Secrets of a Southern Woman Playwright
| Diane Helentjaris
All children are playwrights and directors. Cross-legged on the floor, youngsters put toys through their paces. "Bam! You're dead!" "Barbie, I love you." But, for most, growing up extinguishes that particular creative flame.
Not so for Meredith Bean McMath. At a time when only one in five plays produced in the U.S. is penned by a woman, Meredith defies the odds. Audiences applaud her award-winning work and have done so for over twenty years. Writers yearning to have their plays brought to life might just learn a thing or two from Meredith.
True to the stereotype, Meredith Bean McMath writes her plays in a loft. However, hers is not some cramped 1903 space in lower Manhattan, overrun with creepy crawlies. No half-empty bottle of Bourbon sits at her feet. No hazy blue cigarette smoke spirals up from a half-smoked Chesterfield. Meredith cheerfully perches in the second-floor landing of a white colonial home. Her books tidily line their shelves. "I'm very organized." A comfy couch invites a visitor to plop and yak with this easygoing woman.
Meredith's home blends in with the suburban neighborhood. But, just inside the front door, the first hint emerges: this is a playwright's home. Pushed against a table, like a refugee from Nordstrom, stands a metal clothing rack on wheels, jam-packed with a play's worth of 1940's clothing. These slinky dresses and military uniforms will costume actors in Meredith 's adaptation, set in 1945, of Shakespeare's Much Ado about Nothing. Upstairs, a bedroom has been transformed to a theatrical workroom. Under the reign of an inherited linen dressmaker's form sit costuming fol-de-rol and a sewing machine. A photo of Meredith's son, rakishly smiling in a plumed hat, stars among other cast pictures decorating the walls. Meredith has made being a southern woman playwright seem… well…normal and healthy. She is certainly not channeling Lillian Hellman.
Meredith finds strong examples of "inspiring heroism" in her family. She was born, raised, educated and lives in Virginia, one of America's most history-drenched states. Her father became part of that history when, serving on the Arlington County School Board, he cast a swing vote in favor of desegregation. Arlington thus became Virginia's first county to integrate its schools; his act of conscience earned his family death threats. Meredith's maternal grandmother Virginia Hay, left alone at sixteen, managed to become the first in her family to earn a college degree. Virginia's obituary, upon her death at age 102, quoted Meredith: "My grandmother gave the women in the family a sense that we could do anything."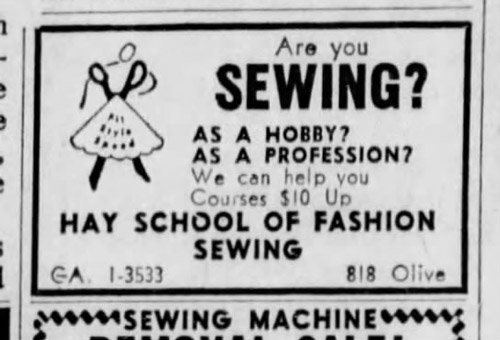 Meredith's family also had a more than a whisper of theatricality. As a little girl growing up in St. Louis, her mother Maxine starred weekly as "Petunia" on radio station KMOX. Maxine's college in Iowa dubbed her Grinnell's "Actress of the Year." For years, Virginia Hay operated the "Hay School of Fashion" in St. Louis. She taught scores of pupils fashion creation and design, including her daughter. Maxine could whip up a stage costume in a heartbeat. Meredith's own childhood penchant for entertaining pals with tall tales and her enjoyment of acting in neighborhood plays fell right in line with the family's mores. And, according to Meredith, attending an all-girls' Catholic elementary school as she did, "forces you to daydream."
When it came time for college, McMath chose to study history at William and Mary. Like many liberal arts graduates, she turned to teaching as a way to make a living. And hated it. And left it. And edged toward theatrics. She began creating living history material for museums such as the Smithsonian and the National Museum of American History. Somebody has to write the script for those folks in knee pants and long skirts. She also wrote columns and articles for papers such as the Washington Post. Eventually, Meredith began writing books. Her first two, Theodosia and Annabelle, came out simultaneously in 1995, followed by a third, Marilla, in 1996. All are historical fiction novels centered on a female protagonist.
But writing books did not satisfy Meredith. Eventually, all her books "started turning into plays…Book writing was the entrance drug to playwriting," confides McMath. She needed to see her stories come alive. Part of the draw for her in staging plays is seeing how an actor will add to her story. "I find all satisfaction in directing…I love seeing everyone else's success…I prefer bringing someone else to the place where they're shining." She is an avid collaborator.
She and her husband had settled in Loudoun, a northern Virginia county deeply self-conscious of its past. A visitor asking for directions will likely be told to "go a little ways, then turn left where the old school used to be." Meredith's perspective changed the longer she lived in Loudoun and the more she knew about the area. After all, this is where the Declaration of Independence was squirreled away during the War of 1812 and Lafayette feted a decade or so later. It's where one barkeeper slides his drinks across a wood plank originally used as a battlefield surgical table during the Civil War.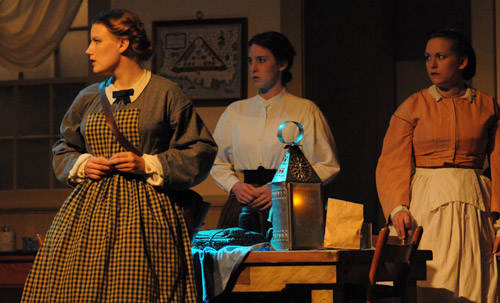 In 1997, Meredith Bean McMath proudly premiered her first full-length play, The Waterford Girls. She based it on the true Civil War story of three Loudoun girls who published a pro-Union newspaper while living in the Confederacy. Renamed All for the Union, the work has been staged multiple times and is a popular fundraiser with non-profits.
Meredith's mother Maxine moved in with the McMaths in 1989. Until her death in 2014, she full-heartedly aided and abetted her daughter's work in the theater while doing a fair amount of stage work on her own. Maxine acted - often in plays and other pieces by Meredith - and was a costumer as well as producer. According to Meredith, "I had my muse with me all the time."
Other plays and recognition followed The Waterford Girls. In 2003 Meredith's contemporary play Sticks and Stones earned her first prize in the Source Ten Minute Play Competition in Washington, D.C. She captured a "Best Director of a Musical Award" from D.C. Metro Theatre Arts in 2012 for Once Upon A Christmas Carol. Meredith has been honored in the "Women with Vision" Exhibit at the Franklin Park Arts Center, received a Loudoun History Award and been nominated for a Virginia Governor's Award. She also serves her state and community on boards, committees and grants panels.
"People who've helped me are an important aspect (of my life)." Meredith mentions Tim Jon, Dolly Stevens and Tom Sweitzer, then quotes D.C. playwright Martin Blank, "great playwrights ask important questions and answers them." She noticed mentors often held on to their creative vision by establishing their own production companies; she followed suit.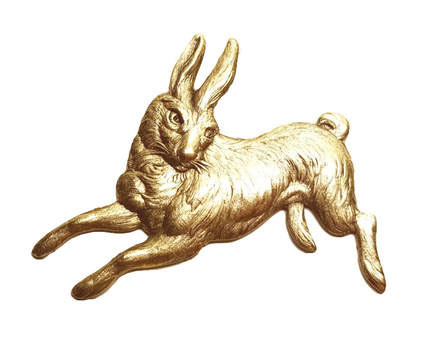 Run Rabbit Run Productions began in 1999 and its offshoot, Run Rabbit Run Theater, in 2010, giving McMath total artistic flexibility and license. The name harkens back to a Civil War soldier in the Virginia 8thInfantry (which included men from Loudoun County). Hunkered down on the last day of the Battle of Gettysburg, the Confederate was awaiting the call to charge in what was already recognized by many as a futile effort. Suddenly, a rabbit popped up from the brush and skedaddled. Historian Shelby Foote quoted the infantryman as saying, "Run, old hare. If I's an old hare, I'd run, too." The soldiers' ensuing effort, known as Pickett's Charge, would prove the beginning of the end for the Confederacy.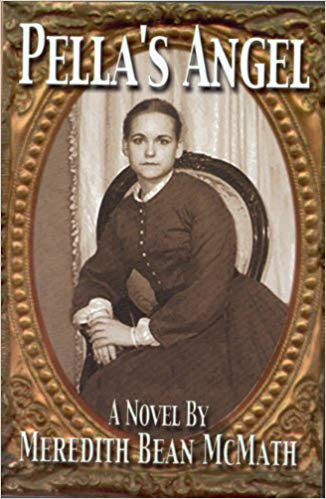 Currently, Meredith directs and produces two to three shows per year. In 201l, she returned to school, earning a master's degree in Arts Management from Shenandoah University. This comes in handy as Run Rabbit Run Productions manages all aspects of a theatrical work - from hiring staff to designing marketing campaigns to tracking budgets. Meredith's published two additional books, The Complete Idiot's Guide to the Legacy of Lincoln and Pella's Angel, a re-working of Annabelle with illustrations from the time period and bibliographic references.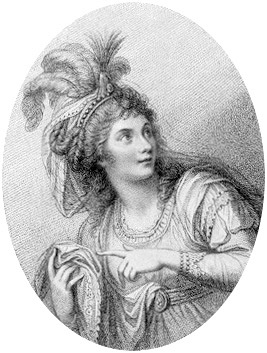 Right now, an idea for a play "that burns a hole in me" is the life of actress Ann Brunton Merry. Ann died tragically in 1808 at Alexandria's Gadsby Tavern after giving birth. The popular English actress had been "a bright ornament upon the sky." Ann Brunton Merry gained fame, not only for her exquisite acting but also for taking on theatrical management responsibilities when her husband died within weeks of their marriage. Meredith admits "I get really excited about stories and I have to write it down."
You can find out more about Meredith Bean McMath at her website here and Run Rabbit Run Theater here.

Playwright Meredith Bean McMath. Photo by Diane Helentjaris.
Latest Blog Posts
Article Categories