The Music In Me
| Elaine Weiner-Reed
In this article, Visual Artist Elaine Weiner-Reed discusses the role of music in her life and how its connection to her Art evolved in a new and exciting and VISIBLE way following her 2018 solo exhibition "Masks and Mirrors – Explorations of Identity." During that exhibition, she officially launched her creative collaboration platform "Every Painting is a Song," partnering with D.C.-based performing arts collaborative. In this artist's life, everything is connected and finds its way into her art. Keep reading to see how Elaine not only "found" her voice, but is now (in her own words) "amplifying" that voice.
Unsung Chords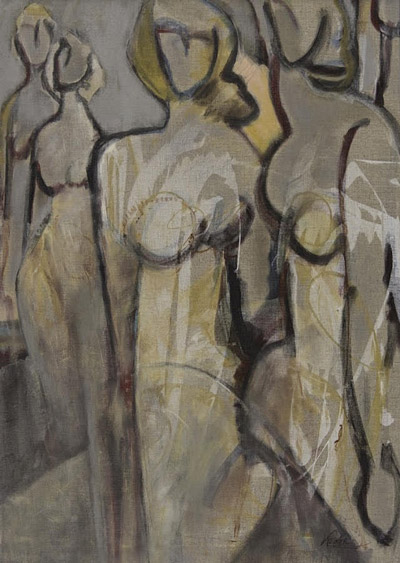 "Unsung Chords" by Elaine Weiner-Reed, ©2015, 36" X 24"
Admit it… Sometimes, singlehandedly, we limit ourselves and our possibilities. Other times, our self-imposed limits can be sourced in our past and our interactions with others (parents, family members, friends, bosses, teachers, or colleagues). Always, however, we have the power inside us to de-shackle ourselves from these limitations. For me, some limits were situational and linked to parenting styles and societal pressures in which I was raised. In that era, "children were to be seen and not heard." Under my parents' roof, a child's role was to be quiet, follow the rules, do homework and chores, and then behave and go outside to play. I had no voice. As a result, when one has no voice, fears, doubts, and inhibitions can fester. Year-by-year and risk-by-calculated-risk, I have been steadily finding my unique voice through Art and action and words. Not through song. For some reason (perhaps a genuine lack of talent) I came to believe that I could not sing. Or… perhaps I did not want to sing another's words but rather chose to hold my silence until my own ideas could break into the light. The reality is likely a combination of both lack of talent and stubbornness. As I said: imposed limits come in all sizes and from internal and external sources. The trick is in bringing them to light and facing them…, and then, shedding them!
Growing up, although we had music playing on the record player or radio in our house most days, there were no musicians in our family or in our circle – at least that I can remember. The only concerts I attended were at the local park on big holidays – like the Fourth of July. I remember us making our way to Chester Park's magical Bandstand, finding our places on blankets on the grass, and then losing ourselves as we listened to music. Lying on our backs, looking up at the stars, music soon turned patriotic as the sky evolved into gorgeous light shows and firework displays!
There was no time in Catholic elementary school for much other than academics. Rarely did we have our supposed weekly 20 minutes of "art." If memory serves, music-related activities equated to hymns; music being tied to the Mass and seasonal holy days. I don't remember how often it was, but I do remember one Sister using a pitch-pipe to attempt to get a group of us to sing "on key." To this day, I do not understand how that little metal whistle-like mouth plate, which perhaps only played one note (?!), could have wrangled us into harmony, but that is what I remember. Maybe it was a miracle! Of course, I could not really hear pitch or know who or what was "in tune," but I moved my mouth to the words, sometimes whispering, pretending to sing so I could participate. Even then, I loved music!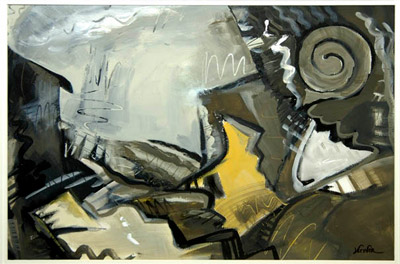 "This Town Rocks" by Elaine Weiner-Reed, ©2015, 22" X 30"
I have no memory of someone telling me I could not sing or shushing me if I attempted it, but nonetheless, I lived and live in terror of someone actually hearing my voice in a group-sing and I picture them wincing in pain. As a result, I spare everyone and only sing in my own company and only when certain I am alone. Okay, I confess: my son heard me sing when he was young, but that is different… He even told me I "sing well." Thankfully, love is tone-deaf!
Don't get me wrong – my son and I both love music. ALL kinds of music – from Popular to Classical, Heavy Metal to Jazz, Rock to Electronica, from Indie to Blues, and from Irish to Country. Music is storytelling. Music is transportive. All types of music flow into and through me, channeling into my artwork. I cannot listen to music without moving in rhythm to it. I love it and love to dance. Instead of the normal gym classes, I was able to take Modern Dance and Jazz Dance classes…making me very happy.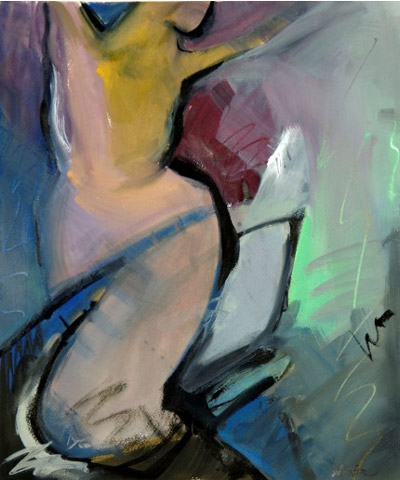 "Dance For Joy" by Elaine Weiner-Reed, ©2015, 20" X 15"
From Music to Dance
Beliefs become reality. I lived next door to a music major my Sophomore year in college. Under her determined tutelage, I painfully learned to play "Mary Had a Little Lamb" on Recorder…and then, promptly forgot how to play it. I believed I could never learn or remember fingering or notes. Added to that is an innate rebellious streak that makes we want to run from memorizing anything – facts or quotes. I learn best by visualizing and then doing. Consequently, self-limiting or not, I have to this day shied away from learning how to play an instrument.
I have added more and more music to my heart over the years, through my son, friends, or by happenstance. Years pass, and I continue to come across other musicians and groups whose music captures a part of my heart. What I discovered this summer is that while I still maintain that I have no musical bone in my body and cannot hold a tune or sing a note, I am able to capture music inside me. I savor and process it as it streams through me. The translation of music into art continues to evolve in several music-inspired mini-series.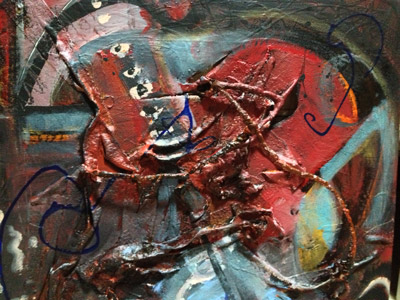 "Night At the Improv" by Elaine Weiner-Reed, ©2015, Bas Relief, Mixed Media
From Music to Visual Art
Cross-Discipline Creative Collaboration
Music has always been entwined with my art. Jazz greats like Miles Davis, Maynard Ferguson, Sonny Rollins, Claude Nougaro, and Herbie Hancock generally accompany me in my studio. Sometimes, I'll be creating to Rock or Blues, the Beatles or Funky music, but overall, my rhythm syncs with the heart of Jazz. Those jazz roots, some 45 years ingrained, are what makes the most recent collision of my work with classical stringed instruments all the more intriguing to me.
Dreams become reality. Up until last year, my exposure to classical music has been minimal. Then, on 6 June 2018 during my solo exhibition at Maryland Hall, three musicians created live structured improvisational works inspired by individual pieces of my exhibited artwork. As Rogue Collective musicians (Alexa Cantalupo, Natalie Spehar, Kaitlin Moreno) moved through the Gallery finding their next art focal piece, their unique brand of classical music filled the rooms, lifting our hearts. In that museum-like setting, guests were transported as the musicians simultaneously created and played live, improvising new works titled identical to the piece of art that captured them. My dream and the creative collaboration initiative "Every Painting is a Song (EPIAS)" was a natural evolution for me in terms of my personal journey. This short video will clearly explain my concept. To date, we do not yet have music videos of each piece, but Rogue Collective created music to the following: a) Paintings - Talking Story, Chance Encounters, The Gathering – Still Waiting, Mirror, Mirror, and b) Sculpture - Resurrection.
I am thrilled that my paintings and sculptures have been re-created audibly by Rogue Collective, who interpreted how my works of art made them FEEL. They see in notes what I hear in color. I had long wondered and asked: "How do my paintings sound to you?" Now, for the first time, I had answers and could hear my own work in different ways – in music! I inspired them, and they inspired me right back! That is the positive creative collaboration movement I dream of and seek to foster and keep moving.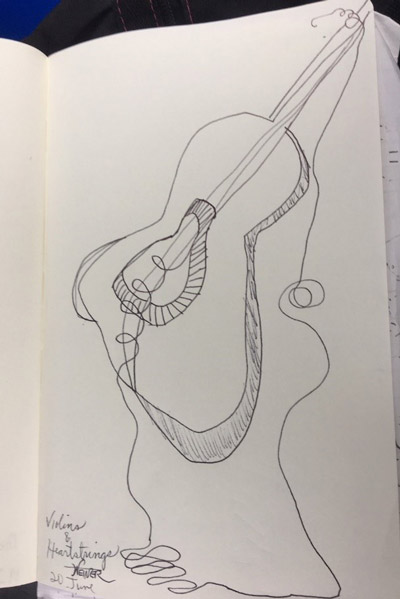 "Violins and Heartstrings" by Elaine Weiner-Reed, ©2018
If interested in joining the EPIAS movement, I invite you to This email address is being protected from spambots. You need JavaScript enabled to view it. so we can discuss how you envision playing-working-creating-and-collaborating with me and others.
From Visual Art to Music and Back Again
Inspiration Leads to Innovation. Through my Art, I had found my way back into the world of live music performances and improvisation! The thing about EPIAS is that inspiration feeds more waves of creativity. How did Rogue Collective's musicians inspire me? Progressively. Following our creative collaboration evening, I created several music-inspired sketches. After drawing them, I knew a few weeks later that I wanted to transform sketches into sculptures and paintings. Before turning ideas into reality and making those sculptures, however, I first had to learn some new skills… Semi-retired from a tandem 37-year full-time career in 2017, I realized I had some new different options and opportunities.
Enter… Anne Arundel Community College, where I signed up for a class in Metal Art Fabrication following a bit of research. This class was my first "for credit" Sculpture or Art class since college and I was both excited and nervous at the prospect. I had a lot of work to do and a very steep learning curve. Having not welded or used any power tools since college, I knew the time had come to face my fears. Which is how I introduced myself to our first class: "Hi, I am Elaine. I am an Artist and I am terrified of power tools." Chuckling, they welcomed me, the novice. Subsequently, in that group of talented artists, engineers, and mechanics, I found many kindred spirits – beginning with our wonderful Artist/Instructor, Wilfredo Valladares-Lara. I am inspired by his extraordinary artwork and encouraged by his support for all students.
Before I began learning any of the skills metalwork would require, however, I first had to decide what I would be making! Although I had other sketches that would lend themselves to metal sculptures, I knew I had to start making my musical instruments – a sculpture series I have come to refer to as "Visual Acoustics." Wilfredo suggested making a model of some sort, so before my second class where my hands-on work would begin, I made my maquette (below).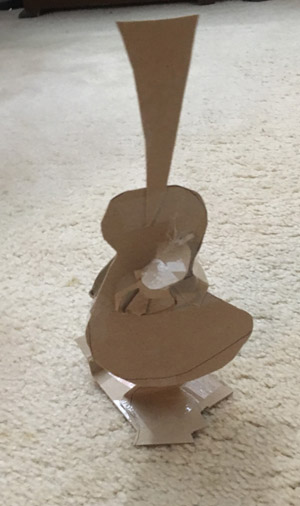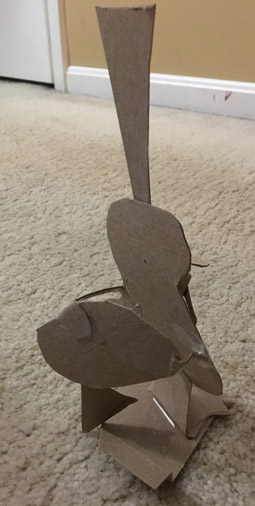 Within several weeks and extra hours, I became comfortable with welding, and although I am still far from an expert, I am no longer jumpy and fearful with every spark and noise!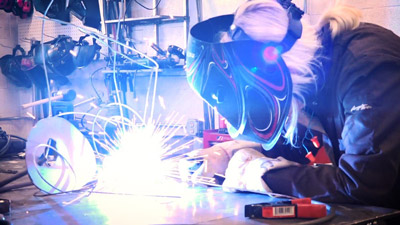 Here, I am captured in the act by talented videographer and friend ©2018 Ashley Love.
By the end of December, I had created seven metal sculptures, four of which are in my Visual Acoustics series. I have not seen my grade, but was told I earned an "A." Following are a few photographs…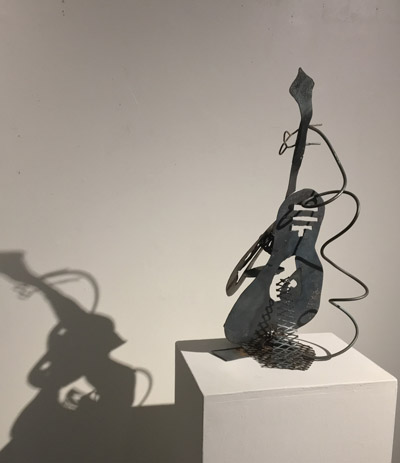 "Skipping A Beat" by Elaine Weiner-Reed ©2018
By now, you might have noticed that facing my fears and taking leaps of faith are recurring themes in my life.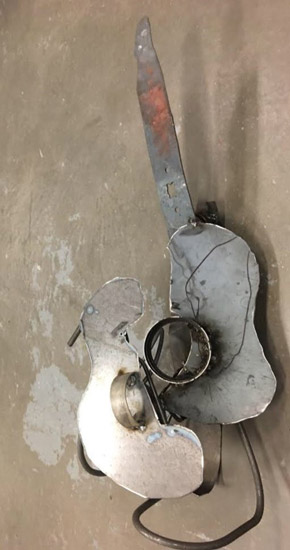 "Rhythm and Blues" by Elaine-Weiner-Reed, ©2018
Chords Being Sung
I found my voice in Art. Sculpture amplifies my voice.
Sometime during that frenetic 5-month period of sculpting and painting and being selected as an Artist-in-Residence at Maryland Hall for the Creative Arts, I bought a guitar. Seriously. No one is more surprised than I am… Can I play it? Categorically "No!" – at least not yet.
One evening I found myself online ordering an inexpensive acoustic guitar complete with a case because in my heart I could clearly visualize my MD Hall Annapolis Art Studio (Studio 310B) becoming my long-dreamed-of haven for creative collaboration and live music. So far, one man dubbed "Nick, the Guitar Man," stepped up to my guitar, tuned it using an App on his phone (who knew?!), and played several holiday songs as we Artists-in-Residence prepared for our December 2018 Open Studios Night. I loved witnessing live music being made in my studio as people strolling the halls were captivated, hoping for more…
Dream big because big dreams are already composed of small dreams. So…I still cannot sing, but perhaps through EPIAS, I will connect with the perfect musician or composer capable of helping me score two songs that I wrote over 25 years ago…one in French and one in English.
That is where you might come into the picture. "Who will be next up for collaborations?" As part of my "Every Painting is a Song (EPIAS)" initiative, everyone is invited. With help, every day in my Studio 310B can be thought of as a "Bring your own instrument and voice" event! Creativity and change is definitely in the AIR for 2019. Now, until next time, I will close with the beginning lines to a song I am writing. Will it be written as Jazz? Blues? Pop? Or Rock…? Maybe, if lucky, all of the above.
Singing - My Way
I can't sing and I can't string,
But I can hum along.
I can't fly, but I can soar,
And I can paint a Song.
- © Elaine Weiner-Reed
Happy New Year… I hope your own creative voice takes wing this year!
Let me know when to expect you (contact: This email address is being protected from spambots. You need JavaScript enabled to view it.).
Thank you for reading. Take care. Keep in touch.


More articles by Elaine Weiner-Reed:
Risking Everything for a Great Painting
From Artists to Art to Art Shows, Part One