Noteworthy Art
| Amy Hutto
As artists, we have to have an arsenal of art to reach our intended target, the customer. Art collectors come in many different varieties; those with money to spend on art (we love that kind) and those who love art but don't have much money to spend on collecting it (we love that kind, too). As a professional artist, the goal is to not become a collector of your own art! One of the ways to reach more potential buyers is to diversify your offerings.
In my recent article, Take A Look At This Book, I mentioned how author and artist Carol Marine shifted her focus to daily painting and working small to bring about a change in not only her art but her overall perspective on her practice. Many daily painters work small, on a 6"x6" canvas or board for example. These little paintings could be warm-ups if you prefer working large, but what if, as Marine suggests, you fully develop them and sell them for a much lower price? Because of the smaller size, finishing one is much faster, requires less in supplies, still develops your skills and allows collectors who might not otherwise be able to afford a larger piece the ability to purchase one of your artworks. For more on this, read my article or check out her website. It's become fairly easy to sell from Instagram these days. These small paintings would be perfect to offer on Instagram or Facebook, and you can now link PayPal so the customer can see your work, fall in love and buy it before you've had time to brush your teeth. Note; To link with Facebook you will need a Facebook business account, and Instagram only allows one clickable link, so to link Paypal you will have to do this on your profile page. Visit PayPal for more info.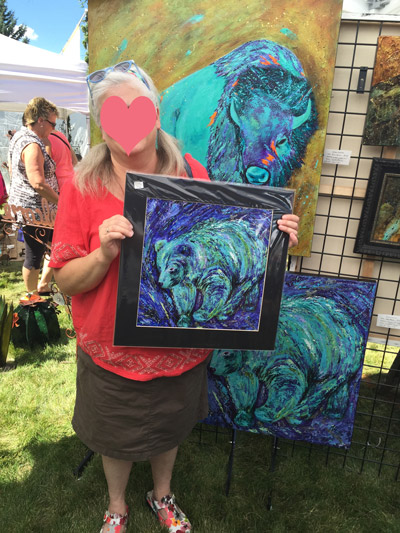 Another option is to offer your work in the form of giclee prints or prints on canvas. I do both, and honestly, these are the main forms of sales generated from my website. Once again, for the customer who wants art but can't afford originals, this is a win-win. It will take some research to find a company you trust that can also recreate your work in print form to your standards for a price you feel is fair, but when you do it's a wonderful thing. Many offer direct shipping to your customer, so once you've seen an example of their work and feel comfortable with their quality you can bypass having it shipped to you, saving you time and possibly money. One company that I've worked with for a number of years is Duraplaq in Colorado. All of their products are American made, and their customer service is outstanding. They also offer wholesale pricing if you have a tax id number. Check out their link here: Duraplaq-Quality Fine Art Solutions. I usually order my giclee prints from them. I also work with a few other companies depending on the situation and so far I've had good experiences with all. A new company (new to me) I've recently begun working with is Editions Printing in Rochester, NY. I'm really happy with the gallery wrapped canvas prints I've been ordering. I did my research though, and I recommend you do the same.
Another of the ways I diversify my work is to offer notecards. I had tried a few of the online sites that will sell your work on just about anything from prints to pillows, but I found it to be something you have to be in for the long haul; and when you do sell an item your portion of the sale is pretty low. Yes, it can drive people to your website and can possibly widen your audience, but I just didn't feel the benefits were worth my time. Perhaps you might have better luck. I chose, instead, to focus my efforts on just notecards, which I began doing about a year ago. I already had professional photos of many of my works on file, which I highly recommend you start doing if you don't already. I asked a few artist friends that I knew sold notecards which company they would recommend and almost all said Vistaprint. I started with a few related images…two different cows, two different pigs, and so on. I ordered the smallest number of each image, which was ten. It's not the most economical way, but I didn't want 500 of something that might not sell sitting on my shelf for the next 50 years. The turnaround was pretty quick and I excitedly opened the box and realized the matte surface of the card just didn't work with my art. The colors were dull and the images looked a bit fuzzy. I called their customer service department and they were incredibly nice and helpful. Even though it was my mistake in ordering, they re-did the entire order on glossy stock and shipped out right away, and at no cost to me. I couldn't believe it. For me, the glossy was the way to go, but it will depend on your own art and your own preference. The lesson I learned was to start even smaller than I did. Perhaps request a sample of each card stock and finish to help you make your decision, or just order one set. I have a whole box of cards for which I'm still trying to think of some creative use.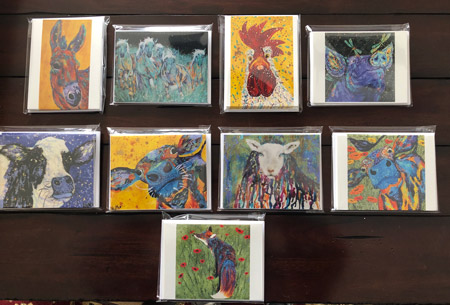 Once I had the right cards, I loved them! I had spoken with one of my galleries to see if they'd be interested in carrying them and got a positive response. As an added boost for the gallery, I added text at the back and bottom of the cards that had my name, specialty and the website link of the gallery. They really liked that their website was on there. I've since begun carrying notecards at two other galleries and I personalize for each one. If you are going to only sell through your own website then it would be a perfect place to add your own contact info and website. Each card becomes a business card that not only reaches the person who buys the notecards but each recipient of one of the cards. You could sell duel lines of cards, as well…ones that you package for galleries and gift shops and others that you offer through your site.
My notecard sales have followed with sales trends of the galleries I'm currently represented in; very high in one, moderate in the others. While I still have the split of 50/50, I've ended up making enough to pay for the all of the card orders plus some. Besides the added income, the extra benefit comes in the far-reaching exposure and the times that I sell the cards directly myself. I don't sell my art at different prices then what it sells for in galleries and that includes my art in all of its forms. Selling from my website for less (unless it's a special sale) doesn't make for good business practice with my galleries. It's also nice to be consistent across the board, as I don't have to try to remember different price points for different situations. I will add, however, that when selling notecards directly I do not always package them with the same numbers I do for the galleries. For example, I may sell them packaged individually, or an assortment of different images, etc. My pricing stays consistent. Figure out a price per card based on your cost and go from there. Individual cards are typically priced higher than multiple cards. Notecards would be great to list for sale on Instagram as well. Yesterday I posted a pic of all of my newly arrived cards ready to be packaged and got two sales within just a few minutes of posting. I hadn't even set out to try and sell them; I was just posting my daily work- now that's exciting! I package my cards in clear sleeves that have a flap seal and they look very professional when finished. I order my bags from Clear Bags. Be sure and note the size of the cards you have as well as the envelopes; another lesson I learned the hard way.
Whether through offering smaller work at lower price points, prints of your work, or a product such as notecards; as a professional artist you are not only the creator of the art but the CEO of your business. You decide what actions you will take to diversify your brand, in order to create a connection; and not only achieve a one-time sale but through the careful structuring of your art, all collectors across many price points can afford something you, and only you, create. Until next time-
Other art business articles:
Delivering, Hanging and Placing Your Art
Hi, We're Having A Silent Auction Fund Raiser
Notecards featuring my art!
Latest Blog Posts
Article Categories