"CAVU" Ceiling and Visibility Unlimited
| Linda Hendrickson
CAVU" is Navy Airman's' acronym revealed to us during George HW Bush's eulogy given by the former Prime Minister of Canada.
I am inspired by the point of view represented in these four little letters and how, if applied to art from preliminary sketch to clients' home it is like a refreshing breeze on a still, sweltering summer day, or a warm coat on a winter day.
When I begin with a blank canvas the view is certainly CAVU! Anything is possible and my optimism soars. (Maybe this is why there are so many "starts" in my studio!) To get past the whiteout (blank canvas), the first step I take is called a "Doodle" always done in bright colors and with as much texture and innovation as I can muster. As the painting progresses I come across new vistas and keep what I like and paint over passages that are not as pleasing to me. Michelangelo said he "chipped away what wasn't David", for me, it is a process of addition and subtraction until the painting takes shape.
Inevitably the cloud banks form and a canvas reaches the "gawky gangly ugly duckling" stage. Does one climb to a higher elevation to get past this stage? Ideally yes, but staying engaged rather than running for a new start is not easy. Like untangling one's skis, poles, and body after falling in deep snow it can seem impossible to get up and get moving again. Many a painting languishes in the studio or a closet for a long time waiting, steeping, for just the right moment. How about a nap? Sometimes that is just the ticket to get past this stage. But ultimately the paint and brushes or gloss medium and mixed media, lines, and experiments on the canvas can lead past the juvenile point and onto the Yahoo of CAVU.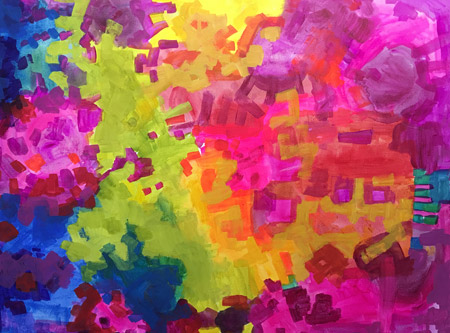 Zooming down the home stretch picking and solving the last obstacles feels so good. When am I finished? I don't want this last stage to end, I finally know what I am doing and am thoroughly enjoying laying down the color. Soon, the painting says "that's it, no more" you have looked at me upside down, backward and forwards from across the room and I am not saying "fix me" anymore. Done, not exactly; isolation coat, UV varnish, wire, photography and maybe a frame. All that before I am revealed to the world in the form of a gallery or show, website, and social media.
Will the fledgling painting inspire CAVU in the viewer? Is there something about the image which triggers a memory, hope, a feeling of soaring. Will the masterpiece elicit a smile, a feeling of happiness? Will the story which accompanies the painting ring true in the heart of the viewer?
To read additional articles by Linda Hendrickson CLICK HERE.
Molly and Jim at Lake McDonald on a cold winter day in warm coats!
Latest Blog Posts
Article Categories