Traveling for Art
| Diane Helentjaris
"Once a year, go someplace you've never been before." Artists, makers and other creative types eagerly follow the Dalai Lama's advice. They sketch in Tuscany, paint afloat cruise ships, and sculpt in Japan. Hemmingway went to Spain and France; Gauguin, to Samoa; and Robert Louis Stevenson, Tahiti. For centuries, artists have gloried in exotic locales.
Adam Galinsky, Ph.D., Chair of the Management Division at Columbia Business School, has researched the effects of travel on creativity. In one study, Galinsky looked at the fashion industry. He found designers' originality blossomed with travel. The more the designers had immersed themselves in the foreign cultures they visited, the greater the innovation in their fashion collections. Travelers who eat at McDonald's in Paris – and you know who you are – should not expect much of a creative bump up from the trip. However, a little adventure changes the story. Visitors who take the trouble to find vegetables in the open-air market, negotiate butcher purchases in the 17th arrondissement, and then conquer cooking on the tiny gas stove in their rental apartment will be exercising their minds in creativity-inducing ways. Scientists believe being temporarily off-kilter in new surroundings lets the human brain develop new pathways and increased flexibility. This, in turn, sets the stage for increased creativity.
Geetika Agrawal's company, Vacation with an Artist (www.VAWAA.com), offers experiences that, if scientists are correct, should give an oomph to any aspiring creator. Geetika, a designer who loves to explore the globe, offers mini-apprenticeships through a network of artists. Since opening in 2017, she has grown the group to fifty-nine artists in twenty-nine countries. The classic art apprenticeships of working with painters, sculptors, ceramicists and printmakers in locales such as France, Italy and Spain are all on the menu. But Geetika doesn't stop there. She has developed experiences as unique as recreating ancient Italian cuisine with an archeologist, making leather shadow puppets in Malaysia and handmaking bespoke shoes in Prague. Her mini-residencies range from three to six days in length.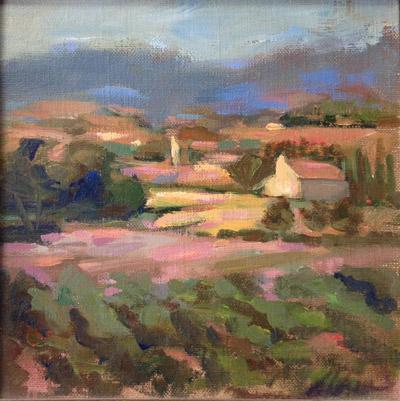 Virginia painter Antonia Walker has tapped into the powerful effect of travel throughout her career. Her introduction came when, as an MFA student, she studied in Brittany. Since then, she has completed two artist residencies in Rome. They happily gave her "time to draw, explore and long hours sketching at cafes in piazzas." Anatomy and drawing were her subjects during a South American sojourn. Antonia has journeyed repeatedly to paint the countryside and hill villages of Provence. Recalling her first visit to Provence, "I was just so stunned by the colors of the land there." Now, when she leaves her Virginia home to paint overseas, she usually travels in a professionally-arranged tour. Antonia likes the productivity gained by having the tour operators worry about the logistics of food, lodging, and transportation. An online tour of her landscapes at www.AntoniaWalker.net gives persuasive evidence of the benefits of wanderlust.
Many tour companies cater to artists' needs. These specialty tours can be found under headings such as "culture," "arts," or specific artistic discipline like "photography" or "sketching." Themed sea and river cruises offer onboard and offshore classes. Typically, the cruise provides all necessary supplies and classes are set up for small groups. Art publications carry ads for many tours and courses; others can be found through institutes of higher education.
Self-catered art travel – in which the traveler makes all arrangements - gives the greatest flexibility in cost and schedule. Creative folks may simply pack their pencils with their passport and sketch in a London park or on a Santorini beach. Other travelers like to arrange to join local classes and workshops at their destination. These workshops vary – from those incorporating significant beyond-the-classroom cultural experiences to others based almost exclusively on studio work.
Self-catered art trips go smoothest with careful pre-trip planning. Shipping finished works can be prohibitively expensive, so arranging to carry home the harvest of artwork can save money. Art supplies may be bulky and heavy. Experimentation with new tools – such a color ink blocks and pressed pastels which can be used dry or wet, miniature canvases and sketchbooks – can help lighten the load. Another option is to buy supplies once at the destination and use them up or leave them behind at the end of the trip. Photographing images for later work at home extends the impact of travel. Investigation of cloud storage options before debarking will minimize surprises.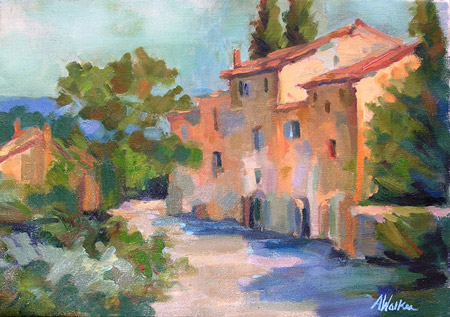 The majority of art travelers go solo and are women. As for any trip, attention to safety measures – such as travel and health insurance – can make the difference between a memorable and an "I wanna forget it" experience. Packing so everything can be carried independently gives the most freedom. Travelers, just as when buying anything, would be wise to carefully read available information, seek legitimate references from prior travelers, and ask questions.
Traveling with a group from home, such as a trip sponsored by a local arts organization, may be just the ticket. Travelers have the option to meet each other beforehand, keep in touch afterward, and collaborate. Artists are more likely than other professionals to work alone. A trip with other neighboring artists may provide the perfect networking antidote to too much workplace solitude. Often these organizational tours use the same operator year after year and so, can vouch for their service.
So, if you're looking for inspiration, dust off your passport and experience someplace new. Everyone from a business professor to the Dalai Lama will back up your decision.
Read more articles about creative escapes:
Is it Time to Shake Things Up!
How a Trip To East Jesus Rocked This Artist's Creative Journey
Building Bridges with Art and Language
Natural Dyeing and Indigenous Weaving with Juana in Oaxaca can inspire creatives. Photo courtesy of VAWAA.
Latest Blog Posts
Article Categories