Destination: Art Worshop
| Elaine Weiner-Reed
In this second part of a series relating to Artist Elaine Weiner-Reed's annual trip to California for an Art Workshop, Elaine explains how the workshop recharges her mind, body, and muse and jump-starts her productivity, serving as her launchpad for a creative year. Elaine gives a first-hand account of the workshop experience, shares insights into how she assesses her personal art growth and recommends tips for arming ourselves with the right mindset when facing the unknown. For all that and more, keep reading… and be among the first to glimpse some of her new artwork.
It is not easy to be away from home, for it takes a lot of planning to cover things left behind and to be prepared and equipped for what awaits. To learn about how I prepare and plan for my annual art adventures on the West Coast, read my previous article The Upside of Flying. In it, you will discover my approach to countering travel-related downsides that almost always make me want to stay put and huddle or hibernate for the winter. Almost…
With the chores and anxiety of getting there behind me, I was finally at my destination in normally-sunny-and-warm southern California. As luck would have it, the timing of this year trip's coincided with the region's coldest and wettest January and February in recent history. Was I disappointed? Certainly! Every year my spirits are buoyed simply by the hope and dream of being in sunshine and warmth for several weeks in January and away from the cold, dreary Maryland winter.
These days, my body vociferously objects to the effects of jet-lag and time changes, so when it comes to traveling, I generally arrange to arrive several days in advance to acclimate myself and begin to establish a new normal. For me that meant I had a couple of days before the workshop for taking daily rambling walks to stretch my legs, clear my head, and take full advantage of the sun and my beloved palm trees. Evenings, I ate well, relaxed, and focused on my art. Finally, I was ready and could not wait to fully immerse myself in my art and the workshop ambiance.
Prelude to a Workshop
Your first time? No worries - I find that every workshop is a new experience regardless of whether it is my first or tenth with a particular instructor. For those of you who never took an art workshop (5-day or otherwise), let me just say that each one varies and sometimes varies by extremes. There are always different factors to manage, situations to face, and lessons to learn. If you are a new student, you could feel shy or fearful as you assess the atmosphere and notice many groups of people engaged in chatter or hugging. Many of those artists grew to be friends in other shared experiences or workshops or because they live within the same communities.
Each workshop carries untold opportunities. As I see it, cliques are made to be expanded. Warm smiles and greetings can open doors to new friendships. Dive in politely. If approached with a smile and soft-spoken "May I join you?" most groups will rush to make room to include you in the circle or around a lunch table. I can almost guarantee that someone will be attuned to your "newbie" status and be solicitous and especially inclusive. A good workshop organizer or instructor will also look out for the newest members of a group. That kind of caring and humanity is wonderful to find.
The Right Mindset
As with everything in life, we reap what we sow. If we are aloof, then perhaps we connect with fewer participants. I find that the swimmers' analogy of jumping into the deep end is often best. We need to try our best to check our fears at the door in order to get the most out of the experience. It is a given that everyone is working outside of their comfort zones. Living out of suitcases, away from home and our normal creative spaces, missing family and creature comforts, and crammed into a workspace feeling pressure to be creative…the stressors abound.
In such situations, we have to try to be flexible and resilient, maintaining a positive attitude, as well as a good sense of humor. Egos need to be checked at the door. Stuff happens. It is all a part of the adventure. We might have to wait in line for water to wash brushes or go to a store or to our room for food and comfort breaks. Some hotels or facilities are better and friendlier than others. If you come with the right mindset, artists walk away from a workshop with new ideas and knowledge, challenges to face and tackle, and a lot more experience. Success!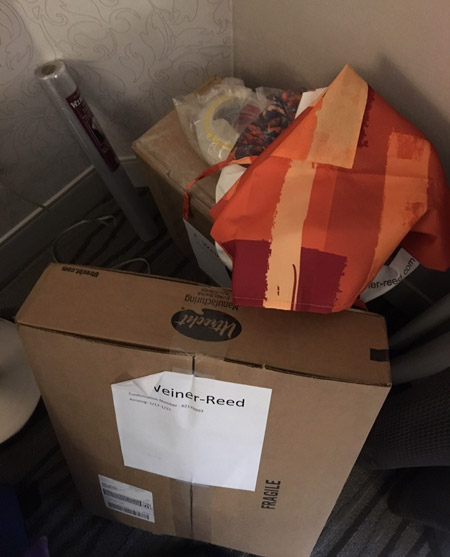 Know and Be True To Yourself
I arrive at a workshop prepared with ideas and sketches for where I want to take my art and what I want to work on. Within and outside of my studio or another workspace, my habit is to dedicate many hours to sketching and contemplating my vision and goals. Each year, I systematically analyze my work. As I examine each piece, I ask myself if it were all that remained of me, was this piece how I would want to be remembered. If the answer is "no," the piece goes back to the easel for some level of a makeover. Following are some hard questions I usually ask:
Did I achieve what I wanted?
How strong is the piece? Does it suit the theme and my body of work?
What does it say for itself?
Can the piece stand on its own? Does it work?
Is it great and if not, am I willing to risk it all for a great painting?
Where does this work stand – in chronology, but also in the domain of Art?
What does it say about me, the artist?
What is my intent and is that idea or message received/perceived by viewers? Where do I want to take this process or series next?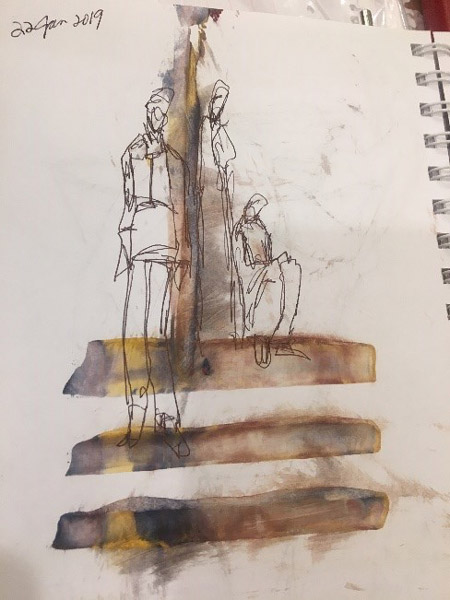 I have been told by some (tongue in cheek or not) that I "think too much." I smile, undisturbed, for I don't believe such a thing possible. I do not believe that an artist can ever think too much. It is my conviction that the world deserves more than another thoughtless piece of art. As a result, each painting or sculpture I create is made with all that I have to give – heart, head, body, and spirit. Each piece has its unique story to tell series based on all I have experienced. There can be light and joyful pieces or works that are denser with more complex or intellectual content. Life is a full spectrum of emotions, a virtual roller-coaster of ups and downs, and lifetimes are rich in emotional snapshots and memories. My art storytelling, built on the stuff of life.
The Workshop: Five Intensive Days
Your Goals | Your Priorities
Remember: This workshop is for and about you. Paint your own voice.


In my art, I make or paint what I know, what matters, and what I connect with. I visualize what I will be working on and connect or reconnect with it before I step into my studio and before I begin a workshop. My new paintings and sculptures generally fall within a series and evolve organically, informed and generated by what came before…
Day 1 Dawns
I don't know about you, but I experience pangs of anxiety before any class or workshop. For most of us, even if we have attended the same workshop before, each time is new and involves some number of unknown variables (agenda, format). As usual with me, I experienced yet another pre-workshop sleepless Sunday… As I left the room early Monday morning, however, my excitement began to build as I dashed to the restaurant for my java, and then on to the Mahogany Room – our workshop home for the week. Armed with my first two cups of complimentary hotel coffee, I waited for the hotel staff to open the conference room doors and officially launch the week. Ready or not - Creativity, here I come!
Workstation or Studio Set-up & Orientation
Setting the Stage: Workshop Rules and Basics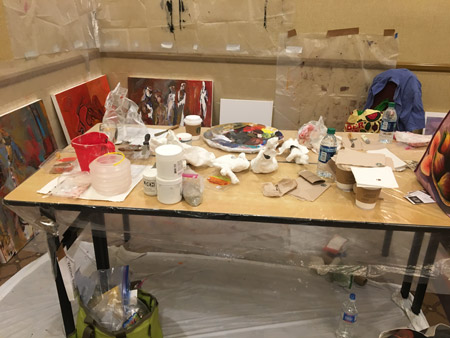 The first day of every workshop is always a flurry of activity as I and the other artists settle in. This year there were about 27 of us, all working table-to-table in a hotel conference room. Artists scurry around, each trying to set up shop and adhere to the different rules and agendas of the venue. More often than not, the first day of any workshop is a day of settling in and finding personal comfort zones in our new "creative sandboxes." Friends greet friends and strangers meet. Sometimes strangers become that "friend we had not met yet." The energy in the room is palpable and nerves could be on edge, but there is comfort in being in it together. By the end of the week, people are loaning materials to others and exchanging contact information and planning to meet for dinner or reconnect throughout the year.
The workshop formal kickoff session took place on Monday morning somewhere around 10:00 AM. Pausing in our set-up and having found seats in the presentation area, we were greeted by the Workshop Leader with the following types of announcements and an overview of rules and agenda items. Logistics basics were then followed by a warm welcome and introductory remarks from our instructor:
Announcements & Greetings
Getting to Know You
Protocols and Decorum
Agenda and Schedule
Presentations
Special Events
Workload & Expectations: Generalities
Courtesy & Creativity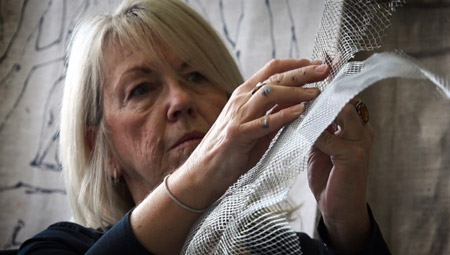 Monday through Thursday, there were the formal presentations – focused slideshows of diverse contemporary artists of note and accompanied by examples of their work. Each presentation is designed to expose us to diverse art styles or movements and artists that might have some artistic relevance for one or another participant. Before and after the daily presentations, we worked…and worked…and worked.
Days 2, 3, and 4
Welcome to our new normal. For this workshop, the first four days were intensive workdays, with each artist concentrating on their individual work. On these days, artists silently and steadily work throughout the day. There is usually no set lunch break, so each artist chooses their own timing for breaks to eat or run errands or to chat. Our workdays figure among the best of times as we tune into our individual vision and muse, each of us focused on painting or sculpting or sewing or drawing right up until we get word that we have 20 minutes to clean up and leave before the doors are locked at 5 PM behind us.
During the first or second day, each artist schedules a short one-on-one conversation with the instructor. In these meetings, we privately view and discuss eight pieces that we created the previous year. Some artists bring digital images and some travel with the actual artwork. Each to their preference. This individual art show sets the stage for tailored discussions of our art and vision and often leads to determining our challenge areas for the week and even the year ahead.
That one-on-one private consultation is my favorite part of the workshop. It is my time with my mentor, and our annual discussion surrounding what I have done the previous year and my art goals for the year ahead. In preparation for our talks, I spend many days of reflection, introspection, and goal-setting. I always view this special time as my "direction finding" for my creative goals. This instructor allows us to record our conversations if we wish, and I do that – often re-listening to them over the course of the year.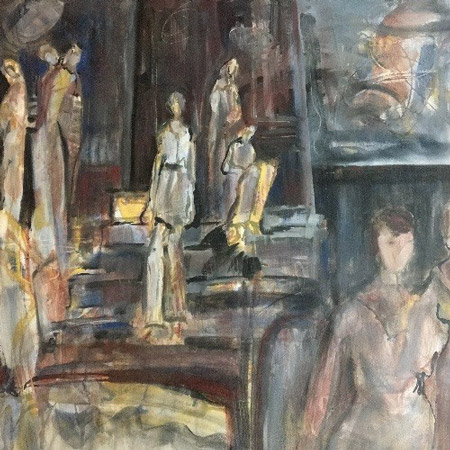 To maximize our creative times, we reserve socializing and conversation for evening hours. Over the years, friendships have formed and evolved. This year, I made it a point to socialize more instead of hastening to my room. As a result, I was fortunate to enjoy many wonderful moments, beginning with the Monday pop-up BYOB class happy hour in the hotel courtyard. Warmed by laughter, kindness, and chimineas, we were welcomed by our understanding restaurant staff. Discussions ranged from art to our lives to environmental issues to silliness and back again, leaving us all with new memories laced in laughter.
No Magic - Just Lots of Hard Work and Drop Cloths
Because we have only five days in the workshop, days 2, 3, and 4 are workdays, where each artist defines their own pace and timetable. Sometimes we will escape to sit in the sun or make a phone call or just take a break. While I cannot show you a photo of the room for privacy reasons, what I can do is describe it. Imagine your average size conference room arranged with 27 6-foot long tables, each with a chair – rows and rows of them. By the end of the week, it has evolved into a labyrinth of individual studios. Picture a front-room section for presentations, 27 chairs forming two semi-circles facing front and the presentation screen. Every day, walking back and forth from our work areas to the water tables topped and surrounded by large water buckets holding clean water or paint-thickened dirty wastewater, we catch glimpses of other artists at work. I realize I am happy. We all somehow are in our element and doing something good for ourselves and our careers. We share laughs, snippets of life, and the camaraderie of being in a community.
All things considered (consultations, presentations, rolling talks) in terms of work hours each day, depending on our daily arrival time we only have anywhere from four to eight hours to actually paint, draw, or sculpt. By the end of the week, everyone is exhausted, having packed tons of concentrated creative work into each day. On day 4, our last full workday of the week, we are all intensely focused on trying to complete one or two pieces for our final critique. That evening, however, we also break early to prepare for our dinner get-together in town as a group. A tradition now and our last hurrah for the year, we go en masse to our instructor's favorite restaurant. It is a festive occasion and unites us all - before Day 5 and our return to our normal lives and whatever comes next.
Where Did The Week Go?
Day 5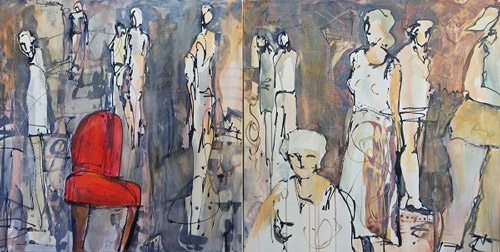 On the last day of the workshop, there is a final critique that usually starts around lunchtime and ends by or before 3:00 PM – primarily to allow California artists to pack up and get on the road before The 10 and other main thoroughfares get backed up with Friday rush-hour traffic. A few others had planes to catch. So, by 12:30 PM on Friday, as expected, we had discarded our messes, taken down drop cloths, packed up supplies and artwork, cleaned brushes, and put work areas back in order. Some students had loaded their cars, while others of us had hauled supplies and artwork back to our rooms.
By the end of the workshop, I was pleased to have completed several paintings and even a couple of sculptures to my satisfaction. Once again this year, we worked hard and played hard. During the week, we are all usually too engrossed in our own work challenges to wander around and look at each other's work. That reality adds to the immense impact of Day 5's final critique, where we witness the absolute best presentation of the week: an art show composed of new work created that week. Together, we marvel at the creativity and professionalism. What I appreciate about this particular group of artists is their vast diversity of styles and vision: from figurative, to non-objective, to collage, to fabric, to iPad digital, to landscape. Each artist follows their own path and distinctive vision. We collectively marvel and imagine what an epic contemporary exhibition it would be were those works to be exhibited in a group show at a gallery or museum. Someday…
As always, the workshop week ended way too quickly. Time for good-bye hugs and well-wishes for the year ahead. Time to dig back into our real lives, hopefully not losing creative steam or focus. I have come to look forward to and depend on these annual art retreats as my best way to orient myself and my art for each new year. I refer to it as "Looking Forward, Looking Back," wherein I take stock of my art and related activities, professional development, accomplishments, and focus from the past year. Doing so helps me more clearly orient my rudder (to borrow a sailing analogy) for the year ahead.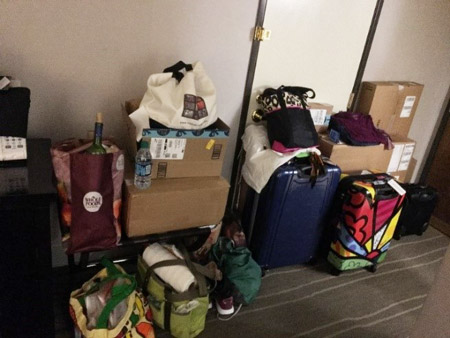 This year, I had to pack up my room as well as my art supplies, for the following day I was heading off for another adventure – a 4-week self-directed Art Retreat! Excited by my week's achievements, but exhausted mentally and physically by the intensive week, I sluggishly began to pack up canvases, closets, and cupboards. Early the next day, I would be on the road again… hopefully continuing on the creative wave I began riding the week before.
Next Stop: My Desert Art Retreat
In another article, I will share art images and snippets of my life and 4-week art retreat in the Palm Springs area of Southern California. I promise to include photos of the beautiful, heart-stopping mountain views I have grown to love. In the meantime, I wish you safe travels and creative adventures of your own! Remember to savor the journey as much as the destination.
Be sure to read The Up-Side of Flying which is part one of this series.