Cooperative Art Galleries: Collaboration and Camaraderie
| Diane Helentjaris
For the overly civilized, things get a tad desolate at the midpoint of the hour-long drive between Winchester and Leesburg. Don't get me wrong. The drive includes some of Virginia's most gorgeous and history-imbued scenery. Near Berryville, giant sycamores zigzag in a vale, tracing the path of a narrow creek.
Route 7 rolls along the Piedmont, up and over the Blue Ridge mountains, then crosses the Shenandoah River. On the east side of the river, stands a humungous cherry tree bursting each spring with fluffy pink blossoms. But, halfway through the trip, the few gas stations hide out of sight. A Sheriff's car usually sits in the median in this stretch, adding a bit of anxiety or comfort, depending on your viewpoint. And then it appears, the old Conestoga wagon up on the hill at what used to be Hill High Orchard. Behind the prairie schooner rambles a long building. Hill High Market, famous for its pies, beckons the traveler to take a break. Have a cup of coffee. Relax. And there, on the west end of the building, the Gateway Gallery and Gift Shop offers the refreshment of creativity. Shiny pewter ware, brilliantly colored fused glass, turned wooden bowls, and handmade ceramics fill its shelves. The walls hold surprises. A precise hand has painstakingly transformed tiny paper pieces into mosaics. A photographer's prints mimic delicate paintings.
Sitting at Hill High Market, sipping coffee, fiber artist Mary Kenesson smiles. "We are all owners," she says. The local artists featured in the Gallery also own and operate it. Earlier, Kenesson fetched today's letters and circulars from Gateway's lime green mailbox. Painter Linda Quaranta, covering sales, swiped a customer's debit card. Only tax form preparation is outsourced by the gallery. It's a limited liability corporation (LLC) with members serving on its board and committees. The cooperative (or "co-op") art gallery model keeps costs down. This means, when compared to a traditional gallery, artists usually retain a greater percentage of the money made when their art is sold. While a traditional gallery may keep forty to fifty percent of the sales revenue, a cooperative may be able to get by with only twenty to twenty five percent. Co-ops may also offer artists the wherewithal to purchase supplies in bulk and share expensive equipment.
Cooperative art galleries sometimes offer workspaces to members. Watercolorist and Gateway artist Kate Williams rents a studio down the hall from the Gateway Gallery. There, she paints, teaches students and welcomes the public. Gallery visitors can cross the hall to her window-walled space and see what she's up to. Today, Williams is experimenting with fabric and stops to discuss her thoughts with Kenesson. WIlliams has used a computer program to capture her ethereal images and then have them printed on linen and cotton. Kenesson gleefully leafs through a stack of colorful printed squares and encourages her fellow creative.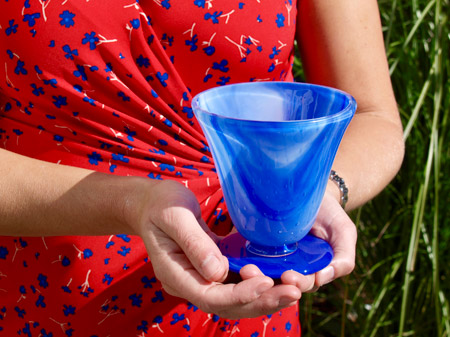 The United States is peppered with co-op art galleries. An eclectic bunch, no umbrella organization pulls them together into any semblance of sameness. Organizational models vary. Some states govern cooperatives with specific laws. Otherwise, they typically organize as non-profits, corporations or limited liability corporations (LLC). Most require participating artists to work a set amount of time per month, to pay a modest membership fee, and to be vetted. The last includes not only assuring the artist has the expertise to produce quality work, but also that their work fits in with the gallery's needs. The gallery may already have enough potters, for example, and not be willing to take on any new ones. Most importantly, the artist must be able to successfully join in with the other members. Not every creative person has the personality, desires and people skills to sell to the public and to collaborate with other artists.
A potential downside of co-op art galleries can be the amount of time required for membership. Inadequate quality control or too small a pool of local artists can erode the professionalism presented by the gallery. In addition, customers who buy art as an investment may be more comfortable purchasing from a traditional gallery.
Interacting with gallery patrons is a major benefit for artists. They get to hear directly from their audience. The public gets a chance to chat with the artists informally, to learn how and why they create. These exchanges can be a welcome counterpoint to the solitude of an artistic lifestyle. Feedback may spur new ideas or changes in practices by the artist. Watching a tourist choose small, easily packed items might encourage an artist to turn out a new line of smaller artwork. Running the gallery provides real-world business lessons.

Kenesson finds a cooperative gallery also offers control. The members themselves figure out where art is placed in the gallery, what gets shown, and how. She stresses the camaraderie and the myriad of ways they support each other. For Kenesson, "It's always fun."



"Cooperative art galleries are a really good way for artists to survive," says Kathryn Luther. The ceramicist sells her art through the oldest cooperative art gallery in the United States, Gallery 4 in Fargo, North Dakota. Luther handmakes most of the earthenware tiles used in her mosaics. Playing with shape, color, and texture, bits of language often add pizazz to her wall pieces, magnets, and furniture. Luther finds cooperative art galleries to be "a creative way to sell work that doesn't involve traveling to shows or setting up your own shop." A member of Gallery 4 for nearly three decades, "I have only good things to say about cooperatives." Luther experienced the benefits of banding together with other artists over a span extending from the "getting started" phase of her career to "life with kids" and now, "time after retirement." Unlike other artists who cart their wares off nearly every weekend to an art or craft show, she has ducked much of the packing and schlepping and unloading. As the public has become aware of her work and she's made a name, the gallery has made her mosaics accessible to her fans on a nearly daily basis. Rather than wait till an annual show, fans can walk in six days a week and buy Luther's art. They also can arrange special hours if needed. The artists "feed off each other" and help each other. Since the gallery is jointly owned by all members, the artists themselves control the space, inventory and size of the gallery.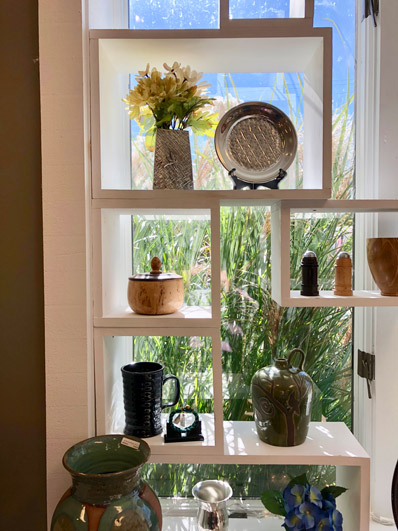 Three years ago, painter Connie Riedman joined Gallery 4 and is equally enthusiastic. "We're all local artists, local art, all kinds of styles. People feel really welcome to come in and get to meet someone, an artist, and hear about their work…I just love being part of this gallery…such a great encouragement…just a great atmosphere."
Artists contemplating membership in a cooperative art gallery will want to make sure they have the time needed to participate. They need to be compatible with the group. Asking questions, getting to know the other artists, and learning about the gallery's organization can lead to a solid decision. For many artists, exhibiting in a cooperative gallery adds a special dimension to their creative life.
More articles for artists:
Risking Everything for a Great Painting
Linda Quaranta at the Gateway Gallery. Photo by Diane Helentjaris
Latest Blog Posts
Article Categories