Treasure From Trash - The World of Upcycling Artists
| Diane Helentjaris
Leaving his life-long Cleveland roots was just too much to ask. Facing a job-mandated move, Mark Langan abandoned his two-decades-long career in transportation.
In 2003, he left behind the world of motor carriers, managing teams, and working with a Taiwanese-owned steamship company. Mark made the head-spinning decision to "switch gears" and "give art a shot."
After all, Mark came from a family that included a watercolorist, an illustrator, and a cartoonist. He himself knew his way around a camera, could oil paint, and silkscreen He'd even been a competitive carver. So maybe it wasn't such a surprise to have Mark look to art for his new career.
But no one could have predicted his chosen medium – cardboard boxes. Breaking down boxes one trash day, Mark became captivated with the creative potential held in the structure of corrugated cardboard. The pattern of the wavy flutes, sandwiched between flat heavy paper, inspired him with its "kinetic energy feel and patterns." A world of possibilities for play beckoned. Mark thought he could "do something a little different."
Within months, corporations were commissioning Mark's three-dimensional bas relief sculptures. The media came calling; the rich and famous were buying his work. Mark recalls an early-on conversation with one patron, David Arquette. Langan said something to the effect that Arquette's name was the same as that guy married to Courtney Cox. The reply, "Mark, I am David Arquette."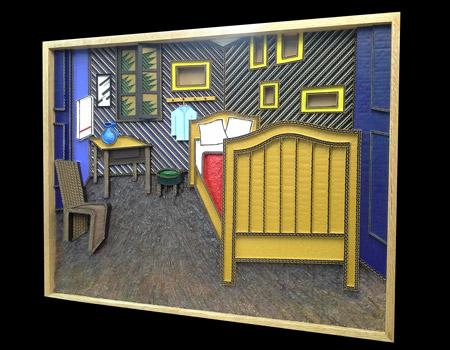 Langan's art, langanart.com, has four components: previously used corrugated cardboard, a quarter-inch plywood base, an oak frame, and Elmer's glue. Mark scavenges the plywood from building sites, most of it luan which began life as a tropical tree. After carefully planning the piece and drawing a mock-up, he meticulously measures and cuts the cardboard. Strips may be placed on end to show off the flutes' texture or perforated and laid flat. Shredded cardboard is mixed with watered-down glue to add additional texture. A precise worker, Mark carefully builds his artwork - "lots of pieces and parts and gluing." Each creation takes a "couple hundred hours per square foot." For each of his YouTube videos illustrating his process, Langan takes as many as three thousand still photos, stitches them into stop-action video and backs them with his sophisticated musical choices.
Mark successfully markets to companies in the paper or recycling industries. He loves to "show people in paper-related businesses how cool it could be." His works, often corrugated sculptures of company logos, highlight corporate board rooms and serve as unique company awards and gifts. Although he has exhibited in art galleries, the majority of his work is done on commission. Mark Langan bashfully dreams ("almost hate to say it") of one day "seeing my art in the Museum of Modern Art."
For now, his corrugated works, "Feed my family. I love what I'm doing…A lot of fun to it." His stated goal is to "create something I can be proud of, something a little different...Everybody uses a box."
For centuries artists reused materials. Discovering what old masters have hidden under their recycled canvas never fails to amuse art historians. But last century artists such as Picasso and Marcel Duchamp began to intentionally incorporate found objects into their art. Today, upcycling artists transform into art all manner of what would otherwise be considered rubbish.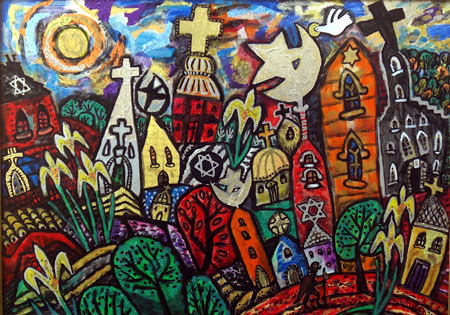 London Irish painter Brian Whelan, brianwhelan.co.uk, latched on to recycled materials for practical reasons. Whelan's paintings dance with color and energy. Whimsically, even sardonically, he paints everything from Hercules to Bible stories. Sister Wendy Beckett, the acclaimed British art expert, described Whelan's work as, "Clear, strong, prayerful work with joy at its centre." Bits of flash capture the viewer's gaze - metallic gold, red or green flash from a crown, chalice, cityscape or cross. Clever Brian has created these sparks of light by upcycling the foil wrappers from chocolate candies. His friends help him out and he has his favorite sources.
Zac Freeman, zacfreeman.com, describes himself as an "Assemblage Artist" who "repurposes found objects to capture cultural bits of history." Zac builds his work from the flotsam and jetsam of modern life. Three-dimensional leftovers – buttons, outdated iPhones, bottle caps, and a hundred drachma Greek bill - find new life glued on board. Working from photographs of his subjects, Freeman focuses on realistic portraits. Successful by any measure, his jam-packed schedule has included as many as twenty exhibitions within one five-year period.
Artists have gravitated to reusing materials for a variety of reasons. Some note the low cost. Mark Langan is happy his art is non-toxic and "pretty low impact on (his) body." Many use their art to deliver a pro-environmental or other philosophical messages.
Few deliver a declaration as strong as Lin Evola-Smidt's swords into plowshares. Her first eleven-foot bronze Renaissance Peace Angel, with a plaque made of street weapons, was completed in 1995 and displayed in California. But after the September 11, 2001 disaster, the sculptor shipped the work to Manhattan where it stood near Ground Zero. In 2013, Renaissance Peace Angel became part of the National September 11 Memorial and Museum in Manhattan. Working with law enforcement, her Peace Angels Project, peaceangels.com, has received "tens of thousands of decommissioned contemporary armaments" and repurposed the weapons into sculptures and monuments.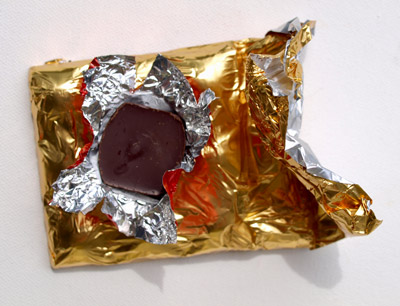 Artists and aspirational artists who'd like to experiment with upcycling need look no further than the many creative reuse centers now dotting the U.S. Often organized as nonprofits, they collect materials otherwise headed to a landfill or dump. Scrap USA, scrapusa.org, is an umbrella organization pulling one group of them together. Everything from paint to computer discs to wooden spools gets sorted, displayed and sold at a deep discount.
Creative reuse centers frequently offer workshops, reach out to school children, and host events. At least one – Oaklands's East Bay Depot for Creative Reuse, creativereuse.org - has a designated "Artist in Residence," Leon Kennedy. Kennedy's lively folk art shows up in exhibitions across the country, including in the Smithsonian. The Creative Reuse Center publicizes his art on its website. Markers, paints, crayons, beads, glitter, cotton, yarn and rope from the Center star in his work.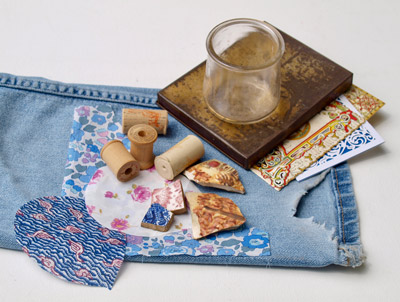 One upcycling artist, Jess Griffin, recently started NOVA Creative Reuse Center, novacrc.org, in tiny Paeonian Springs, Virginia. Her Center, tucked under the log and frame Vino Market, is easy to find. Few could miss the large pig sculpture out front promoting Vino Market's pulled pork barbecue. And, appropriately, the pink porker has been welded from upcycled steel drums.
A creator since high school, Jess tired of driving miles to Washington, DC-area centers. First, she drummed up interest with low-tech poster board notices at local art events. Then, Griffin headed up the creation of a nonprofit. Within six months of opening NOVA Creative Reuse Center, the nonprofit filled its shelves with over two thousand pounds of donated goods, organized this creativity fuel, and received positive feedback from the community. Old baking tins, ribbon, CD cases, and such now flow four days a week into the hands of creatives.
As Mark Langan shares, "My goal – celebrate what it is – it's a box.
Additional articles about upcycled or assemblage art:
Life of the Assemblage Art Gardener
How a Trip to East Jesus Rocked This Artist's Creative Journey
Bas Re-Leaf is based on trees indigenous to Ohio by Mark Langan (photographed at a slant to show off the texture)
Latest Blog Posts
Article Categories