You Never Know What's Around The Corner
| Elaine Weiner-Reed
August 2019 was an interesting month for this artist. It was a month of personal challenges besides it being my birthday month. That alone is usually enough to make me want to run away, but this year had something special in store for me.
A Girl, A Tree, and a Good Samaritan
On 1 August, a tree fell on my car. While I was driving it. Yes, it's true. Looking back, it's almost – but not quite – funny. I had just driven through a hailstorm that I thought would make my 16-year old Corolla look like an escapee from a shooting range to find that there were clear skies ahead as I was nearing my neighborhood. As I turned onto the last main road before my little cul-de-sac, I was waffling between continuing home to ice my aching left knee (another story) and continuing down the road to the grocery store. Fortunately, I was only going 30 miles an hour or less when I heard something. Call it what you will, intuition, a sixth sense, or an angel's whisper, but I heard a crack, stepped on the brakes, closed my eyes and said a prayer. I thought I was a goner. No time even for the usual stream of car-cussing… Just a prayer.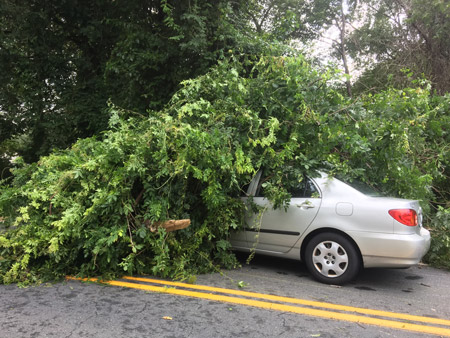 In a blink, my life changed. But I was alive. Fortunately, too, no one crashed into the back of my car. My trusty car apparently became a tank for those important seconds. My guardian angels apparently did a good day's work, as well. When I opened my eyes, my sweet car was still running and the air conditioning was, too. I was looking through my windshield at a canopy of foliage and branches. Thankful and a bit dazed in this new outdoor nature dome experience, I thought: "Hmmm…I guess I should call 911," and so I did. I admit I was not thinking too straight. As I explained to the 911 Operator that yes, I was in the car with the tree on it and yes, I'd been driving, I heard a voice at my window calling "Hello… Mam, are you okay? Are you hurt?" I wasn't sure I could open my car door (covered as it was by branches), so while still talking to the Operator, I rolled down the window acknowledging I wasn't hurt, and this kind young man proceeded to yank the door open for me, wonderfully committed to getting me out of the car as quickly as possible. Which was probably a good idea in case something was leaking or dangerous. On wobbly knees, we chatted, both of us dazed in our own fashion.
Not only did my Good Samaritan (earth angel) stay with me until the police and fire department arrived and remind me to collect my valuables from the car, but he later backed my car out from under the tree, allowing me to be able to drive it home later, much to the surprise of the police officers. We all agreed I was very lucky. More than that, I realize that I was given a miracle that day. Talk about being grateful...grateful that I was not injured and that it was not my time to die. Don't get me wrong, though, I had some extremely low morale moments in August as I received the news that my car was considered totaled. Faithful me, I asked the adjuster whether my car was repairable, but he showed me the damage to the "cage" and explained that unfortunately it had been damaged and was therefore compromised, i.e. not safe. So, yes, I could choose to repair the car, but the next treefall or like event could be my last.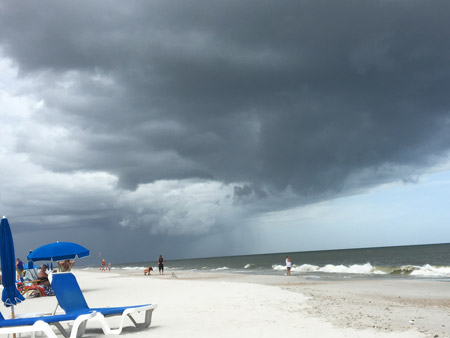 Car shopping and all that entails is very daunting… at least for me, so in the middle of August, after watching my car be towed away – destination: salvage yard – I ran away to Florida for a mini-vacation with my son, telling him "I cannot adult anymore." He understood perfectly. It was the escape from reality I needed, despite the above-average rainfalls and clouds. For me, the ocean is the balm for the spirit. While lazing around at the pool and beach, I read, planned some next steps for my artwork in progress, and by the end of the trip was ready to reclaim the cloak of adulthood.
In other words, I eased back into my life, making doctors' and physical therapy appointments, cooking, going to work, writing, and finishing some artwork in progress. With each small step, I was stronger, making subsequent big steps possible. In other words: car shopping. In the space of a week, I had researched, test-driven, shopped for, and purchased my new car.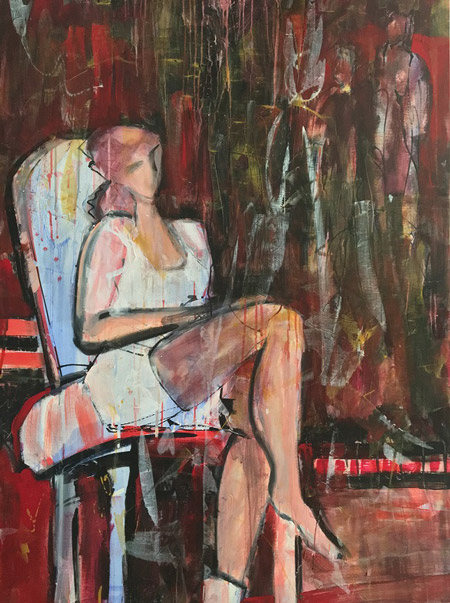 Which brings me back to art, as all things generally do. After my test drive, dealership let me bring the car home overnight to see if it would fit my needs and my garage. I am happy to say that I was able to confirm that (yes!) my 60" H x 36" W painting "This Seat is Taken" fit perfectly, so I drove to my studio at Maryland Hall and left it for hanging the following week in our Artists of Maryland Hall exhibition! And although my car does fit in my garage, I do have to first fold in the side-view mirrors. Nonetheless, I decided that I was definitely not going to have a garage limit my future art or life activities. The next week I drove home in my new Horizon Blue Pearl colored Subaru Forrester, christened, thanks to a neighbor's suggestion, with the perfect name of "Dream Catcher."
Back to my Good Samaritan story: As my Good Samaritan named Jeremy prepared to go home with the assurance that the police officer would follow me and my car to my house, we exchanged contact information, mine being my art business card. When Jeremy saw I was an artist, he enthusiastically told me that he and his wife were soon starting a daycare in their home not far from my house and when it was established, he would reach out to me to hire me to teach a class for them. My eyes teared up as I hugged him goodbye, telling him that I would love to do it, but that "the first class would be on me – a token of my thanks." While there is no way to ever really repay how much Jeremy's human kindness meant to me in my time of need, I think this might be a good start.
Keep Safe and Creative!


To read more articles by Elaine Weiner-Reed please click here.
A Close Call: The Great Escape I (1 August 2019), photo by Elaine Weiner-Reed
Latest Blog Posts
Article Categories