Experience Art Differently
| Elaine Weiner-Reed
Artist Elaine Weiner-Reed wants her art to be a starting point for dialogue, community-building, and creative collaboration. Elaine believes that through dialogue and interdisciplinary collaboration, the arts come alive and people connect - often in inspiring ways. In that vein, she invites others to imagine more and tap their own muse, asking what they see or feel in her work. How would someone write the stories she painted?
How would they end the scene? Do they see her painting as the beginning of a film or story or poem…or song? To her great joy, she has found that people are responding in extraordinary ways and with enthusiasm. Keep reading to see one example of how one of her paintings sounds to one singer/songwriter…
When I complete a painting several things happen: They go on my wall. They go into a future show. They go to a collector. They go into storage. Somehow, I realized that was not enough for me. Not anymore. My art centers on identity and unraveling or trying to explain to myself why people do and say - or don't do, don't say - what they do and say. I consider myself a "sleuth with a paintbrush." I am solving mysteries and life's riddles, leaving clues and tracing a path along the way.
At some point I realized that my artwork had more to be, to give, and to do in this life than just hang on a wall or be shrouded in a back room. Simply put, I concluded that they "were not done yet." They had more to say and some larger or different purpose. I did not know what that purpose was or how (if) it would manifest itself, but it was up to me to figure out what was supposed to come next and how to make it happen….
Many things undoubtedly factored into this realization, but two stand out in my mind: The first is personal: I am a communicator. I believe that art is my best way of communicating because it speaks for itself globally in color and line and imagery – no other language or translation required. I consider art to be a "universal language." The second is likely a chance encounter I had many years ago during a solo show at a bookstore café, one of my local favorite haunts at that time: I was painting in watercolor back then and my Café Ladies series adorned the walls. One day, as I left my book-strewn booth and stepped up to the counter to get a refill, the lady in front of me was staring fixedly at one of my paintings. This one was of a seated lady, her chin resting in her left palm, her right hand cupped around a mug on the table, seemingly deep in thought or dreaming. As I introduced myself as the artist, the older woman smiled her greeting and compliments. Quickly refocusing on the painting, she observed "That lady, she could be in my kitchen. I would put her on my kitchen wall and could talk to her there every day…" Obviously, that woman's comments resonated with me. I vividly remember the encounter and how touched I was by her connection to my painting. Picturing that woman having coffee and conversation with my painting captured my imagination. What confidences would the two ladies share, I wondered?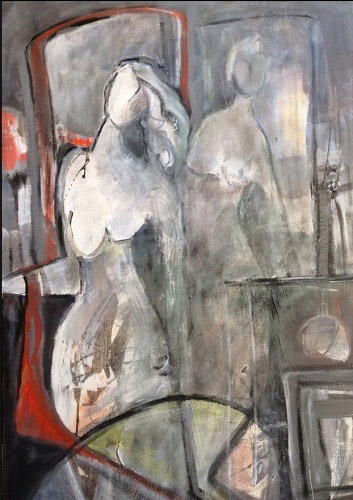 Sometime in 2015, I had begun to wonder how my paintings would sound to someone. What did my work remind them of? What memories did it evoke for them? So, I began asking the question out loud and on my Website. I explained that I did not only want to hear that someone liked or did not like one of my pieces, but that I was interested in them and their perspective: I wanted to hear how my work sounded or felt to others. I sought to understand HOW someone else imagined and connected with my work. From these questions, my "Every Painting is a Song" initiative was born. At first, my question echoed back, unanswered. In time, one woman responded to my painting "Mirror, Mirror" with a wonderful poem "Through the Looking Glass." She read her poem aloud to an enthusiastic audience in 2019. (A video of Niki Shiflett reading her poem can be found here.)
It took some time, but people have begun to realize that I really do want to know how they connect to and what they see or feel or hear in my work. What is their memory or sentiment connection to a given painting? What would be their interpretation of my work – whether in poem, song, story, or screenplay? How did a viewer connect to it and why? Did the scene remind them of something – a memory? A person?
I realized that it is about making connections. For me, Art is about life. In my paintings and stories are woven common threads (love, survival, grief, alienation) that connect all of us, regardless of diverse languages or backgrounds. Beneath the surface, I believe we have much in common and to that end, I am trying to put my artwork out there as a starting point for dialogue, as a way of trying to connect people across disciplines and demographics. I envision art building bridges.
Everything Happens For A Reason
Flash forward to 2018 when my "Every Painting is a Song" concept led another artist to contact me with an invitation to co-exhibit. Together, as we planned our two-person show for June 2019, we expanded the theme to include two collaboration events related to "Every Painting is a Song | Every Painting is a Story." For both of us, our paintings ARE stories – incorporating our personal narratives or perceptions in what we paint. Our messages and visions and styles are very different, but both of us sought to hear how other people connected to our work. What we experienced exceeded our expectations: Hearing how others connected to OUR work through their own beautiful and creative writings or music brought with it the bonus of expanded meanings and alternative interpretations for our own work. My dream of paintings 'coming to life' was becoming a reality.
Chance Encounters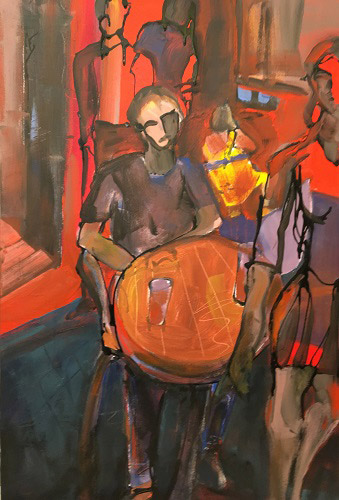 I believe there is no such thing as a coincidence, believing instead that everything happens for a reason. True, we might not realize the rationale or meaning of any chance encounter at that moment...(Remember my café ladies story?) We might never understand it and some events or encounters might not even register with us as memorable. Regardless, that encounter could have made some impact, possibly making us grow, go in another direction... Perhaps we learned a lesson from it, or that chance encounter led to a future job, partner, or new friend. What about the other party in the chance encounter? Another possibility could be that they met us for a specific reason to lead them to or away from something or someone. Regardless, I try to pay attention to chance encounters. In fact, that is the very title I gave to an abstract figurative painting in which I featured my son sitting at a table in a pub as I imagined what a young man might be envisioning as he drank a pint. That painting, Chance Encounters, is based on memories and photos from a 2016 trip to Ireland with my son.
Some chance encounters might inspire us to create or serve as a source of inspiration or provide a new idea, whispering to us like a Muse... That has happened to and for me. Experiences and encounters have influenced and benefited my art. Some encounters (good or bad) have become the focus of paintings as I sought a resolution and sometimes more. Negative or positive, chance encounters are intriguing and should not be ignored.
I Can Paint A Song | He Can Sing A Painting.
I find it more than just a coincidence that my painting Chance Encounters reconnected me to a past chance encounter - one that happened in the 1980s. I met singer/songwriter Gerald Richard Ingley ("Jerry") by chance back then, and through the years a friendship developed and lasts to this day. Early this year, I reached out to Jerry while trying to arrange and coordinate a list of musicians and poets for creative collaboration events planned for my joint May-June exhibition Portraits of Life -The Art of Storytelling with April M. Rimpo. From a selection of our painting images for the show that we sent him, Jerry selected one each of my and April's paintings that intrigued him and for which he would write song lyrics. The painting of mine he chose was "Chance Encounters." As you can imagine, that painting in which my son figured for the first time in over 15 years holds significant meaning for me. At the time, Jerry had no idea of the painting's story or what it meant to me, but he chose it because it set his imagination rolling... About his inspiration, Jerry writes the following: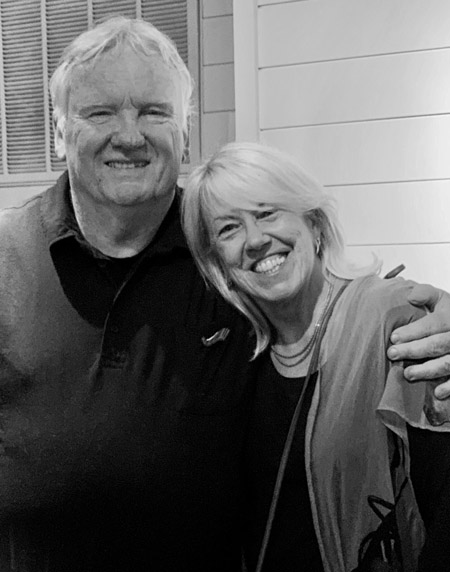 "I saw a club or restaurant, a guy at a table with two glasses, and a woman in the foreground with her back to the table. I took the position of the woman and built a story of her not wanting to see him anymore, but too often seeing him and remembering him, and how she tried to get over him... the encounter in the club is the basis for the final verse."
View the Video Don't Want to See You Anymore or the audio Don't Want To See You Anymore and experience art differently as a painting takes shape in music.
"Don't Want To See You Anymore" - Original Lyrics and Music
© 2019 Lyrics and Music - Gerald Richard Ingley - All Rights Reserved
- Published by EWR with GRI's permission.
Imagine more

What do you hear or see or feel when you look at my paintings? Do any inspire stories, songs, or poems? Do they connect you to a place or memory…or a dream? How would you write the beginning or end?
More examples of art and poetry and music collaborations can be found on the artist's YouTube Channel.