When Life Gives You Lemons, Make Your Cast Fuchsia!
| Linda Hendrickson
I was out walking my little dog, Molly and enjoying the evening a couple of weeks ago when I tripped and went flat . . . my face was saved by my right hand. But unfortunately, I broke my pinky and my ring finger and it's my painting hand! What could be worse?! Well, not being creative at all of course. So I've put together some tips on keeping the creative edge while healing or anytime you can't be creative for some reason.
Step 1 in keeping your creative edge as you sit on the sidelines:
imagine yourself doing the very thing you are unable to do!
Resilience coach Angie LeVann says, "Begin by establishing a highly specific goal. Imagine the future; you have already achieved your goal. Hold a mental 'picture' of it as if it were occurring to you right at that moment. Imagine the scene in as much detail as possible. Engage as many of the five senses as you can in your visualization. Who are you with? Which emotions are you feeling right now? What are you wearing? Is there a smell in the air? What do you hear? What is your environment? Sit with a straight spine when you do this. Practice at night or in the morning (just before/after sleep). Eliminate any doubts, if they come to you. Repeat this practice often. Combine with meditation or an affirmation (e.g. "I am courageous; I am strong", or to borrow from Ali, "I am the greatest!")." read more of her article in Psychology Today.
Step 2 - Gratitude. I am thankful for:
⭐️I didn't crack my head open or break my wrist.
⭐️I have painting commissions to keep me looking forward to when I can paint again!
⭐️Doctors, nurses, PAs, Radiology techs, basically a whole new world to share art with!
"Joy is always a function of gratitude - and gratitude is always a function of perspective." Ann Voskamp, author of 1000 Gifts.
What are YOU thankful for?
Step 3 - Make a plan.
I am planning my next painting series, researching techniques and images. I plan to watch nature films, focusing on Rocky Mountain animals. I might just have to start with an all time favorite The Crimson Wing. (This isn't about Rocky Mountain Critters, but it will awe you just the same.)
Your assignment:
Choose one of the following suggestions from The Artist's Way Blog click here for 101 Artist Date Ideas and This email address is being protected from spambots. You need JavaScript enabled to view it. which idea you chose, why and what you learned.
Step 4 - Look forward!
Sign up for a creative class, something to look forward to. The next class I am teaching is
Journal Journey Jumpstart with Me (Linda Hendrickson) Jill Redding (a fellow artist), and YOU!
2 day workshop March 24 & 31 2017 (Fridays) More details on the Creative Arts Source Guide
Step 5 - Try new things!
This is punchinella (sequin waste) used as a stencil to make textural passages on paintings.
For more ideas creating and using punchinella click here.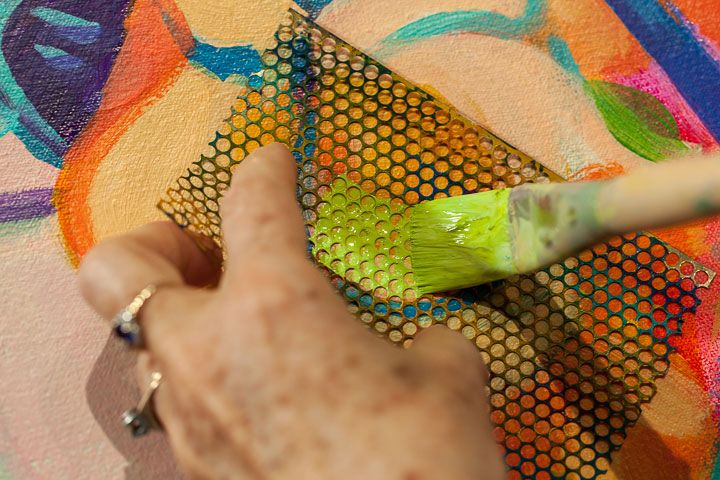 Step 6 - Take baby steps.
Baby flamingos have enormous feet. Yet, with their parents help they are up and tottering in no time.
* Take the first step
* Accept an offer of help
* Celebrate progress with a Happy Dance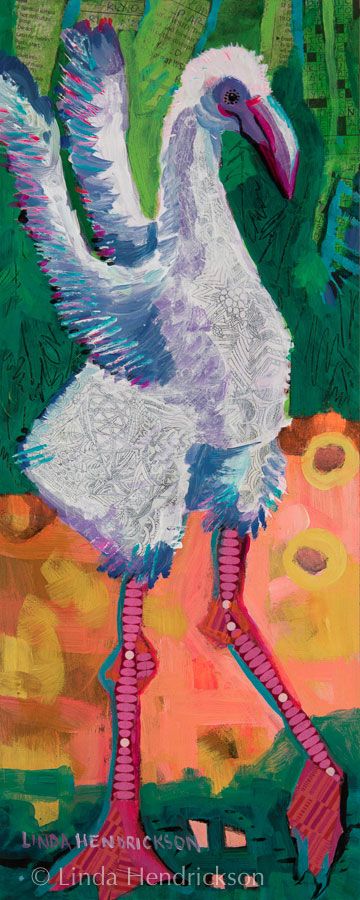 Step 7 - Allow yourself to rest and heal.
Molly and I are particularly good at napping! Rejuvenation is important.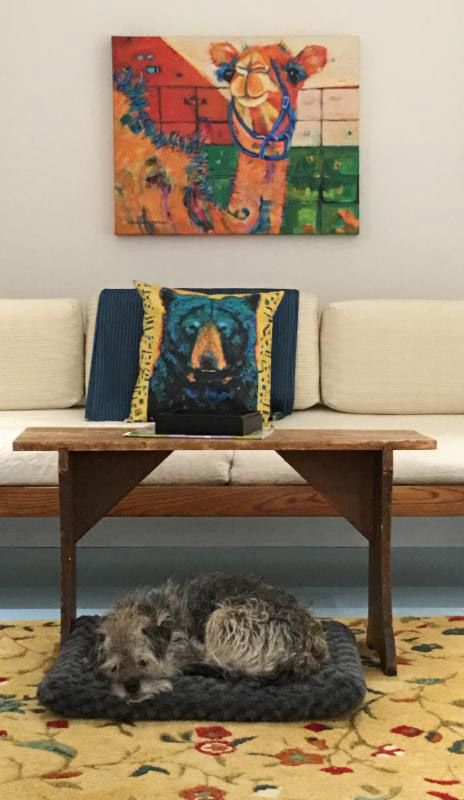 Linda Hendrickson is a mixed media artist in the northern Virginia area. Paintings featured in this article may be available as well as other works by her. This email address is being protected from spambots. You need JavaScript enabled to view it. Linda for detials. The pillow in the above photo is by Shelle Lindhom, inguire at ShelleLindholmArt.