Attending to Wholeness
| Kristen Swanson
Amidst the hubbub of my life, pots shake on top of the washer and drier and my three boys run by porcelain vases and platters headed for Germany and Tennessee. They shoot Nerf guns above my head as I paint at the kitchen table and somehow I manage to create. Twenty five years ago in the basement studio of Virginia Tech I found clay. I knew immediately that my life would revolve around this beautiful material. I imagined a simple, fulfilling, and wholesome life as an artist, wife, and mother. I imagined an old farm house, picket fence, studio, swollen belly, happy children, loving husband, grades, pots . . . . I finished my BFA in ceramics while newly married, pregnant, and commuting 2 hours to school.
Ruth Duckworth (modernist sculptor) said that she knew early on that she couldn't be both mother and artist. I was already a mother when I watched her interview, but her words settled into my mind and have resurfaced throughout my 17 years of making and mothering. I continue to choose both artist and mother. I actually have much of what I imagined as a nineteen year old, but I very rarely experience the feelings of simplicity and wholeness.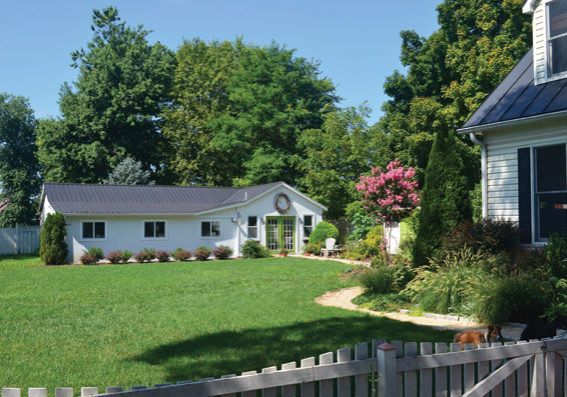 In my first years of mothering I "stayed current" in my field - devouring the ceramic publications delivered to my mailbox. I allowed my studio to gather dust and clutter as I enjoyed my young children and discovered motherhood. My three sons are now 11, 15, and 17 and I am ready to be fully engaged in my work. My clay work feels like my fourth son - my very quiet, undemanding, timid, somewhat insecure son. This one only makes demands when I allow it, only craves my attention when I invite it. I have to listen carefully and make space every day. I have to defend this child. I want to fully engage in my work and fully engage in the lives of my children. I want both to thrive and flourish, but sometimes fear that neither will under my care.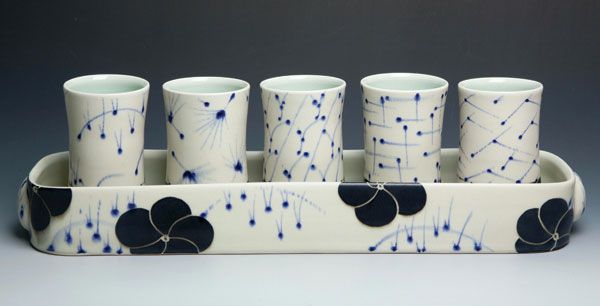 The moments throughout each day when I choose between my pots, my family, my home, and the world beyond my home and studio are abundant. I have a million parts to tend to and orchestrating these parts is my ultimate daily challenge. My solution is to interact with my material everyday - even if it is one cylinder or one flower, even if it is a seemingly trite bit of piece. My focus has to be quick and opportunistic, capable of shutting on and off countless times a day. Whether I am aware or not, my work IS a function of every single part of my life. It emerges from these frustrated, exasperated, exhausted, busy, beautiful, energetic, scattered, demanding, fearful, impatient, ugly and splendid parts. Before children, I had built angular, sculptural box and teapot forms with no pattern, color or texture. I kept my favorite pieces on shelves in our home, but they were eventually boxed up and stored in our backyard shed. They became irrelevant. The functional work that has emerged in the context of my tightly woven domestic and professional landscape is mostly wheel thrown with highly developed, colorful and textured surfaces. I feel that my work is relevant and that it fully participates in my robust family life. I am learning to appreciate the subtle relationship between my work and my children - both in the process of making it and in the living with it. My daily practice and the pots that surround my children are the backdrop to their lives. I recognize that this is an enormous gift to my children and that my children are an enormous gift to my work. They are both thriving.
I truly wonder what I will be capable of when my children are grown and there is not more thumping or loudness or crying or mayhem. When there is not more running to the playground with clay hands applying band aids to wounded knees and elbows. When there are not spelling tests, no hunting for soccer cleats, no leg snuggling while pulling handles, no plies of laundry at my feet, no "I'm hungry Moms". No more spontaneous kisses from small people . . . Will I be devastated? Will I have to learn a whole new way of working without mothering demands? Will I be forced to create new distractions? How will my work change when I have the luxury to start a piece over, mull it over, allow it to percolate? How will it change when I have the opportunity to feed my intellect? Where will my previously devoured energy go?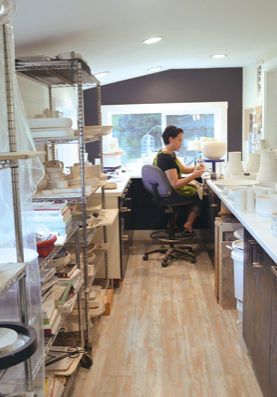 When I choose to see the parts of my world as essential and contributing elements, rather than as challenging and chaotic fragments, I begin to understand the phenomenal wholeness that is my life. Perhaps my life's calling is to notice and pay attention to my frenzied parts and to understand that they are my wholeness. My wholeness is the sound of my husband's car pulling into the driveway after a snowstorm. It is my "seconds" mug with the "s" crack and pitted glaze filled to the brim with hot coffee at five a.m. It is my boys nestled into each other on one small bed at night. It is a row of freshly thrown bud vases full of opportunity and it is my 11 year old son needing me past his bedtime after a full day of independence. My wholeness is the sweet, sweaty smell of my clay filled studio in July and a bucket of scalding throwing water in December. It is the tears and laughter of my girlfriends, sister, mother, aunt, Nana. My wholeness is feeding my ravenous family and feeding myself a life-giving meal. It is an image surfacing on a form that makes my heart squeal. My wholeness is knowing how to ground myself at my shell and with my brush and in the company of my family. It is my finished work piled on studio shelves. Layer and layers of pattern and form and hard work, evidence of my intention, my commitment, and my dialogue. My wholeness is the porcelain documentation of my whole life and each fragment that sustains it.
Kristen Swanson is a pottery artist making her home in Lovettsville, VA. She loves to sketch, journal, and make lists. Time with family and friends, making soup and day trips to the city nurture her spirit and recharge her.
kristenkswanson.com instagram: @kkswanson FB: Kristen K. Swanson Ceramic Artist
This article first published in The Studio Potter Winter/Spring issue 2012 Vol. 40 No.1 Updated Jan 2017
Kristen Swanson working in her studio
Latest Blog Posts
Article Categories