Sarah Angle - Folk Artist Extraordinaire!
Sarah Angle may describe herself as shy, but her genuine smile, hospitable openness, and gifted sense of humor indicate otherwise. This self proclaimed people pleaser is a relaxed country girl, who takes life as it comes, while wrapping it all up with a tongue and cheek bow. Angle's art is a magical reflection of someone with a built in internal chuckle and the talent to creatively deliver that fun to us.
Originally from Rocky Mt., Virginia, now living near Richmond, Sarah and her brother were raised by their grandparents. Sarah loved art and always took art classes in school. Her grandfather also gave them pocket knives as children, which for Sarah became the gateway to whittling, a fun word for wood carving. Tree branches and 2X4's were at her disposal, along with a child's imagination and it went from there. "My Grandmother did a lot of refinishing furniture", Sarah shares, so she also had access to tools and it seems the true freedom to learn. "We had a wonderful childhood, couldn't have asked for a better life." As much as anything it would seem that Sarah was given that "you can do anything" skill set. Hopefully not a rarity today.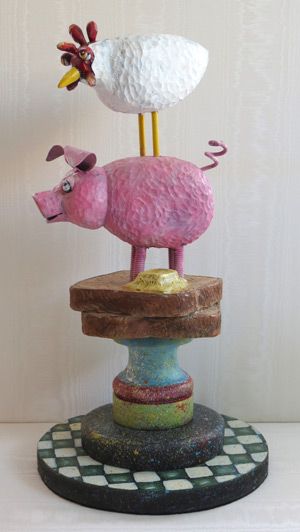 Time passed, Sarah married her husband Don and had her daughter and those childhood skills returned as she started making crafts. She only took one carving class and Sarah says, "Really, the only thing I learned was how to sharpen the tools. But that is really one of the most important things. If you have a dull tool, you're going to cut yourself because you're going to press too hard and slip." Good lesson learned.
There are those things learned and then there are those natural abilities. In Sarah Angle's case, it's that ability to see humor, even dare I say, in the face of some real personal adversity. But the whimsey in her work is so strong, I often think people see it way before her unarguable creative talent. It's as if hidden away in her head is a joyous toy box. Yet her presentation of it to us, is delivered with complex designs, brilliant color choices and in the case of her carved pieces, true interpretive thought and dimension.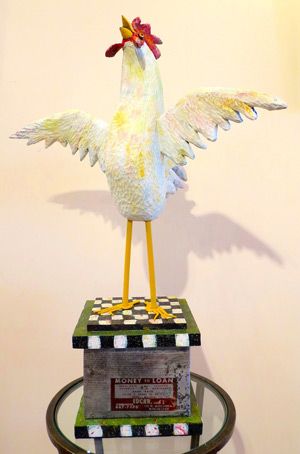 Sarah is as good a painter as she is a carver and vice versa, but for me, her design work stands alone. She tells me the design part of the process is the hardest and once she has it, "Stand out of the way!" She explains, "As I've gotten older I've allowed myself to not be so critical and to kind of disengage my brain and allow ... if I want to paint chickens ... gonna be pink?, it's gonna be okay and if you do pattern on pattern on pattern, it makes it more interesting." Sarah backs this up by saying, "I've always liked art that was heavily patterned. Salvador Dali, all his little people in there, and I liked Mary Engelbreit and all her design, on design, on design." She also gives credit to color by saying, "One thing I find is that if you use some colors continuously, just like in decorating, if you repeat them again, you can make the patterns as odd or disconnected as you want as long as you're repeating color." All great design words of wisdom!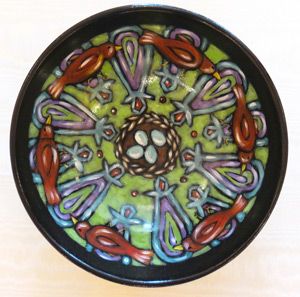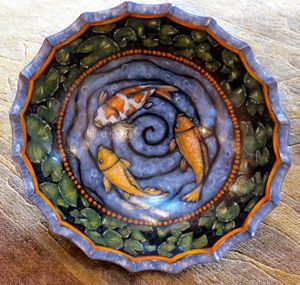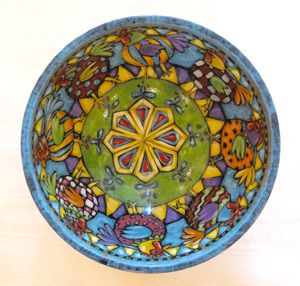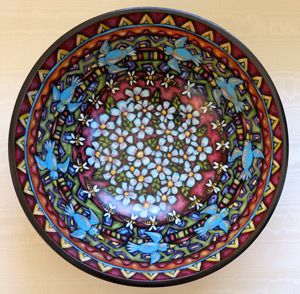 Sarah's paint medium is acrylic, with color usually going over a black base which she allows to show through, creating what she describes as a dark cartoon line. The designs are laid out with a water soluble pencil and if she's not satisfied she just washes it off and starts again.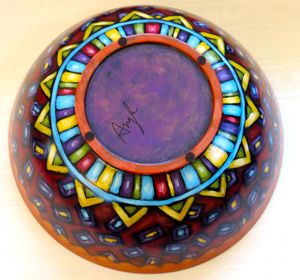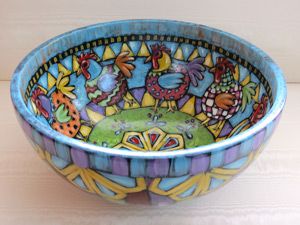 Sarah's work space is split between a studio upstairs in her home and a work shop in the basement. Tools of her trade are abundant and her studio is filled with the whimsy reflected in her work. It's like a fun supporting cast of characters cheerleading her on. A happy space for this pleaser of people to shine!