Janet Taylor - Mastering a Lifetime
Artistry isn't just born. It has an infancy, followed by its youthful "fearless" discovery years, and then hopefully the wisdom of maturity. Let's hope it's a playful maturity. Given time, artistry questions, learns, adapts, grows and hopefully inspires the process of creative mindfulness in others along the way. If these words describe the masterful, then they have just described North Carolina textile artist, Janet Taylor.
Textile is a word that so simply means cloth. Yet it is its inner woven foundation that is most captivating. While cloth seems so uncomplicated, the world of textiles is complex, and the fine art of textile craftsmanship, vast. How then, I ask, does such a seemingly uncomplicated person delve into, and not only master such a vast and complex world, but spend a lifetime as such, teaching others along the way? Come along on this journey of passion.
As you will come to see, appropriately, my first face to face with Janet Taylor happens in the parking lot of the gallery at the historic Penland School of Crafts, located in Penland, North Carolina.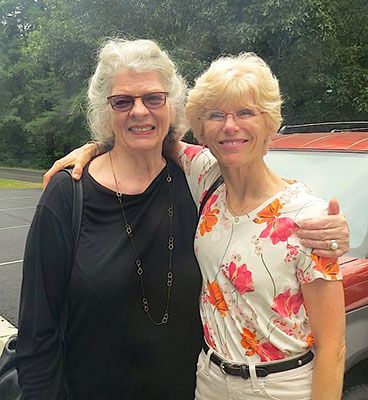 There's a sunlit smile as Janet shares a brief history of the school which was founded in 1929 by "Miss Lucy" Morgan. A weaver, Miss Lucy seemed to not only care deeply about craft, but the economic hardship of the very rural mountain people in the area. Especially, as one can only imagine, back in the day. In the wonderful example of - give a person a fish and they eat for day, but teach them to fish, they eat for a lifetime, it seems Miss Lucy not only provided income, she is likely one of the pioneering individuals that gave this region its rich arts & crafts roots. Fitting then, that beginning in 1968, Janet Taylor would begin teaching at Penland and continue doing so for a span of 34 years. This while never really living close by, and even serving on their board of directors for 8 of those years. Throughout this time she cherished a deep rooted connection to the school and region. Possibly one of salvation, but most certainly one of restorative creative connection. If my words border on religion, I can only say that they speak of the importance of having faith in something which is a guiding light and throughout much of Taylor's life, Penland was.
We happen to be at Penland on the weekend of their annual auction, where donations of craft are made by those who have taught here over the years. As we drive around Penland's earthy campus, sprawling some 450 acres, the now 75 year old Taylor points towards its many creative old and new buildings including, the clay house, glass blowing, printing, wood, iron, painting, and of course the Lily Loom House, where all of the textiles are still taught.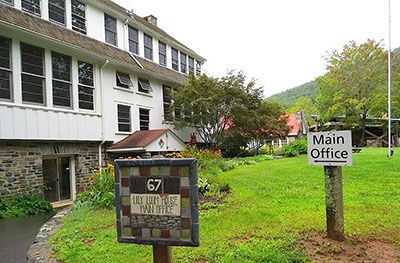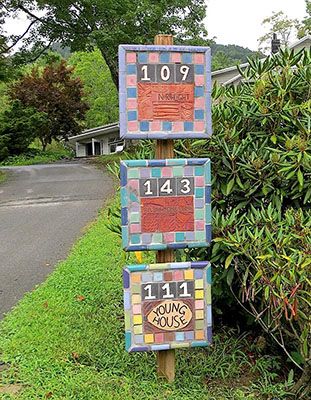 One can't help but feel a very strong sense of nostalgia being here with Taylor who visited Penland like a migratory bird for its summer classes, but who also grew so much creatively here herself, while sharing her tremendous skill and appreciation for fine craft with others. These memories reflect a deep sense of community, friendship, and passion. A closeness among like minded people, living in the total immersion of making artful, yet functional things of quality by hand. No wrinkle can dispel the twinkle of the eye. These were fun times for Taylor to be sure.
Janet Taylor was born in Lima, Ohio. She attended The Cleveland Art Institute where she explains that they offered Textile, Design and Weaving as one class, split up by semesters. She then went on to graduate school at Syracuse University where she took as many classes as she could in each of the three, and got her Masters Degree in Textile, Design and Weaving. She recalls doing painted studies out of gouache [opaque watercolor], taking them to New York City where she sold them to designers and designer showrooms, who would then used those designs for printing fabric. After school she moved to New York and got a job with the influential master textile artist, Jack Larson, saying, "That was an experience of a lifetime!" If you do a search on Jack Lenor Larson, you quickly will see, Larson likely did more for fabric design than Ferragamo did for shoes! His international reach in fabric design spread through fashion, interior design and commercial applications, and Janet's time with him would have been unbelievably inspiring to say the least. Taylor can even be found in one of Larson's very credible books titled "Beyond Craft: the art fabric".
During her two years in New York, she would also get married and mentions Larson even giving her the fabric from one of his design for her dress. These were exciting times. In 1962 renowned architect Louis Kahn was designing the First Unitarian Church of Rochester. It turns, out for this project, that Larson and Kahn would design 32 tapestries for the space, which Janet would weave. At the party for the opening of the church, Janet shares that her husband, who wanted to be an architect, cornered Louis Kahn, saying he was Janet's husband and that he would really like to study with him, but that he didn't have the accreditations needed. Kahn's reply was, "That's okay, if you're married to her [Janet] you must be good!"
This led to her husband getting into graduate school in Philadelphia on a letter from Louis Kahn. During their time there, Jack Larson kept Janet busy sending projects of samples for her to weave via Greyhound bus. Remember we have predated UPS, FedEx fax and email. Janet, now in her late 20's also taught for a year at Moore College of Art. It was during a time that both the program director, who took a sabbatical, and the women who taught surface design, who had a baby, needed someone to fill their absences. Then, on a tip from Larson, Janet received a call from Penland's well known director, Bill Brown, asking her if she would come there to teach weaving? These were summer programs and Brown, who had been the Assistant Director of Haystack Mountain School of Crafts in Maine before coming to Penland, is generally credited with jump starting a struggling Penland, expanding its offerings, it's scholarship program, creating a fellowship program and resident artist's program. Janet said yes!
As it turns out though, her husband, now armed with his Masters of Architecture degree, had just accepted a job at Kent State and as he moved to Ohio, Janet would first head to Penland to begin her long relationship with the school. With this move to Ohio though, Janet shares that Larson was less than happy. Janet had been told by others she was likely being groomed to run Larson design studio. Still, Larson saw in Taylor undeniable innovation and artistry in weaving and he continued mentoring her.
Now with Penland in the picture, at Kent State, Janet would continue to put her Masters Degree to good use and begin her long professional teaching career by becoming the head of the fiber department. She also became a mother. It must be mentioned that this was a time in the university's history when the Kent State shootings took place. Like today, we were a country at war, weighted in controversy and polarized as a nation.
In one of those grand life lessons, Janet and her husband had made a pack, because of both of them having careers, that every five years one of them would decide where they wanted to live and it seems it was her turn. A job at Arizona State University opened and Janet applied for and got the job. The Taylors then moved to Arizona in 1976 where Taylor would become Professor of Fiber Arts for 23 years while also traveling to and teaching at Penland. I asked her, your life would have been very different without Penland? There's a happy sigh, "It was my savior, you know, when you don't know where to go and where to be, there's a place you can go that you know you'll get connected again? That's what Penland was for me." Hearing Janet's many stories of creatively, the days of Bill Brown, but also parties and fun. I mention that it sounds a bit like the old program "MASH" and she immediately says yes! A group of people in a remote area, all with jobs to do, but good times too for sure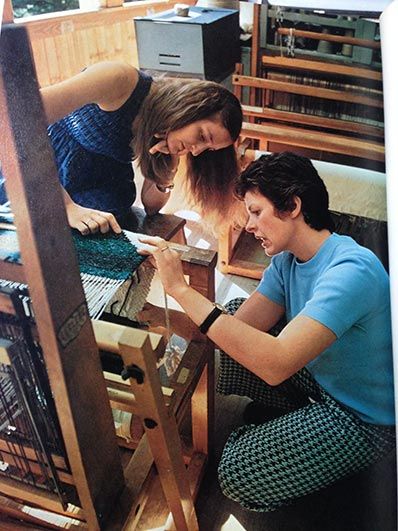 Janet Taylor (crouching) helping student at Penland School as pictured in
Craftsmen of America by National Geographic in 1975.
During those days Janet speaks with collaborative admiration in working with Danish textile chemist, Joy Boutrup. It allowed for their two strengths to shine, Boutrup's textile engineering and Taylor's creativity. Janet shares about Boutrup, "She wanted someone who could relate and be creative with the students in talking about, What if?, and that's why we were so good together." What if, is a wonderful creative direction, as the question opens doors to amazing possibilities. "She follows with, "I enjoy that woman [Boutrup] to this day."
As life would have it, she and her husband would divorce. She continued at Arizona State while her son was graduating from high school, but now alone, her heart told her where to go. That place of connection, that place of safe harbor. So she moved to North Carolina in 2000, but continued her professional teaching career at Appalachian State University in Boone until 2005, when at that point she says she was done. Largely it was a new student culture of not caring or paying attention that deflated her interest in trying to teach them. She says that all they cared about was their grade and stated that they would ask in the beginning of the year, what kind of grade can I get in this class? Janet's reply was, "You have an A now, let's see what you do to screw it up!" Too funny!
Now to say that Penland is a bit in the middle of nowhere is not really being unfair. But the drive up Janet Taylor's driveway to her home and studio near the Blue Ridge Parkway, makes the middle of nowhere feel definitely somewhere. The narrow gravel road generously ascends to her modest mountain home of 16 years. Taylor explains, "I saw a picture of it in one of those real estate magazines and it was from this view with that fireplace [she points], I fell in love with that fireplace. So, I found a realtor who knew where this was .. I couldn't find it on my own. So she brought me right up here and oh, I just fell in love with it."
Janet seems to truly be grounded in her life today. At a youthful 75, her remote lifestyle seems a lifelong dream. Speaking of that lifestyle she shares, "I've wanted to do this since I graduated from art school. I wanted to live in Colorado up in the mountains, in a cabin, and I would just feed the animals and do my art and it took all those years of teaching graduate students and under graduate students and when I found this house it was like NO BUDDY CAN FIND ME NOW which brings on enthusiastic giggles. Janet loves the solitude, but there's reality of age and wanted to spend more time with her grandson, looming over this life long dream.
Once inside we make our way downstairs to Janet's studio. Having visited so many different artist studios, the anticipation is much like visiting a scientist's laboratory. Often it holds the energy of artistic enlightenment and the rewards of lessons learned. Past and present projects, delightful one offs, the I used to do that, now I do this of an artist's life, and Janet's studio is no different. It's a textile maze of experimentation and discovery.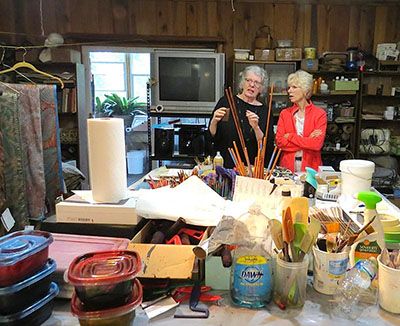 Of course beginning as a weaver, creating those giant tapestry commissions for architects and designers, she worked on a massive 10' loom. She explains, "Each treadle [on a foot loom] weighed 65 lbs. So I'd hit it with my foot and lock it in and go all the way down and drop in the tapestry and I ended up having to have my right hip replaced." That was 1999. She moved to her home in 2000 and in 2008 she had her other hip replaced, and then in 2014 her knee replaced. So she says" I've about had it, I don't know that I could sit and weave anymore."
To think Taylor has slowed down though would be a mistake. There's more to textiles than weaving, and while Taylor's body may have chosen its direction, her creative mind chose another and just kept on going. This direction would be in silk and today her scarves and wall hangings reflect the continuing growth of an artist and the master she became many years ago. We are always a new product of ourselves. Reinvention is never without invention, and if Taylor is a master at anything, she is a master of invention. Her mental resources in textile are encyclopedic and so, still today, are put to very good use, but I think her true mastery is design and pattern. Some things can be more easily taught than others and some things are artistic gifts.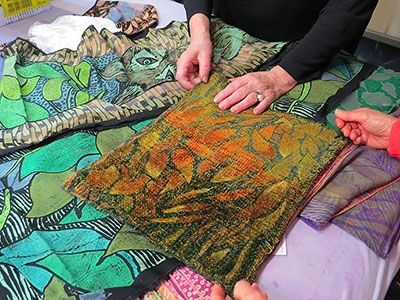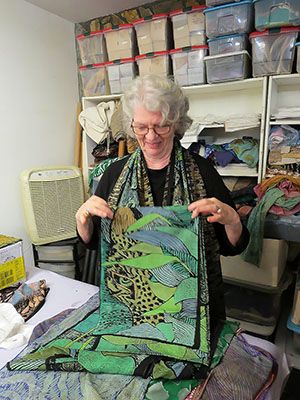 Make no mistake, Taylor is gifted. The pieces she creates are quite simply beautiful. I've seen women see and touch her scarves for the first time and they are in love, mesmerized by rich color, refreshing patterns and a wonderful silky translucence. Her wall hangings take all of these qualities and not only create depth, but movement, as the slightest breeze makes them softly dance.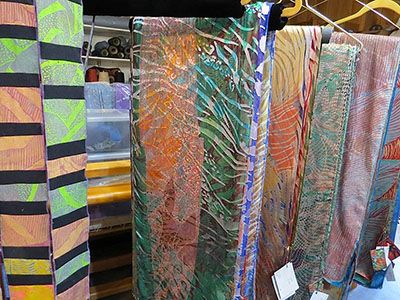 In the simplest explanation, starting by freehand drawing a pattern on paper, Janet then grids the paper to blow it up to the size needed for printing directly on silk scarves. She then uses a marker pen for layout, followed by a wood burning tool and she then scribes her design into foam insulation, thus creating a master that can be used for printing over and over again.
Acid dye is then put on the engraved surface and placed onto silk allowing the design to contact transfer. When using a silk already manufactured with a design in rayon, Taylor's original design then only takes to the silk portion, creating yet another effect.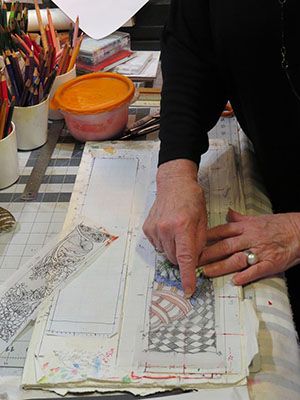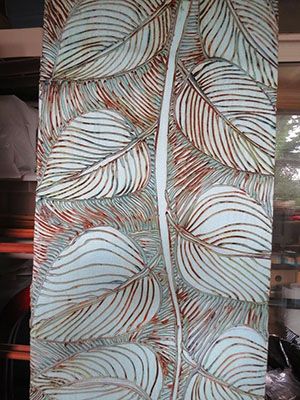 As the years have past and directors have come and gone, her relationship at Penland is now more or less just wonderful memories and it feels a shame that being so connected to Penland's rich history, that the passionate warmth once felt there has dwindled in its radiance. The powers that be may want to tap those memories as I have, as they are filled with the wealth of Penland's artistic foundation.
Again in reflection Janet says, "I think about where I come from." and I ask her about those who have truly mastered something, does she know that she has? "For me its about the passion, the hunger and the passion. I came to art as though I were dying. I'm mean I found my tribe. That was my tribe when I went to art school. My God, these were people I could be anywhere with and we would see the same things and pick em out and just be wild over them, and nobody [else] understood that. So, it's that kind of appreciation and that kind of burning that you want. Art school was pivotal, it changed my life."
Janet Taylor's scarves and wall hangings are available at Ariel Gallery in Asheville, N. C.